Crowded with some of the best places to eat in the country, Dubai has a wide variety of choices when it comes to delicious food. Whilst Dubai may be home to the best shawarma, the city also has a large number of Indian restaurants that are unbeatable.
So what's the hold-up? Wash your hands and come check out Dhubaii's ultimate guide to the top Indian restaurants in Dubai.
As always, we've been generous enough to provide a selection of locations from mid-range Indian restaurants, fine dining, and affordable restaurants to fit every budget and eat the best Indian food!
You can't beat a good curry on a bad day!
D'fusion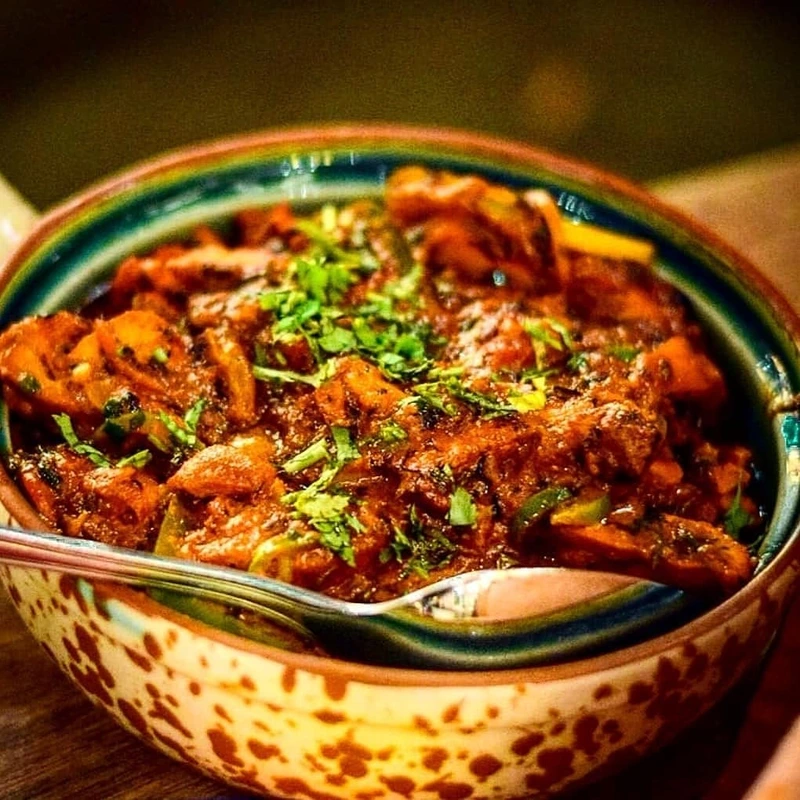 Amongst one of the high-end eateries, D'Fusion offers the extensive range of flavors and textures that Indian cuisine is genuinely known for. In addition, the menu provides options of spicy Indochinese cuisine too.
In the kitchen, the impressive Chefs Suresh and Shyamveer work together in creating a magnificent combination of traditional ingredients, authentic flavors, curries, and even bread made in clay oven tandoors.
The overall ambiance of the restaurant yields a minimalist opulence vibe and the live music played whilst guests eat is the most popular entertainment of the restaurant, allowing guests to even request special songs from the band.
Things to know
Daytime hours: 12pm-3pm
Evening hours: 7 pm-2 am
Price range: AED 150 – 200AED Per Person
Located: Grandeur Hotel, Al Barsha.
Reservations: +9714 3716566
Dhaba Lane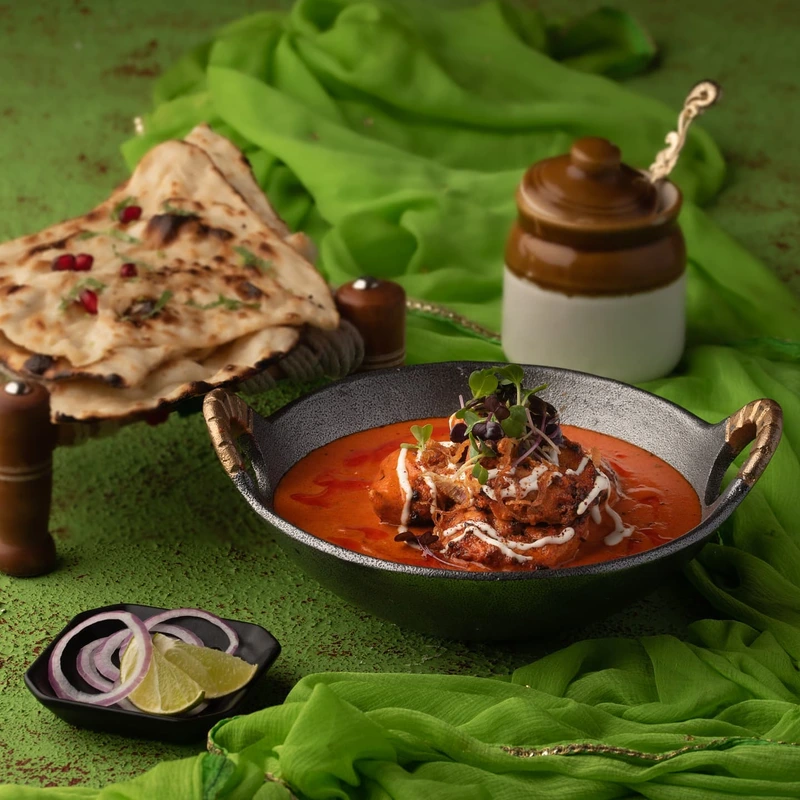 Satisfy your Desi taste buds at the budget-friendly Dhaba Lane in Bur Dubai. At Dhaba Lane, you can try a wide selection of Indian dishes including a Paneer dish, Masala Tikka, and Dhaba chicken curry.
Established in 2017 and boasting a menu full of Dhaba-style delicacies, Dhaba Lane takes you on a journey from Punjab to Calcutta to Bombay to Delhi and back! Enjoy a modern take on your favorite flavors of India. Eat your heart out in a contemporary and affordable restaurant where the traditional decor and vibrant interiors will take you back to your favorite local spots back home within the blink of an eye.
Things to know
Hours: 12pm-11.30pm
Price range: AED 130 Per Person
Located: Karama (opposite Spinney's)
Reservations: +971 56 962 4611
Veg Hut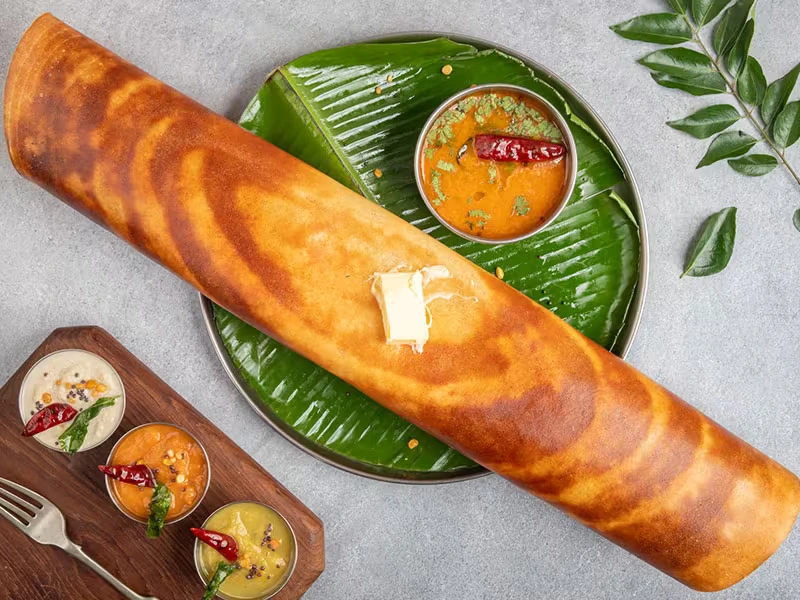 One to please the cheaper budgets is Veg Hut located in Dubai Investment Park. A vegetarian restaurant offering everything from crispy vada, soft paws, and drool some chutneys to dosa and idli fit for a perfectionist! This vegetarian restaurant is easy on the pocket and highly appetizing.
Things to know
Price Range for 2: AED 40
Hours: 07.30 am to 11 pm
Located: RDK Building, Block A – Dubai Investment Park
Reservations: +971 4526 0301
Mint Leaf Of London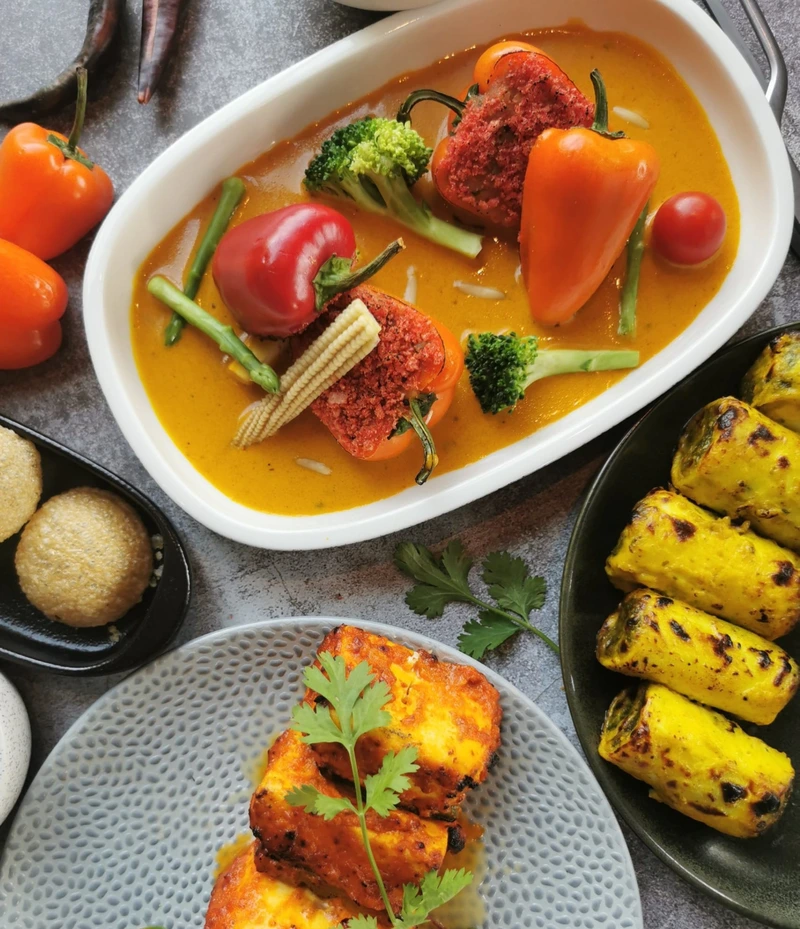 Mint Leaf of London is one of the most famous fine dining restaurants, creating original spins on traditional Indian dishes. The Indian menu boasts exotic meats and organic vegetables fit for royalty.
This Indian restaurant emits a luxurious vibe, located on a higher floor in DIFC to ensure stunning views overlooking the beautiful skyline of Dubai, the Burj Khalifa, and the trade center area. Licking our lips whilst reminiscing the taste of their lamb chops, butter chicken, chicken biryani, and Indian eateries. Mint Leaf of London also offers Indian desserts and a tasty vegan menu.
Things to know
Hours: 12pm-1am
The price range for 2: AED 450
Located: Emirates Financial Towers, DIFC
Reservations: +971 58 893 3832
Grand Barbeque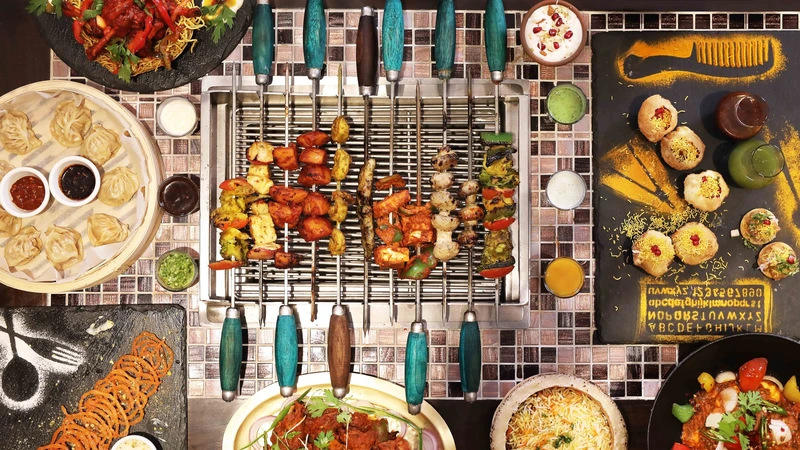 Looking for an affordable North Indian buffet restaurant in Dubai, then look no further than Grand Barbecue. Like Barbeque Nation, they offer live grills of the highest quality, live cooking stations, and a large selection of North Indian food.
The restaurant serves food at 2 different branches in Dubai. Their exquisite buffet will be a feast for your eyes and your taste buds! Including nonveg and vegetarian starters straight from the grill.
On their website, this Indian restaurant promises to offer you a 'never-before-undertaken cuisine, amalgamating the impressiveness of the time-honored cooking style with leading-edge cooking techniques.
Things to know
The price range for 2: AED 130
Hours: 12pm to 3:45pm and 7pm to 11:30pm on Weekdays & 1pm to 4pm and 7pm to 11:45pm on Weekends
Located: Al Mina Residence, Al Hudaiba
Reservations: +971 4 355 5404
Farzi Cafe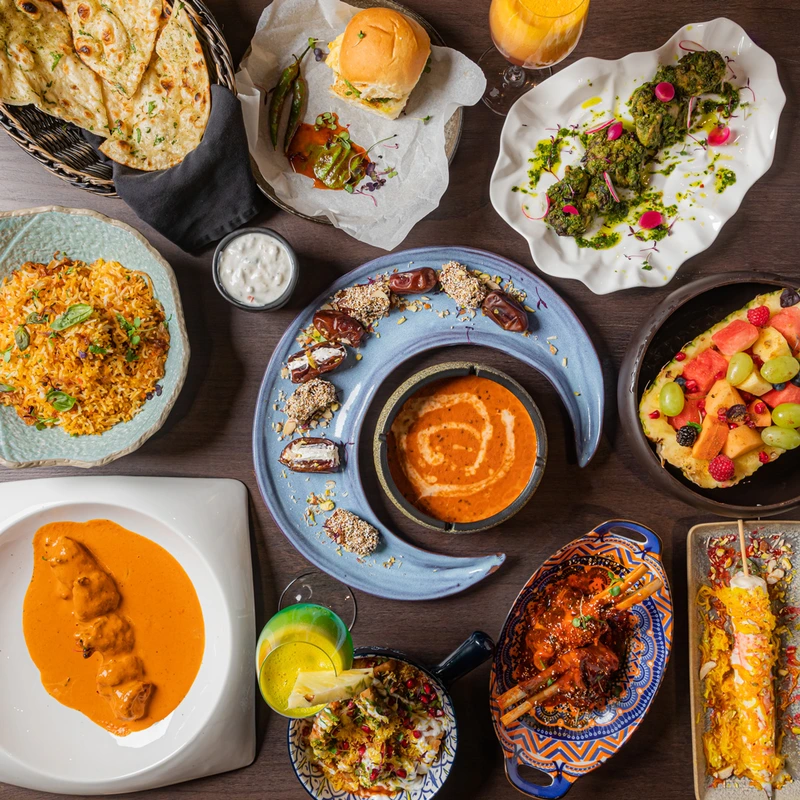 A great contender and one of the best Indian restaurants in City Walk, Farzi Cafe offers a wonderful culinary experience to its guests. Emitting the essence of authentic Indian cuisine, this modern and hip Indian restaurant serves East and West fusion dishes such as Amritsari fish and chips and lamb chops with mango chutney.
The sweet-toothed family can enjoy a delicious Rasmalai tres leches and risotto phirni. Imagine the taste buds' sensation!
Things to know
The price range for 2: AED 200
Hours: 11 am to 11.30 pm | Weekends til 12.45 pm
Located: City Walk, Dubai
Reservations: +971 4 394 2556
Indego By Vineet
Another Indian restaurant on the fine dining restaurant list is Indego by Vineet. The restaurant is managed by a professional team working under the Michelin-star chef Vineet Bhatia. What an achievement! Indulge in views of the Dubai marina skyline whilst tucking into your favorite Indian delectable dishes.
Enjoy a Daal Maharani (dal makhani) or a Lamb Chops Biryani or try their starters. a chaat trilogy is a popular option and the coconut chutney is a real taste of heaven! With a Michelin-star chef in the kitchen, you'd never be disappointed right?!
Things to know
The price range for 2: AED 650
Hours: 12pm to 10pm
Located: Grosvenor Hotel, Dubai Marina
Reservations: +971 4 317 6000
Desi Adda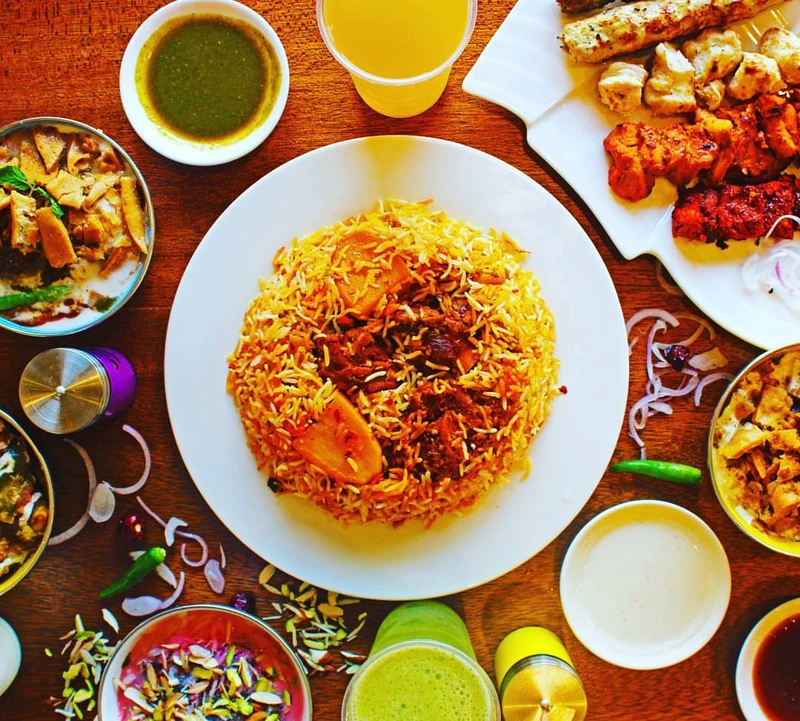 On to one of our budget-friendly street food vibes kinda restaurants, we bring you Desi Adda. Order a mix of homemade and street food in Al Qusais. Parathas, kebabs, vada pavs… we are drooling at the thought!
The best part of Desi Adda is when you receive your bill at the end of the meal to find you are spending less than 100 AED for both of you! Al Qusais is accessible by metro too which is even lighter on your pocket. Woohooo!
Things to know
The price range for 2: AED 50
Hours: 12 pm to midnight | Fridays- 9 am to 11.30 am and 1 pm to midnight
Located: Damascus Street, Al Qusais
Reservations: +971 4 261 2399
Masti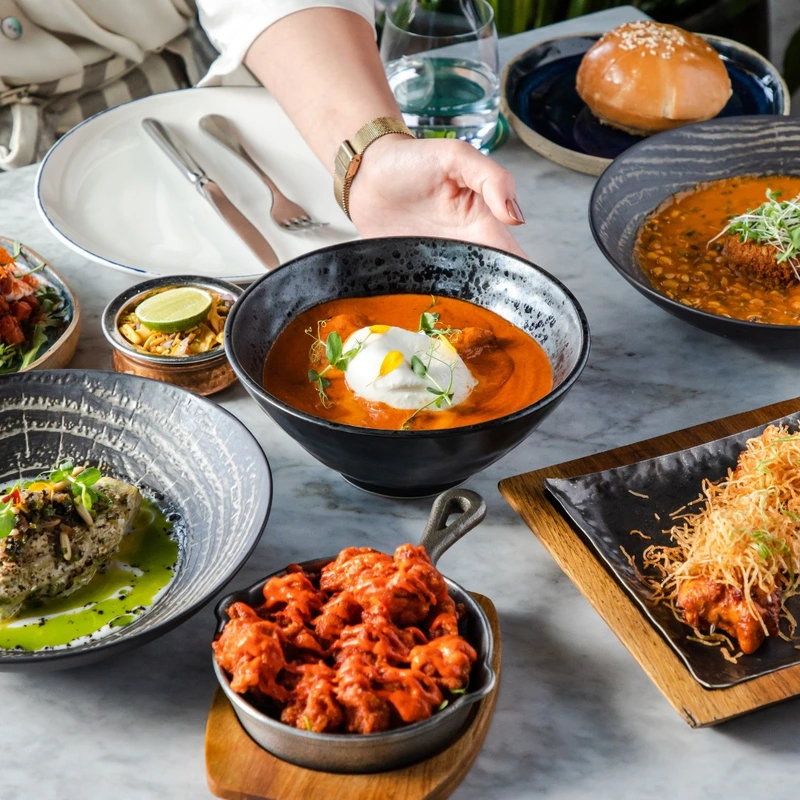 Masti means 'fun and mischief' which is a fitting name for this Indian restaurant with a modern twist. Located on La Mer with a view of La Mer beach, Masti promises delicious Indian food with a calming view, day or night.
Masti is known for its very different cocktails which we don't want to ruin the surprise but let's just say it's an impressive drinks menu filled with cocktails you won't find anywhere else. Close to Sheikh Zayed Road, La Mer is located in Jumeirah.
Things to know
Price range: AED 200 – 300
Hours: 12 pm to 1 am Weekends 12 pm to 2 am
Located: La Mer, Dubai
Reservations: 800-MASTI(62784)
Amal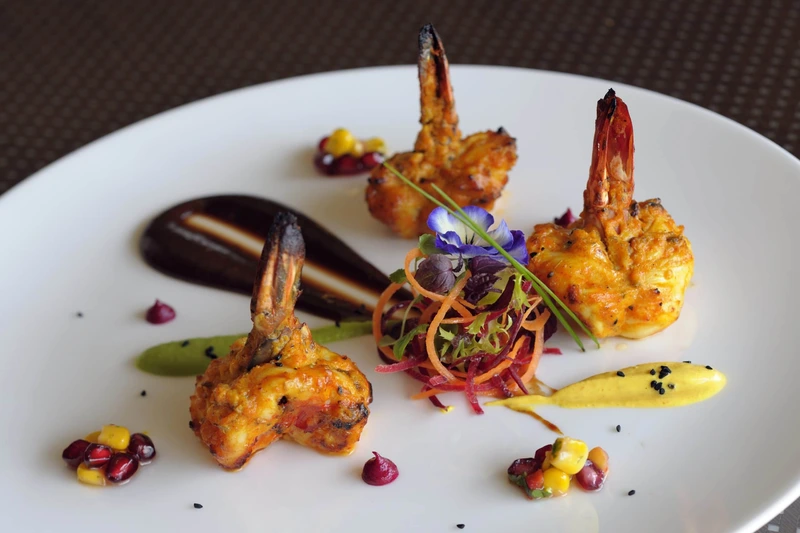 Located on the 3rd floor of the Armani hotel Dubai, Amal is a fine dining experience that your date is sure to remember. Recommended as an anniversary dinner, Amal is a treat for the sense. The Indian restaurant offers fresh and regional Indian dishes, including Mughlai cuisine, along with an exciting beverage list.
Amal stuns its guests with tableside cooking of its exotic curries and various other eateries. You can check the menu prior to visiting online too. They also have a dress code so remember to ditch the shorts or flip-flops (this ones for the men of course)
Things to know
Price range: AED 400
Hours: Dinner 6.30 pm to 11.30 pm
Located: Armani Hotel, Burj Khalifa
Reservations: +971 4888 3666
Dress Code: Smart Elegant
Des Pardes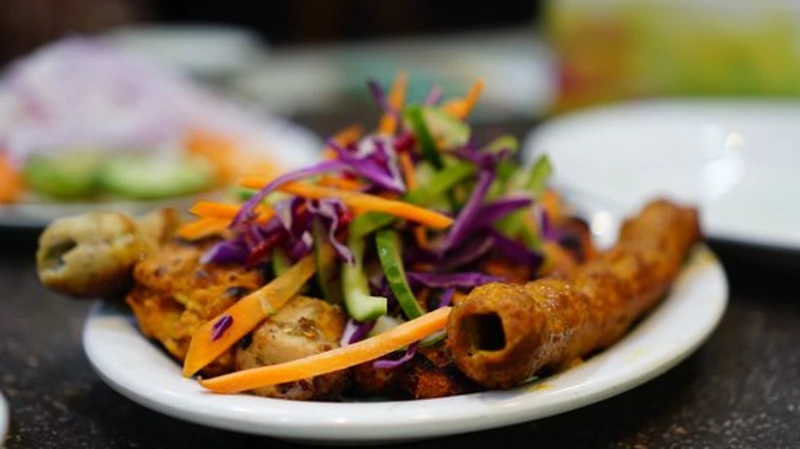 Imagine having access to Indian food at all hours of the day. Well, now you don't need to because Des Pardes is open 24 hours. Yes, you heard that right. Day or night, you can go and satisfy your Indian food cravings. Whether you're feeling a Chicken Handi or a Biryani Raita feast, Indian street food, or even just an Indian breakfast, Des Pardes has it all and more.
Conveniently, Des Pardes, unlike other Indian restaurants in Dubai on our list, is not fancy which means there is no dress code ensuring you can eat as comfortably as you want.
Things to know
The price range for 2: AED 55
Hours: 24 hours
Located: Lahej Building, Street 10, Oud Metha, Bur Dubai
Reservations: +971 4 379 5701 | +971 4 379 5702
Suja's Kitchen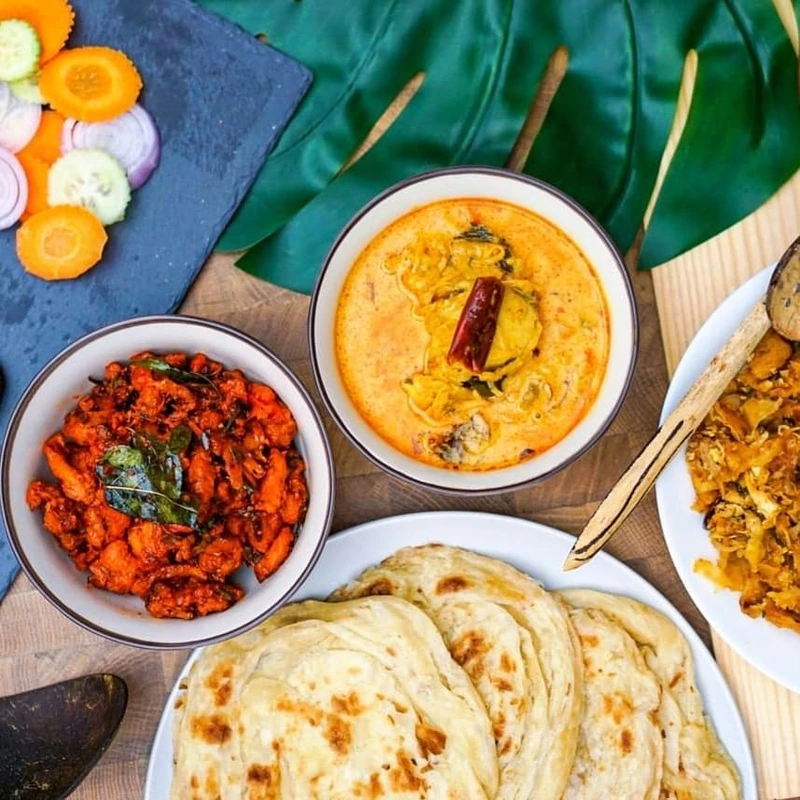 Obviously, we had to include a South Indian food number. With prices as low as 3 AED, Suja's Kitchen is easy on the pocket. Previous customers recommend the cutlets and speak highly of the delicious curries, including the railway curry.
What's your favorite South Indian dish? South Indian foods are famous for using coconut milk too which we're sure you'll find at Suja's Kitchen.
Things to know
The price range for 2: AED 65
Hours: 11 am to 2.30 pm and 6 pm to 9.45 pm | Thursday to Saturday 7.30 am to 11 pm
Located: Opposite Max Garage, Al Quoz 4
Reservations: +971 5 532 8286
Little Miss India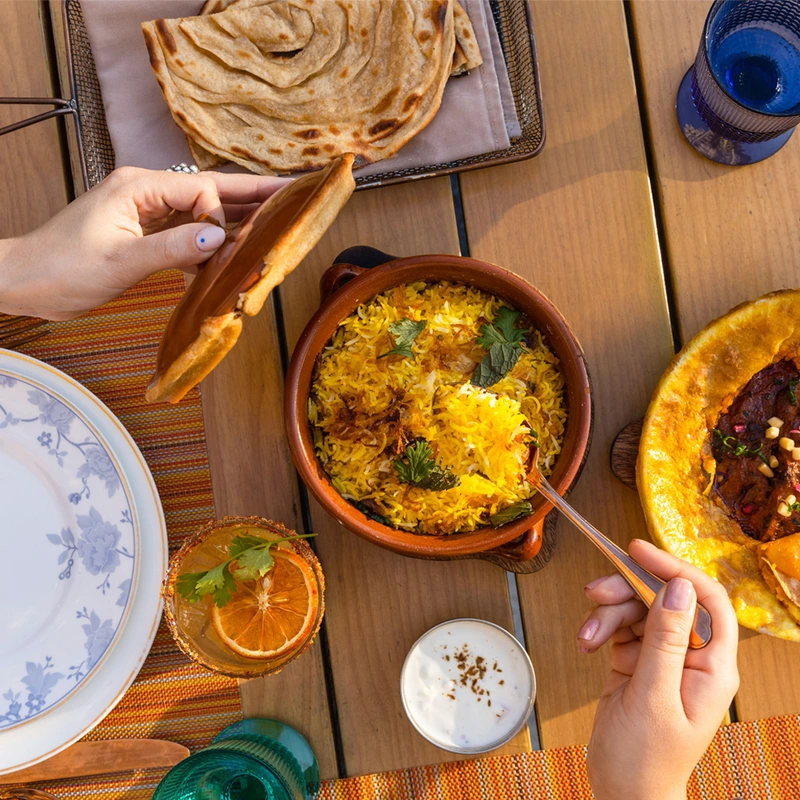 Not your average Indian restaurant, Little Miss India offers a full entertainment experience. Get transported back to colonial times through the eyes of the 'Mistress' of the mansion known as Mohini Singh.
Little Miss India promises guests a journey through time exploring the history and diversity of Indian Cuisine at Little Miss India. Try the chef's tasting menu by the executive chef Anup Pawar.
Things to know
Price range: AED 300
Hours: 6pm-11pm. Weekends 2 pm-11 pm
Located: Fairmont Hotel, The Palm
Reservations: +971 4 457 3457
Bombay Brasserie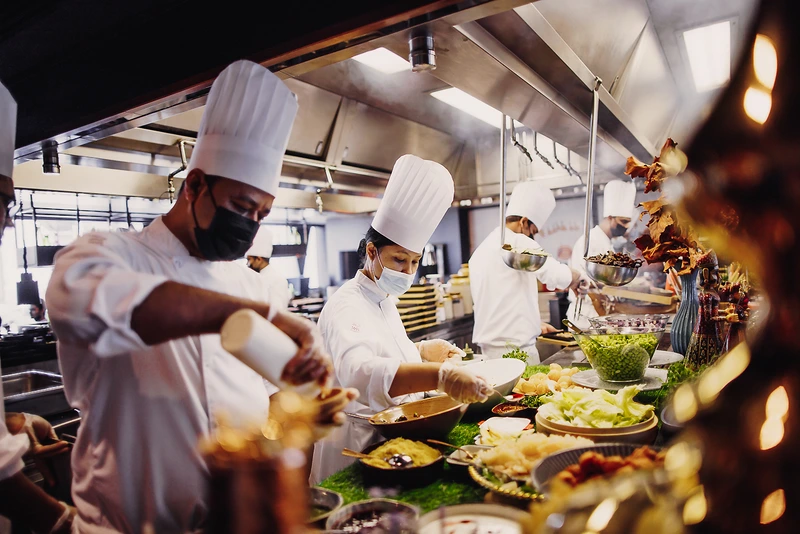 Located in Downtown Dubai, Taj Dubai serves a signature restaurant- Bombay Brasserie. An impressive blend of classic and contemporary Indian dishes. The dining ritual at Bombay Brasserie promises an unforgettable culinary journey in an artistic setting with dramatic mural art, a live kitchen, and a botanical bar. The interiors are vibrant with dimmed light for that special ambiance effect.
You can view a 360-visual of the restaurant on the hotel's website too! The perfect place for a food connoisseur or food blogger. With views of Business Bay and Dubai's famous skyline, you won't want to leave!
Things to know
The price range for 2: AED 500
Hours: 12.30pm-11.30pm
Located: Taj Dubai, Downtown Dubai
Reservations: +971 4 4383 222
Tresind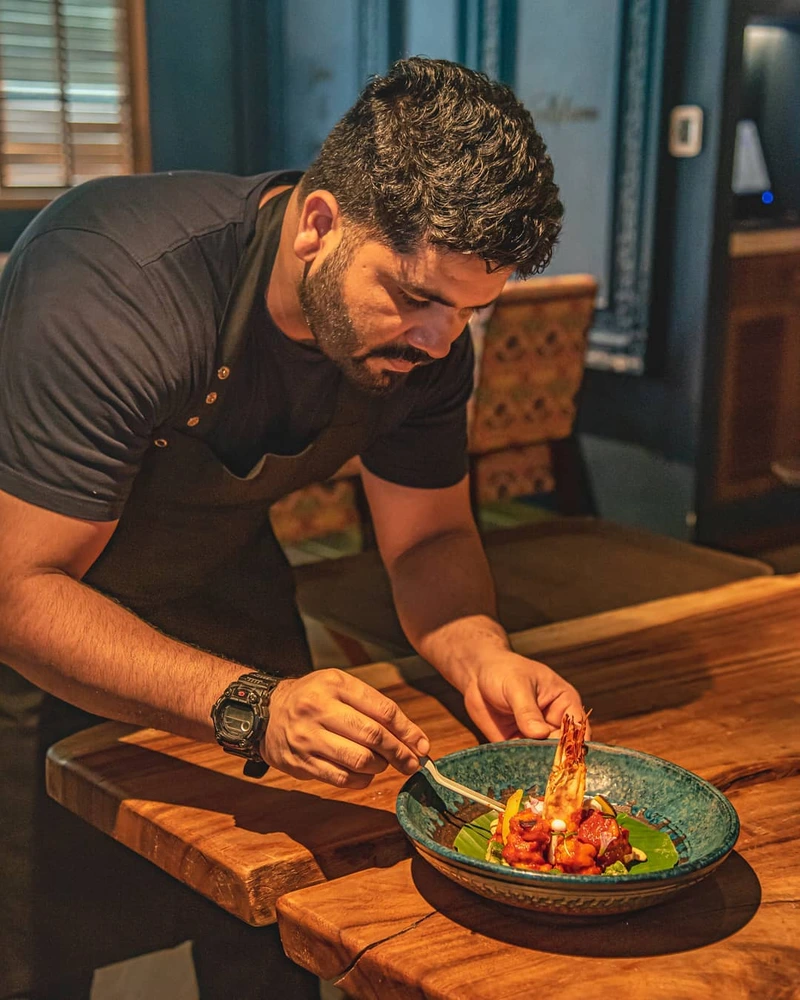 Voted as one of the Middle East's top 50 restaurants is Trèsind Dubai. Trèsind is a multi-award winning F&B restaurant and is described as the birthplace of innovative Indian cuisine and offers guests a fine dining experience.
If you usually enjoy dishes such as Lamb rogan josh, you'll definitely enjoy the lamb nihari!
Born in 2014, this Indian restaurant has paved the path toward fostering the legacy of Indian food and its hidden gems. Another one for the fine dining list but totally worth the cash.
Things to know
The price range for 2: AED 400
Hours: 12pm to 11.30pm
Located: Voco Hotel, Trade Centre Area
Reservations: +971 4308 0440
Kulcha King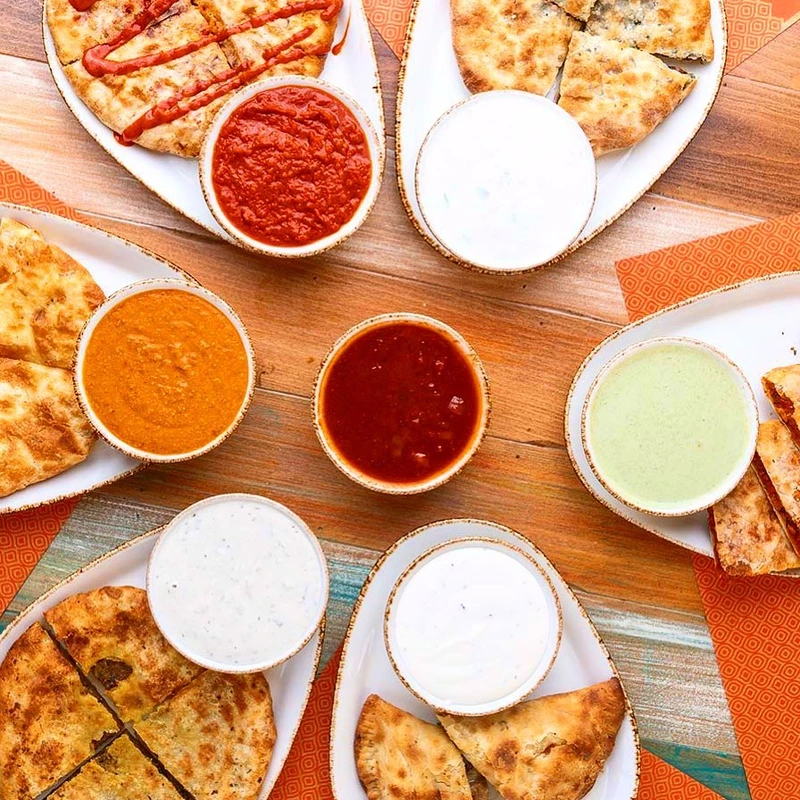 A kulcha is a flatbread topped with various toppings and as the name suggests, Kulcha King is best at creating a huge selection of them at its branches. Recommended by our team, the cheese kulcha, aloo kulcha, and biryani should definitely be ordered on your next visit!
Things to know
The price range for 2: AED 135
Timings: 12:00 pm to 10:00 pm
Location: Al Attar Building, Sheikh Khalifa Bin Zayed Road – Al Karama
Contact: 800-585-242
We'd love to hear from you.
So there you have it. Our list of great Indian food in Dubai. These popular Indian restaurants should be enough to keep you going for the next few months. Have we missed any that you think should absolutely deserve to be on this list? Let us know what you think and send us your honest reviews for a chance to be featured on Dhubaii.
Alternatively, you can write us a blog, and once reviewed it has a chance to be featured right here on our blog with full credits to you. What are you waiting for? Send us a message!