The Dubai Mall and Burj Khalifa are very much the heart of Dubai. Attracting millions of visitors every year.
With great views, fantastic ambiance, and food from around the world, dining at The Dubai Mall is a great experience. Visit the Dubai Mall to socialize with friends over lunch, treat yourself to some shopping or go out for a nice meal with family.
The Dubai mall has some of the world's best food under one roof allowing you to explore all types of cuisines.
You can also choose to watch the Dubai Mall fountains show whilst dining at many restaurants at the Dubai Mall. You can sit back, relax and enjoy the show every 30 minutes without the stress of big crowds trying to find a good spot.
The show starts at 6.00 pm and runs every half an hour up to midnight.
Enjoy the show at no extra charge.
Dining at restaurants at the Dubai Mall
The Dubai Mall has a large number of restaurants that are spread out over different locations and levels. For a quick dinner, there are numerous decent and inexpensive fast-food restaurants that serve everything from meat to fish, ethnic delicacies, and a fair selection of healthy and vegetarian options.
There are cafés and establishments that specialize in sweets and ice cream.
Then there are the fine dining establishments: we are now in the realm of the opulent and pricey. The Dubai Mall's restaurants serve the finest international food in an elegant setting, with some offering spectacular views of the Dubai Fountain.
Keep in mind that not all of the eateries in the Dubai Mall sell alcohol.
Take a seat, while we take you through our list of the best restaurants in Dubai Mall!
The Cheesecake factory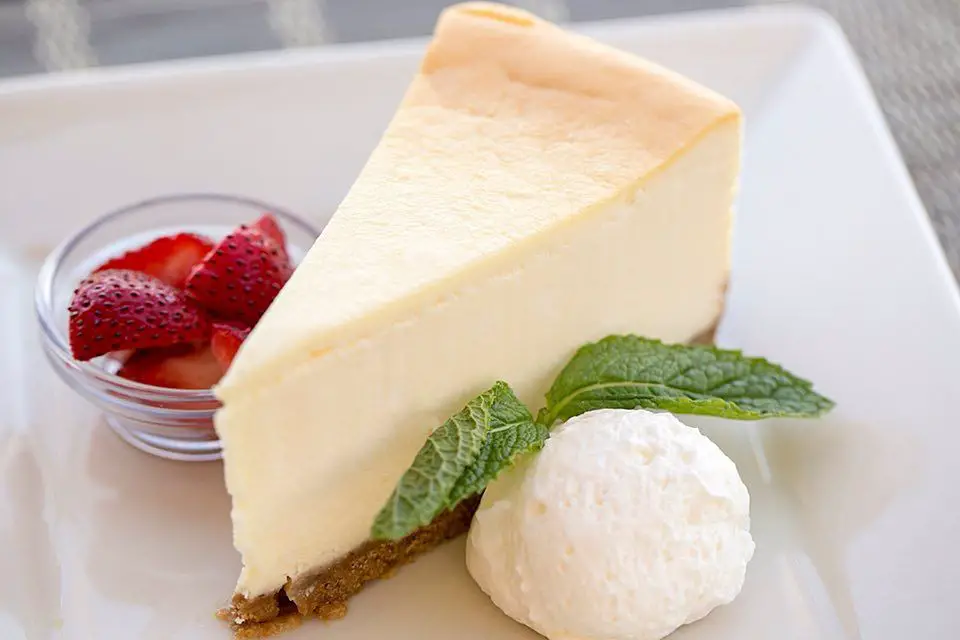 The Cheesecake Factory has a delightful menu offering a huge array of dishes. The quality of the food is outstanding as are the generous portions, keeping you satisfyingly full after a meal.
Choose from a range of delicious food including steaks, pasta, and burgers, served with French fries, or a side of your choice.
The Cheesecake Factory specializes in mouthwatering cheesecakes that come in a range of flavors. As well as their other sweet and creamy desserts that are a treat to enjoy.
There is a heartwarming story behind the amazing cheesecake recipe. A woman named Evelyn Overton used a recipe she found in the newspaper in America to bake cheesecakes in the basement of her home, for friends and family which was later developed into a successful bakery.
Location
Ground floor- The Dubai Mall-Downtime Dubai- Directly across the Aquarium.
P.F. Changs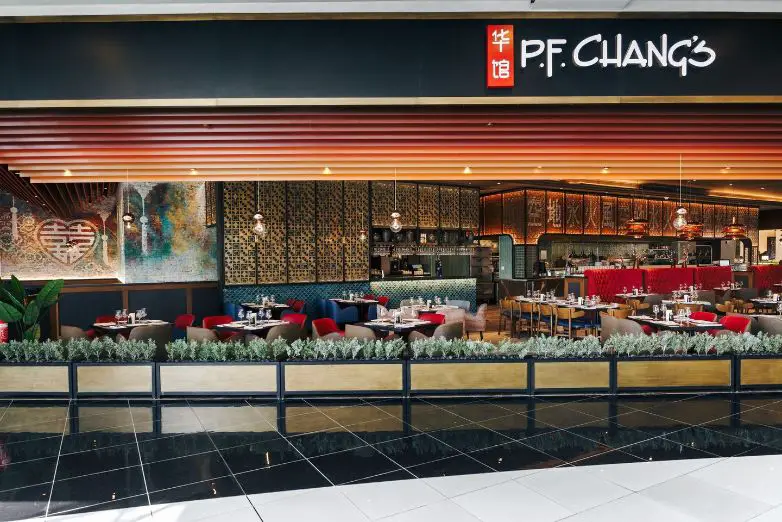 P.F. Changs is an Asian-inspired restaurant, serving the best Chinese cuisine in the Dubai mall.
It is highly popular for its dynamite prawns and dynamite shrimp
Every day, P.F. Chang's chefs have been hand-rolling dim sum, chopping and slicing all vegetables and meats with care, custom-preparing sauces, and wok-cooking all dishes.
Indulge in authentic Asian, Chinese, and Japanese cuisine's spices and flavors.
Order popular fusion delicacies like Dynamite Shrimp, Mongolian Beef, and Chicken Lettuce Wraps from a variety of choices.
Location
Waterfall Promenade, Lower Ground Floor
Peppermill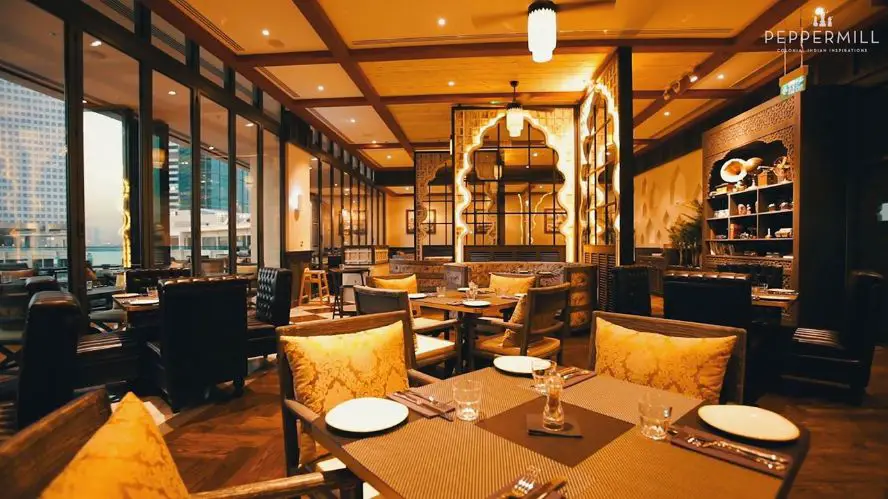 Peppermill is the best Indian restaurant in the Dubai mall and offers Asian cuisine with aromatic flavors and inventive recipes. It is a casual colonial-inspired restaurant that explores the age-old Indian recipes and adapted them to reach a higher level of traditional exotic taste.
Enjoy a contemporary Indian dinner at Peppermill Restaurants in downtown Dubai
As we have seen people evolve over the years, Peppermill believes that food should also evolve with us. Enjoy fine dining with a variety of Indian recipes and catch a glimpse of some of the classic dishes prepared for the royal emperors and maharajas of India.
At the Peppermill you will find Indian cuisine with a modern twist. Explore the combination of traditional with a touch of modern that is served up in an enjoyable manner. A robust mix of eastern spices and western cooking techniques.
This exquisite Indian Restaurant is perfect for an intimate dinner or large functions. Enjoy the elegant dining facilities and explore the magic of India.
Location
Above Apple Store, The Dubai Mall – 2nd Floor
Parker's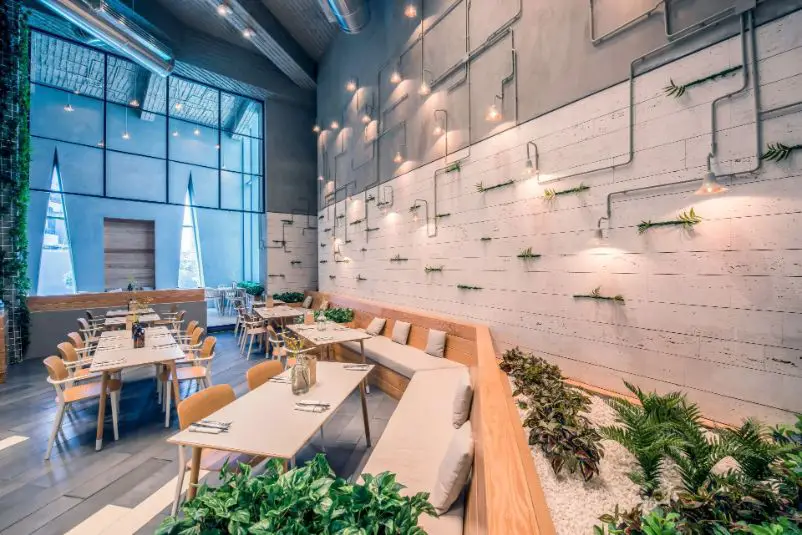 Experience fun, entertainment, and casual dining when you eat at this stunning restaurant. 
Guests are supposed to find a key, hidden around the city/ mall, clues to which are posted by the restaurant on their Instagram or Snapchat. 
Inspired by the city's oldest and most cherished neighborhood park, Al Khazzan Park, Parker's offers a dynamic and relaxed eating experience for diners.
Bond with their friendly staff in an inviting atmosphere that is loved by people from all backgrounds equally around a contemporary menu.
The flavourful range of burgers keeps foodies wanting to come back for more. The Parker's Burger is a favorite, which features double wagyu patties and the restaurant's special bazooka sauce.
Location
Second Floor, Downtown Dubai, The Dubai Mall
Eataly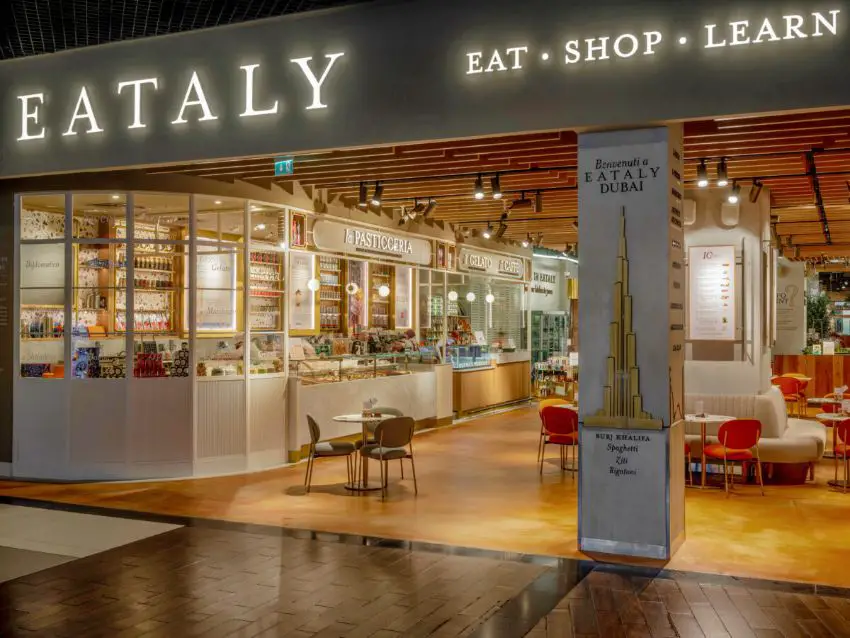 If you are a lover of Italian food, visit Eataly where you will find a variety of pasta and pizzas inspired from all around the world.
Great for breakfast, lunch, or dinner, experience Italy inside the Dubai mall and taste the range of foods cooked with all types of cheeses, and olive oil and finish off with a unique Italian dessert enjoying the flavors of Italy.
Many of the items found in Eataly are unique and only available in Italy, therefore making them unique
Eataly is an excellent place to enjoy all things Italian and allows you to feel like you are in Italy without actually being there.
Location
Lower ground level, Downtown Dubai- Near Marina Exotic Home interiors- The Dubai Mall
Carluccios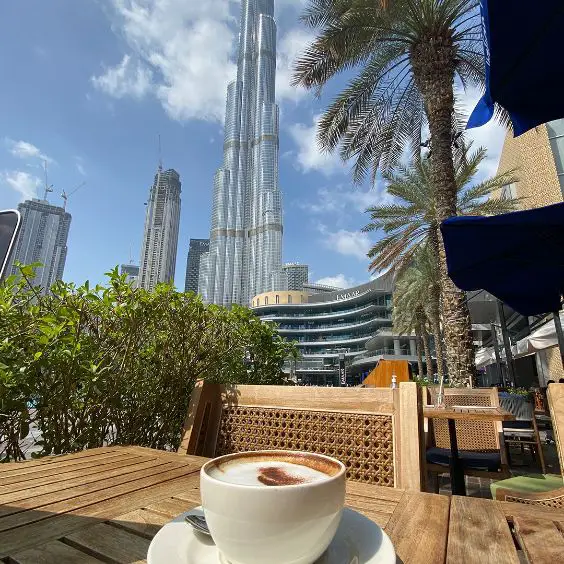 This magnificent location serves the best fresh Italian coffee in Dubai Mall restaurants, as well as a delicious breakfast, lunch, and supper menu.
Enjoy the waterfront view from the Dubai Mall while sitting outside in the pleasant breeze and enjoying wonderful food.
The best time to visit is around sunset when you can enjoy your meal while admiring the Dubai Fountains and the Burj Khalifa from the seating areas.
Take a bite of the carrot cake, which will delight you with its distinct and perfectly superb flavors and texture.
Order exquisite dishes created by chef Antonio Carluccio for yourself and treat your taste buds to the best of the best.
Location
Promenade Level, The Dubai Mall
New Shanghai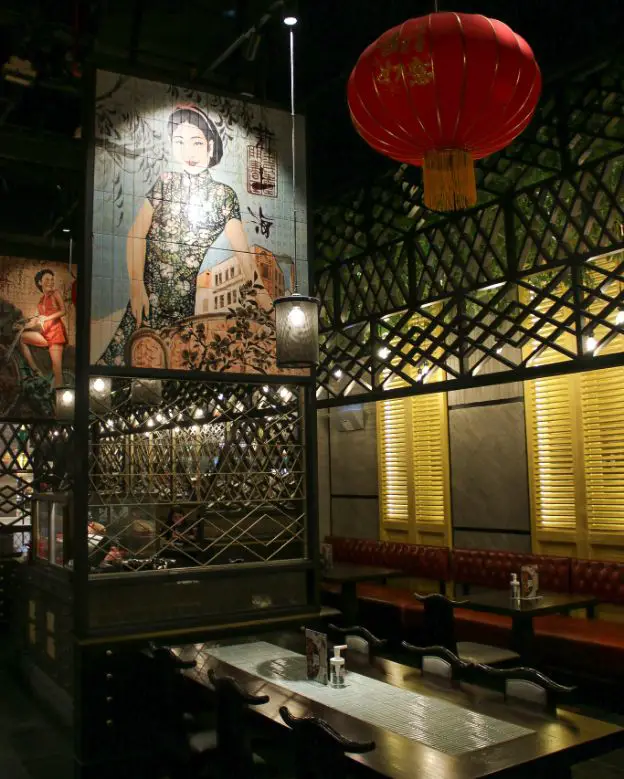 New Shanghai, one of the most popular dining options in Dubai Mall, provides a fantastic dining experience for foodies seeking authentic Chinese cuisine.
The restaurant's servers and welcoming employees provide excellent service and warmth.
Enjoy substantial amounts of your favorite foods from the menu of one of Dubai Mall's most famous restaurants.
Relax and rejuvenate with a cup of Jasmine Tea, a famous and popular menu item.
The most popular meals on the restaurant's menu include dumplings, crispy duck and wonton soup, and their signature garlic sauce.
Location
Lower ground floor, The Dubai Mall
Chili's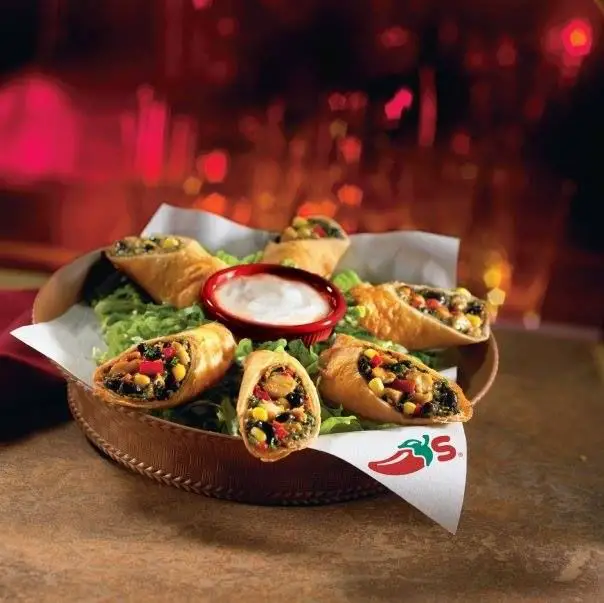 In the heart of the Dubai Mall, you'll find real Mexican cuisine.
Enjoy lunch with friends and family at this restaurant, which serves inexpensive pasta, nachos, burgers, pizza, and sweet treats.
Enjoy one or more of their flavor-packed trademark meals, such as the Guacamole, Chicken Ranch Sandwich, and Fajitas, to name a few.
With its timely service, the comfortable ambiance is always pleasant and cheerful.
Guests can take a tour of the Dubai Aquarium before or after a nice supper as it is close by.
Location
Level 1, Near Aquarium, The Dubai Mall
Tulum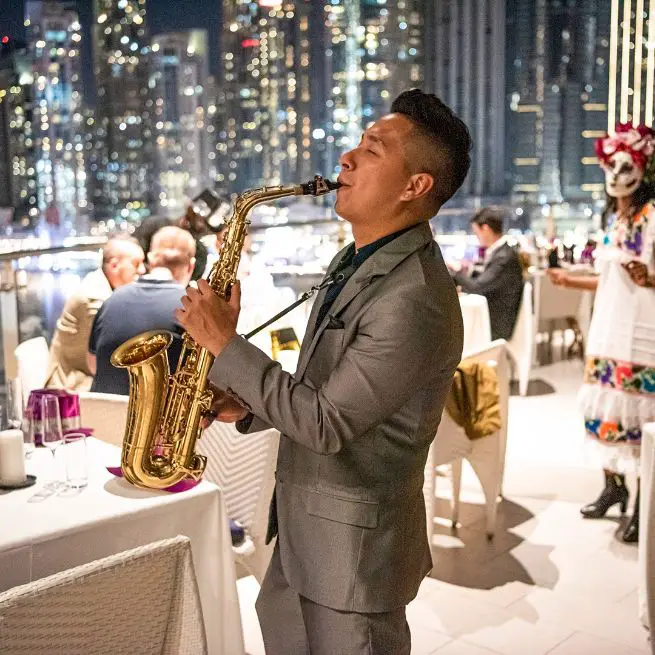 Traditional Mexican cuisine with a slight twist.
The use of fresh ingredients brings out the best flavor in their dishes.
The location on Fashion Avenue which overlooks all of the Dubai Fountains offers the best view from the Dubai Mall.
Tulum's contemporary Mexican eatery. You may view Burj's lights from indoor or outdoor seating that is situated between it and the Fountain. Enjoy some live entertainment whilst dining at this extravagant restaurant.
Location
4th floor, The Dubai Mall
Social House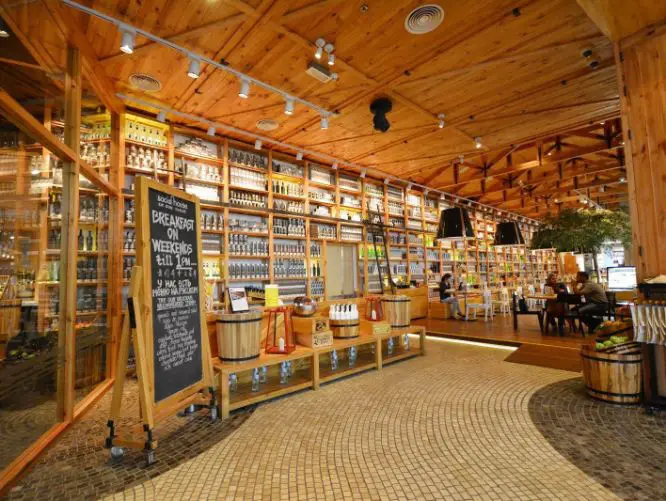 It has the ideal location for dining in Dubai Mall near the Dubai Fountains. A must-visit during your Dubai trip. It has a friendly, casual vibe and an international menu that includes international food. A cafe and a private VIP Room are also on offer.
A restaurant is an ideal option for breakfast, lunch, or dinner in an excellent location. It does get very busy at the weekend so make sure to book beforehand, particularly because it has a prime location.
It is recommended to have a late lunch before the Dubai Fountain show starts
Location
Lower ground floor, The Dubai Mall, Downtown Dubai, Dubai Mall
Tribes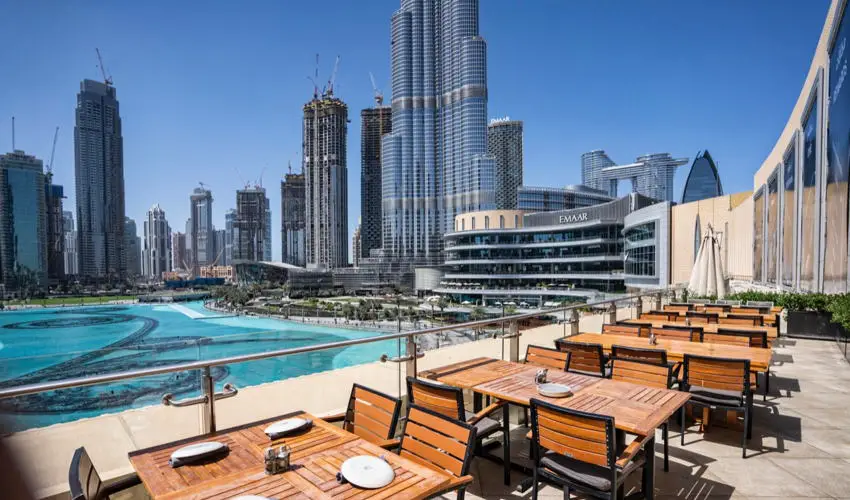 African foods are on the menu at the tribal restaurant. It is a restaurant with great entertainment and an amazing option for families. There are numerous foods to pick from on this sizable continent. taste their freshly baked bread which will be served with your meals.
The restaurant is absolutely distinctive because of the unmistakably African music and decor. One of the more intriguing and entertaining restaurants, it gives a view of the Dubai Fountain.
Location
Level 2, The Dubai Mall
Open Flame Kitchen – OFK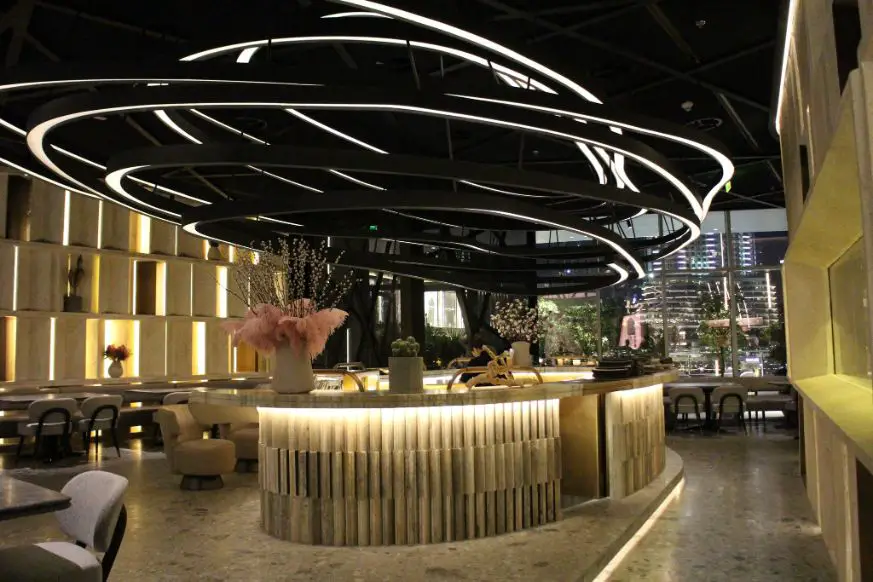 OFK is a fine-dining international restaurant short for 'Open Flame Kitchen'. It is a chic restaurant that serves a variety of cuisines, however, it leans more toward Asian food. As a result, you could anticipate a lot of delicious dishes. The most popular dishes are miso Chicken Maki Gratin Roll, Eggplant Katsu, etc.
Enjoy the open kitchen atmosphere whilst enjoying your delicious meal.
It is among the best fountain-view restaurants in The Dubai Mall
Location
First Floor, The Dubai Mall
Opso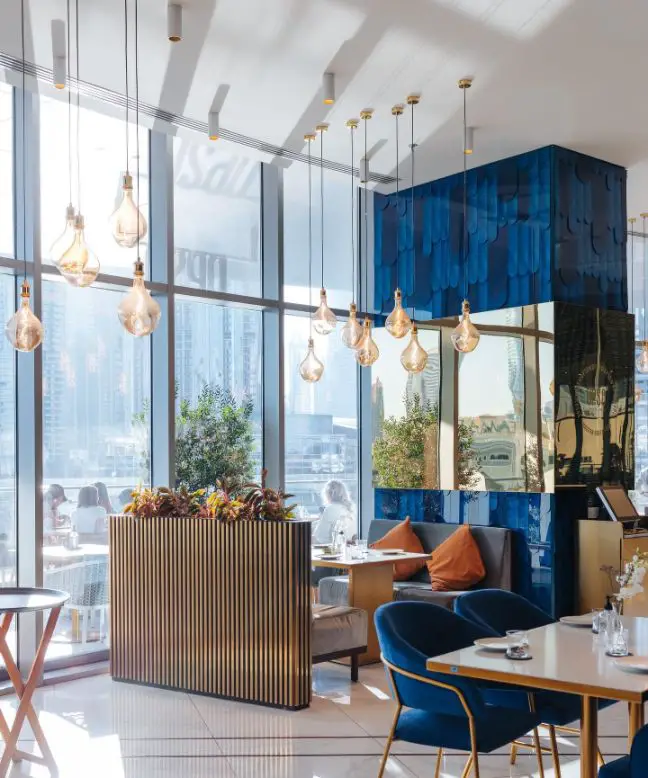 Modern Mediterranean cuisine and a fun family night out are both available at Opso. the ideal location for a fantastic view of the Dubai Fountain and the Burj Khalifa.
Opso is situated on the shopping center's Fashion Avenue side. The modern greek eatery is right at the heart of The Dubai Mall. You will find numerous well-known mocktails, which you can enjoy whilst you smoke shisha in an entertaining environment overlooking the Dubai Fountains and parts of the Dubai Downtown skyline.
Location
Second Floor, The Dubai Mall
Zouzou Restaurant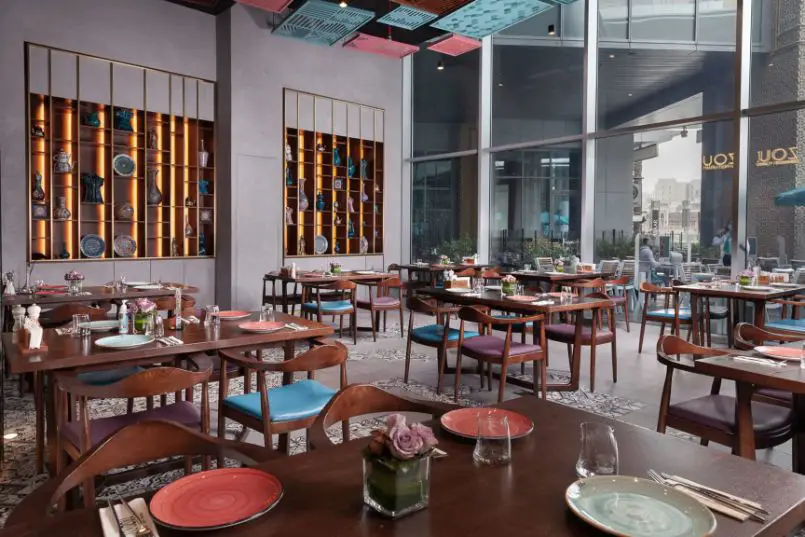 Enjoy the breathtaking views whilst dining at this fantastic Turkish and Lebanese restaurant.
The large servings will leave you feeling full and cravings satisfied. If you are a lover of Turkish cuisine or authentic Lebanese cuisine this is the perfect place for you, as they offer the best Turkish and Lebanese dishes which include their signature dish
They put their heart into everything they serve at the restaurant and this is evident in the flavorsome food they serve you and allow you to have unique experiences and shows while you eat.
Take advantage of the comforting atmosphere, friendly staff, and outstanding service whether you decide to have breakfast, lunch, or an evening meal at Zouzou Restaurant
Why not finish the night with one of their sweet delights which is the kunafa or baklava with their special Turkish tea?
Location
Lower ground floor, Dubai Mall, Near sheik Mohammed Bin Rashid Boulevard
---
If you are looking for a great meal while in Dubai, the mall offers some wonderful options. These 15 restaurants provide an array of international cuisine and will surely satisfy any palate. From Italian to Indian, there is something for everyone on this list.
So next time you find yourself at the mall, be sure to check out one of these eateries for a fantastic dining experience.