Did you ever hear about the bites of happiness? Well, shawarma is ours. And we can guarantee that nothing compares to late-night shawarma for an instant dopamine rush.
Shawarma is a popular dish, and Dubai has a large number of restaurants that serves tasty shawarma sandwiches and platters.
We gathered 11 restaurants that have the best shawarma in Dubai, that we think should be on every shawarma lover's list.
Al Mallah
Classic Shawarma with modern flavors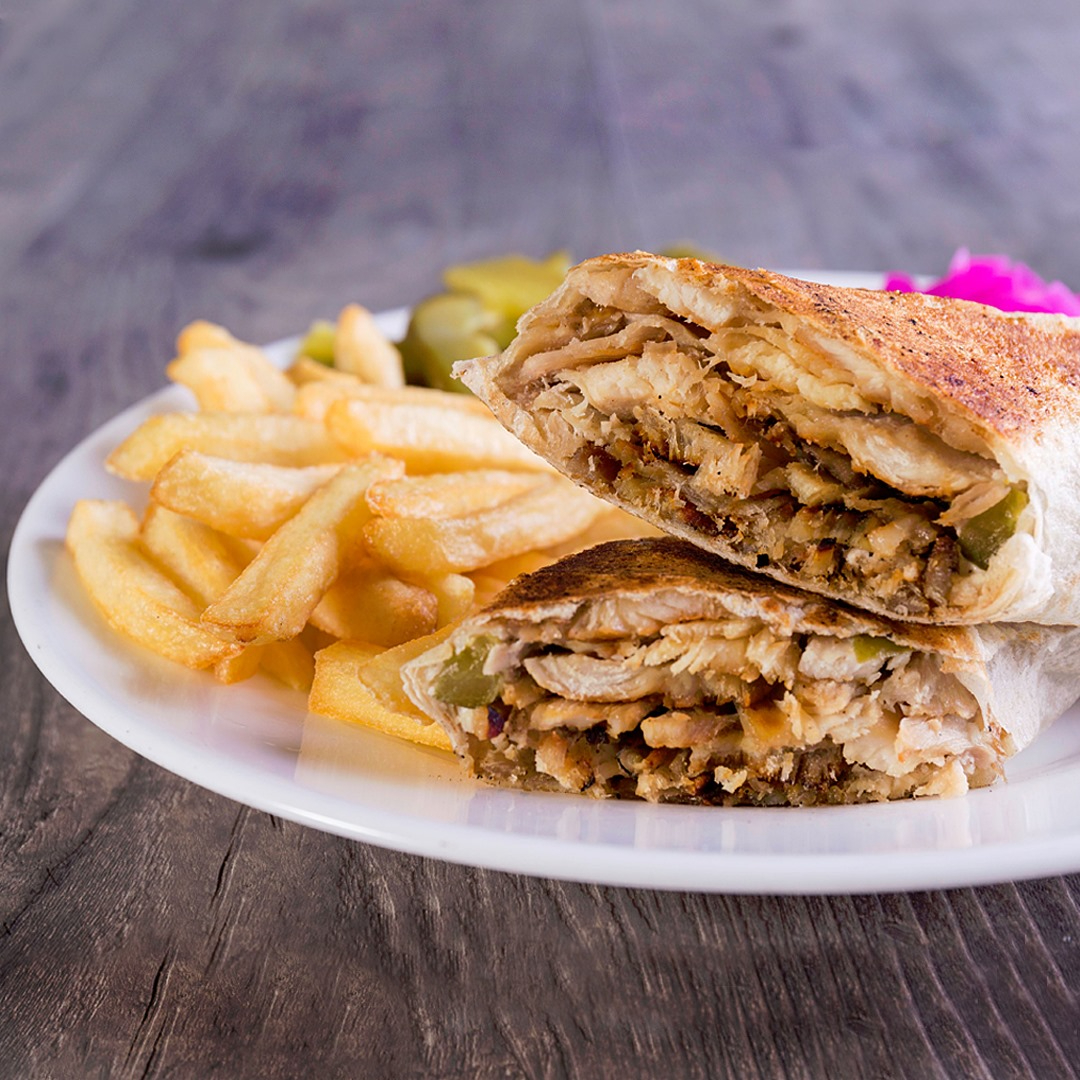 This restaurant opened in the 70s, and for nearly 40 years it continued to serve both those fancying a quick bite or groups that want to enjoy a Lebanese-style dinner.
Al Mallah is our favorite shawarma spot as it tastes as it should be (Traditional and well made) and offer pita, saj, and Mexican options, as well as a chicken and meat combo shawarma.
This restaurant is your perfect spot if you want to get fast, clean service and delicious food. They say that they voted the number 1 shawarma in the UAE, and we believe them.
Ahh! Their Shawarma is traditional, but their Instagram account can be hilarious sometimes.
Location
Aldiyafa Street, Dubai United Arab Emirates
Al Hallab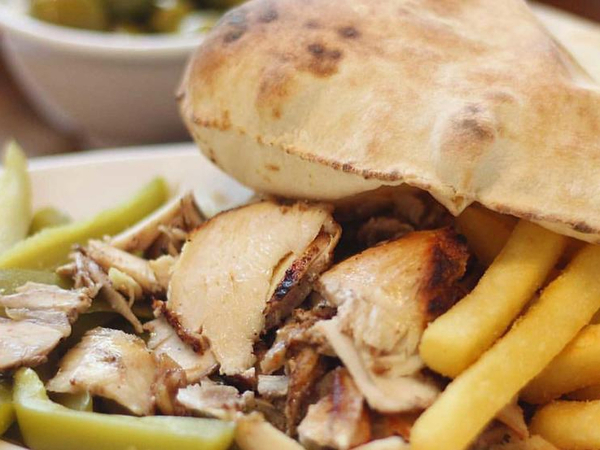 Located in the Mall of Emirates, the most luxurious shawarma in Dubai.
This Lebanese restaurant shawarma will blow your mind, as the food looks modern & fancy, yet it tastes original, and the portions there are mighty.
One of our friends told us that he could not survive a week without their shawarma, and honestly speaking Al Hallab should be your next destination if you want to try one of the best classic Arabic Shawarma in Dubai.
They are a bit pricy, but they deserve every penny. Quick advice, don't leave the restaurant without trying their Falafel sandwich!.
Branches
Garhoud
Mall of Emirates
Bab El Bahr – Downtown Dubai
Al Safadi
A glimpse of Lebanon while sitting in Dubai? Yes, please!
With more than five branches around Dubai, you will find one of Al Safadi's restaurants near to satisfy your craving for a mouth-watering Shawarma.
What did we love about their Shawarma?
It is fresh and clean, and the dishes come with delicious stuffing like pickles and tahini sauce.
Opt for their chicken shawarma for one of the best combinations.
Timings
Open daily from 08:00 am to 01:00 am
Allo Beirut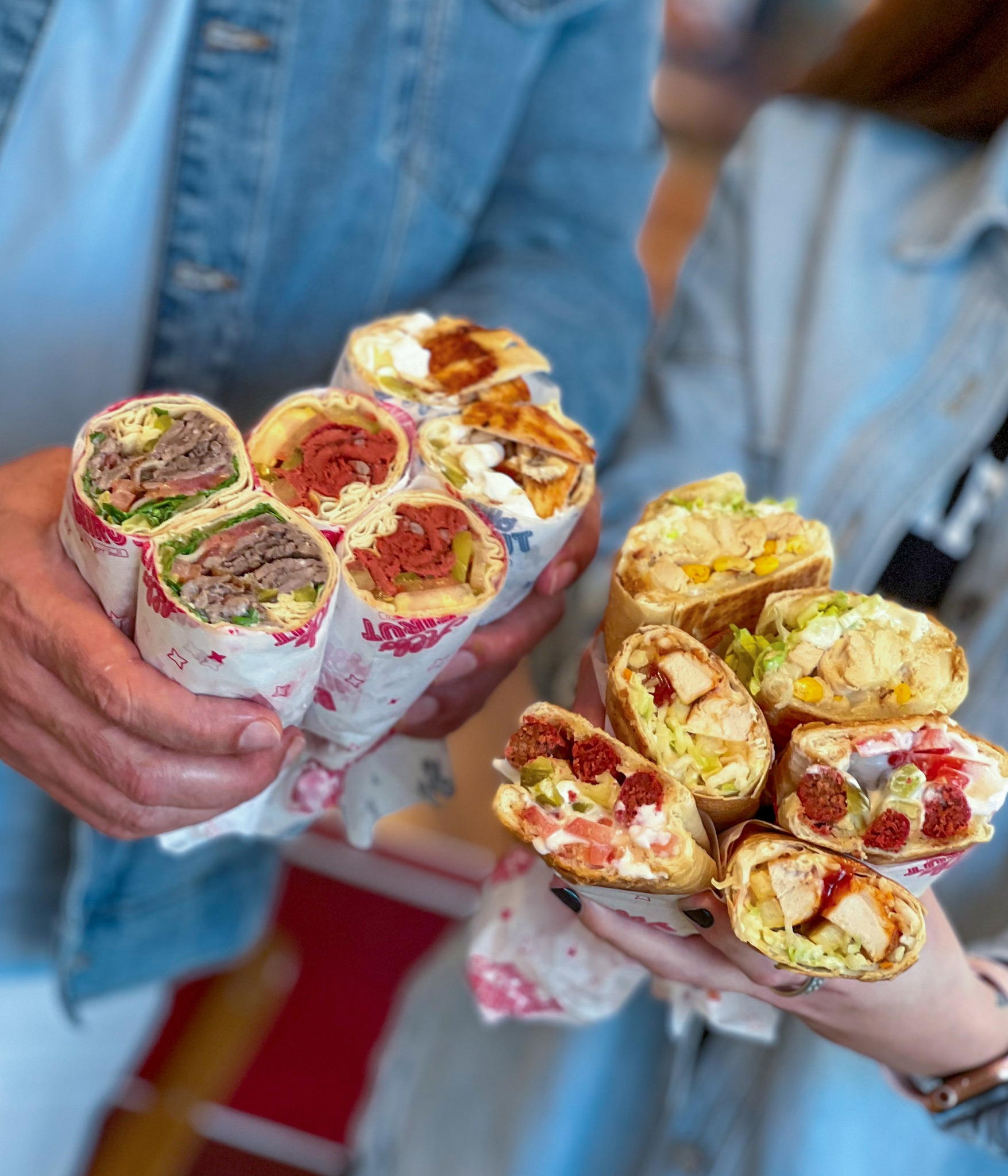 If you feel nostalgic about the smells and flavors of Lebanese street food, then you should try Allo Beirut shawarma.
They serve fresh, juicy charcoaled chicken shawarma in saj Lebanese bread. The bread is fresh, and the garlic sauce is quite delicious.
We were really impressed by the lively and colorful ambiance of the restaurant. The place has a street-style vibe and fun decoration. Their prices are affordable for a casual dine-out. Though the place is jam-packed the staff is attentive, and the service is fast.
So if you are looking for a Shawarma with an authentic Lebanese taste Allo Beirut serves one of the best shawarma in Dubai.
Location
Hessa Street, Dubai United Arab Emirates
Zaroob
The Impossible Shawarma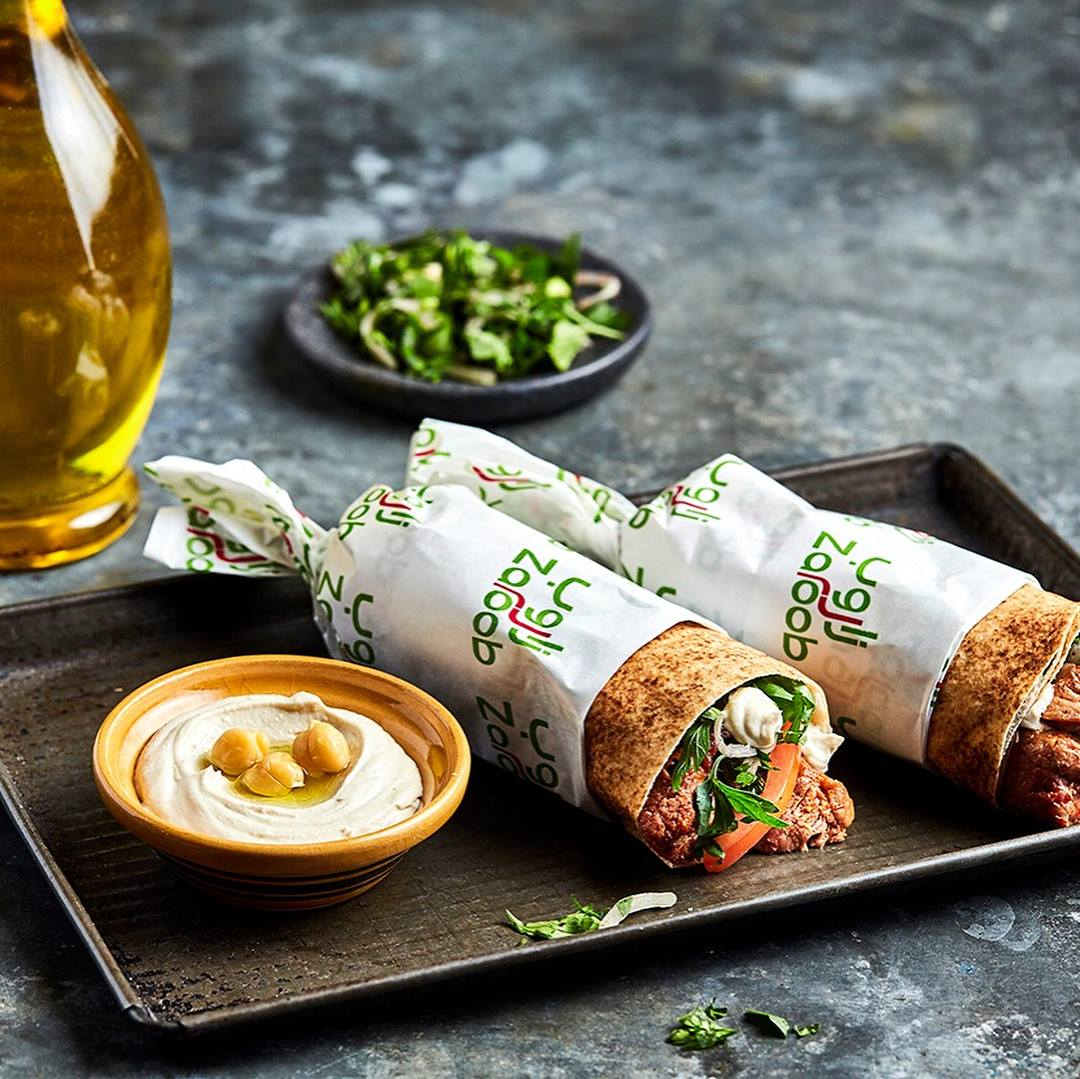 Zaroob knows that craving can hit you at any time. Therefore, they offer a 24\7 service at their Jumeirah tower branch to satisfy your shawarma cravings at any time of the day. 
They offer a cool thing called the impossible shawarma, and they call it impossible as it is 100% plant-based.
Chicken shawarma hummus at Zaroob is a meal by itself, the shredded part of the shawarma is seasoned well, and this item is a great alternative to the classic shawarma. Also, their menu includes both wraps & platters along with much other tasty stuff that comes at very reasonable prices.
They have been serving shawarma in Dubai for 10 years, and their shawarma is 10\10 or "3ashra 3ala 3ashra!" as they say.
Branches
Radisson blu residence, Dubai marina
Sheikh Zayed Rd Shop 1, Ground Floor, Jumeirah Tower Building,
Al Mandaloun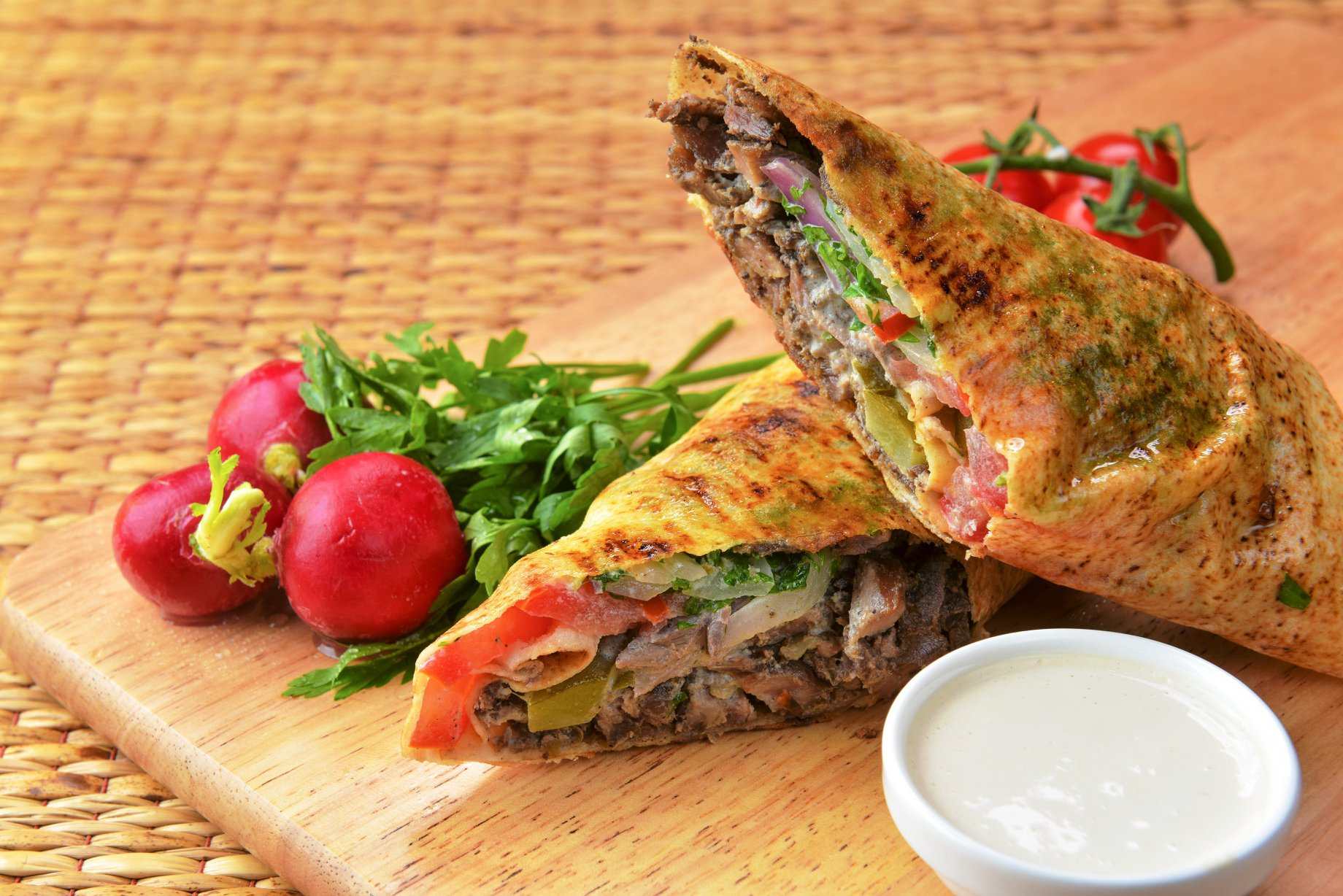 If you are looking for one of the best shawarma restaurants that serve good shawarma and have a whimsical view at the same time, then Al Mandaloun is highly recommended.
The restaurant offers mixed shawarma platters that are accompanied by warm pita bread, pickles, and two different sauces for dipping. 
The portion size is huge, and the platter is divided into two halves to serve chicken and beef shawarma. The meat was juicy, moist, and delicious, and the chicken was divine.
Whether you like Shawarma on a sandwich or on a plate you should eat at this place. It is a must-try!
Location
Dubai International Financial Center- UAE
Operation Falafel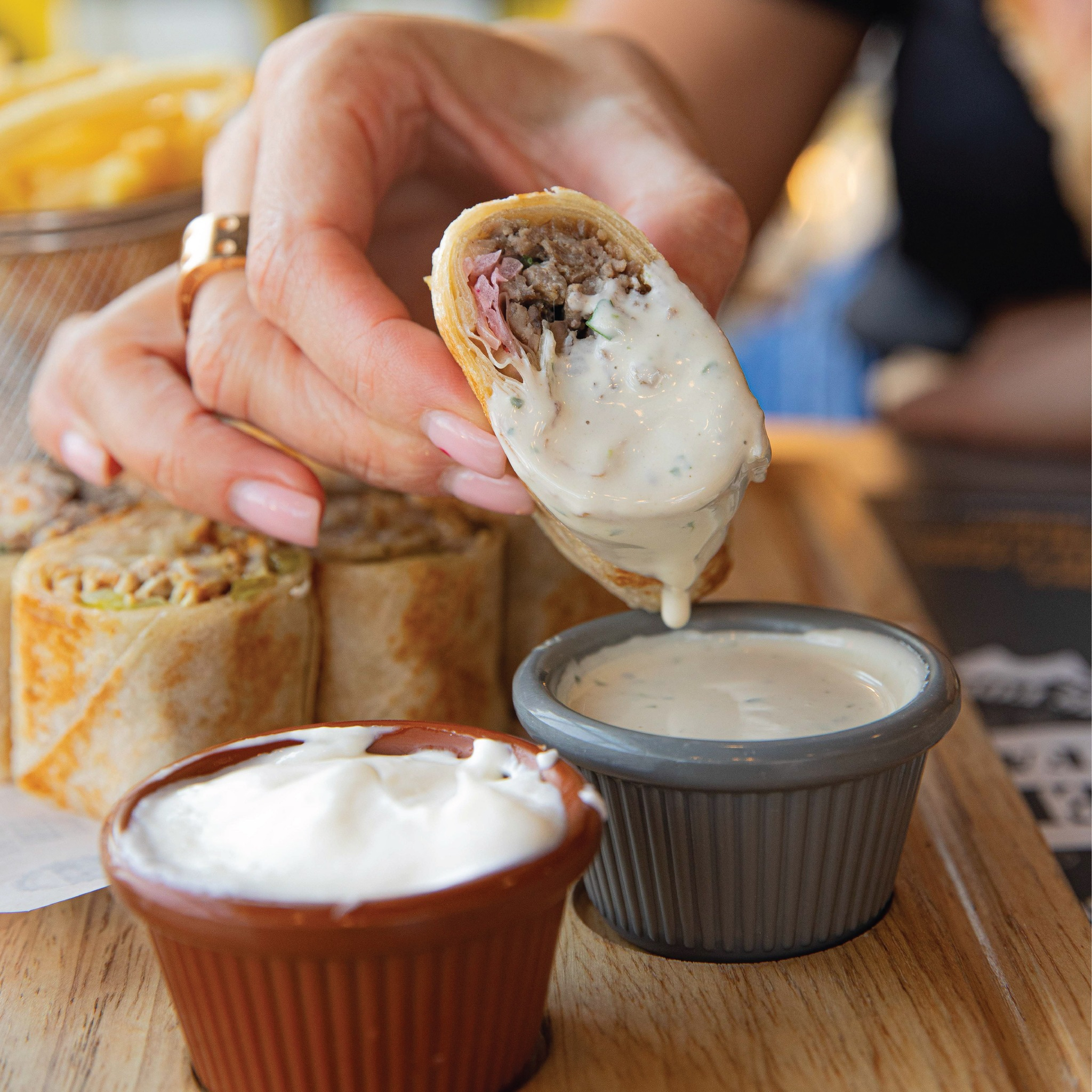 Their name might deliver a wrong perception about the restaurant, and you might believe that it offers Falafel only. But, on the contrary, they offer the best freshly baked saj chicken shawarma in Dubai.
Operation Falafel will make you experience the street food experience mixed with fresh ingredients and balanced flavors.
We can say that Operation Falafel is one of the best places to visit in Dubai to have falafel and shawarma. 
For us, our top pick item is the beef shawarma saj plate.
Location
Jumeirah Beach Residence (JBR)
Belad Al Sham
Best Affordable Shawarma in Dubai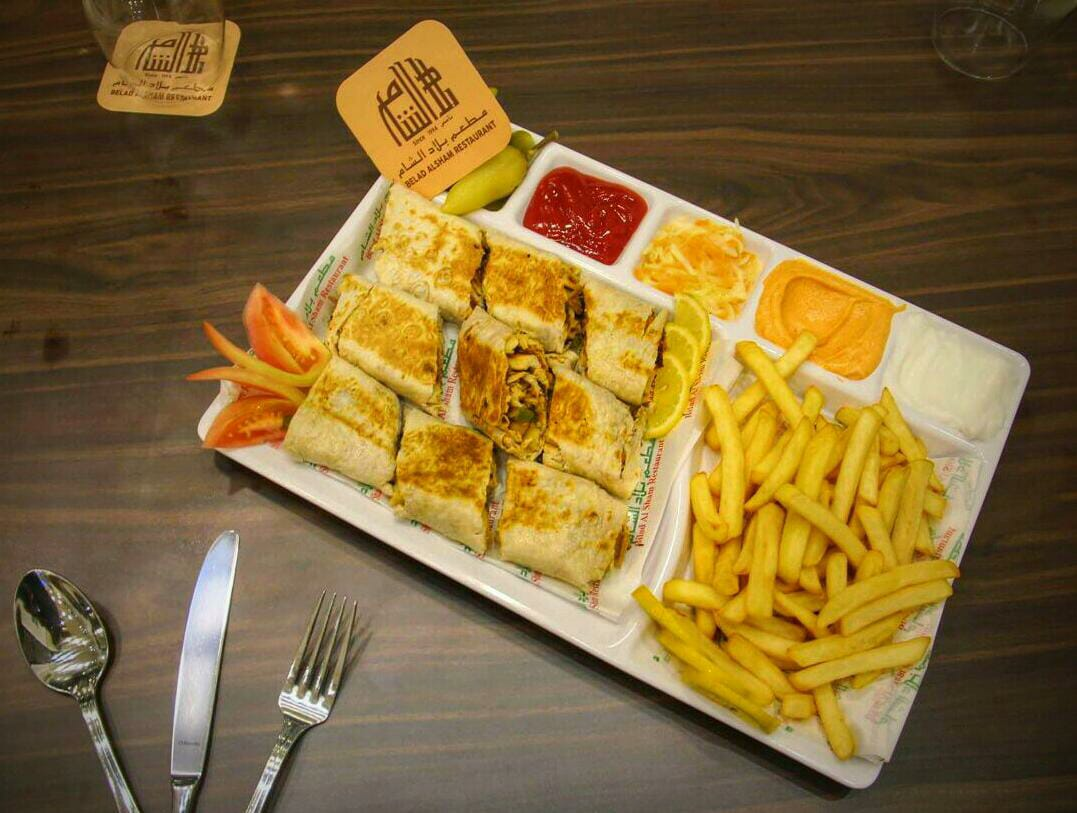 We reached this restaurant through google maps. It is a small place that doesn't look fancy at all. But, we didn't judge the book by its cover and decided to try it.
And surprisingly we found it yummy! Shawarma is covered in thin bread that is extra crispy as it is grilled. The filling from chicken is juicy, tasty, and with the right amount of ingredients.
The food is not heavy at all and is also light on your wallet
Location
Al Twar 22 St, Dubai
Filful
Retro-Nostalgic Lebanese restaurant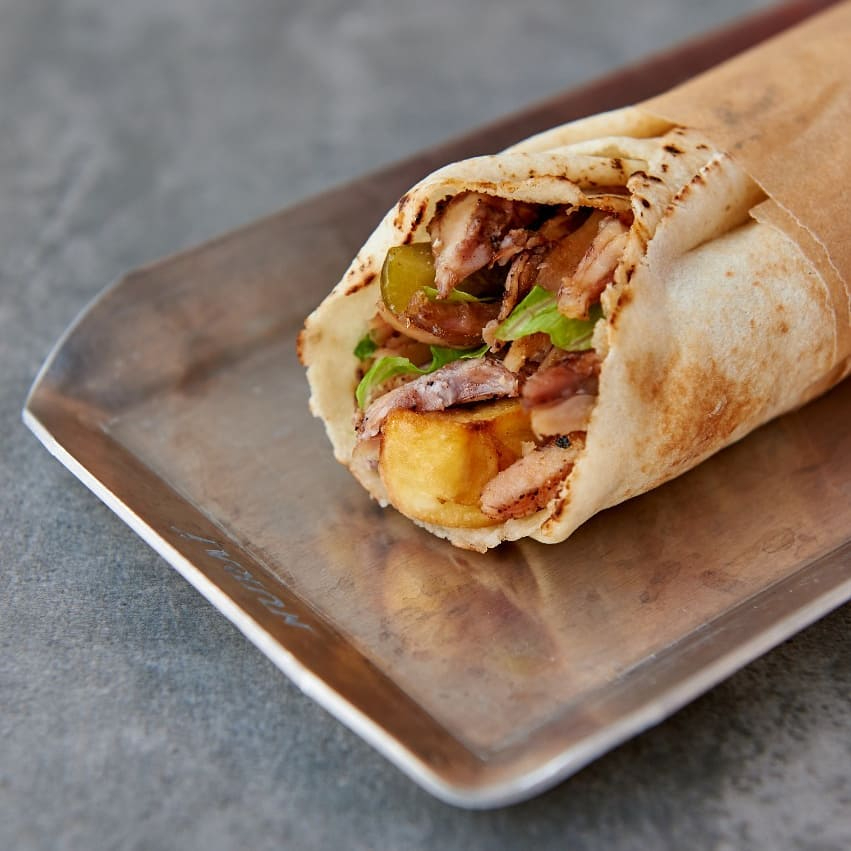 If you want to try authentic Shawarma, then Filful restaurant is your best choice.
It is the most authentic Lebanese restaurant in UAE. They offer a wide selection of food that suits every diet, especially their starters. 
Their dishes feel like home-cooked food, you can pick randomly any dish, and you will be pleased with the taste.
Portions & prices are good considering that you are dining in the heart of Dubai.
What is unique in Filful?
 The food is tasty, the staff is friendly, and the atmosphere is beautiful. They offer something called broasted chicken ((breaded fried chicken) that is really recommended.
Filful is a restaurant that you should visit when you are in downtown Dubai.
Location
Sheikh Mohammed Bin Rashid Boulevard, Dubai.
Bebabel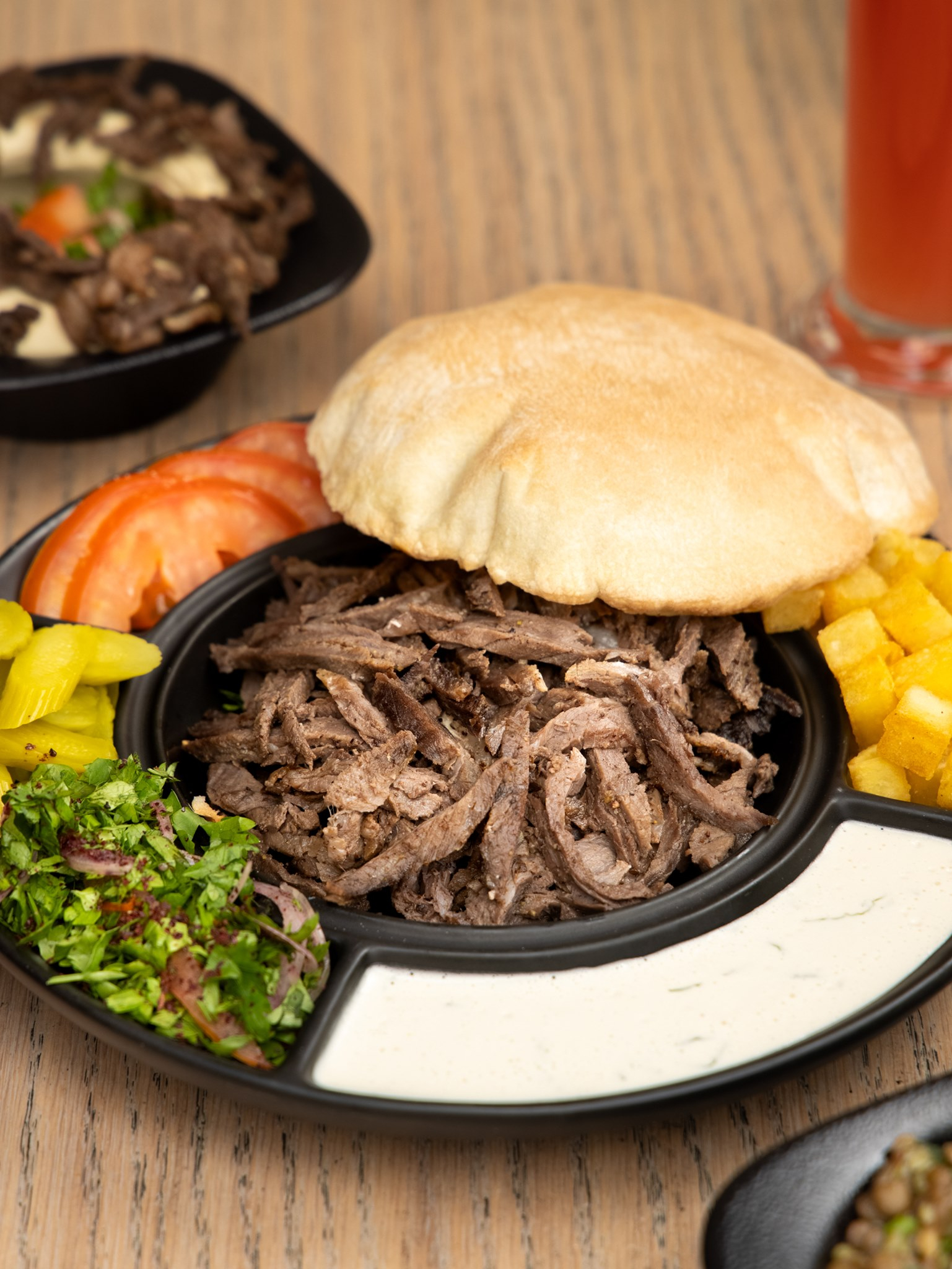 We don't always find the opportunity to enjoy a bite of shawarma and enjoy a concert or have a view on-site while eating except at Bebabel.
This traditional Lebanese cuisine is so generous with its portions, the food is value for money, and their service is excellent.
They have concerts both on the terrace and inside the restaurant to make your dining experience memorable.
The outside terrace is mode-alleviating, and the view from the balcony is enchanting. Imagine eating your Shawarma with the Dubai fountain and the Burj at your site so sensational.
Bebabel restaurant has many merits.
You can enjoy dinner there with your family and kids, and the lovely ambiance and magnificent view work best for a romantic dinner.
We liked many items from Babel's menu, but the best are falafel, chicken livers, and hummus shawarma.
Location
Sheikh Mohammed Bin Rashid Boulevard, Dubai United Arab Emirates.
Al Ijaza Cafeteria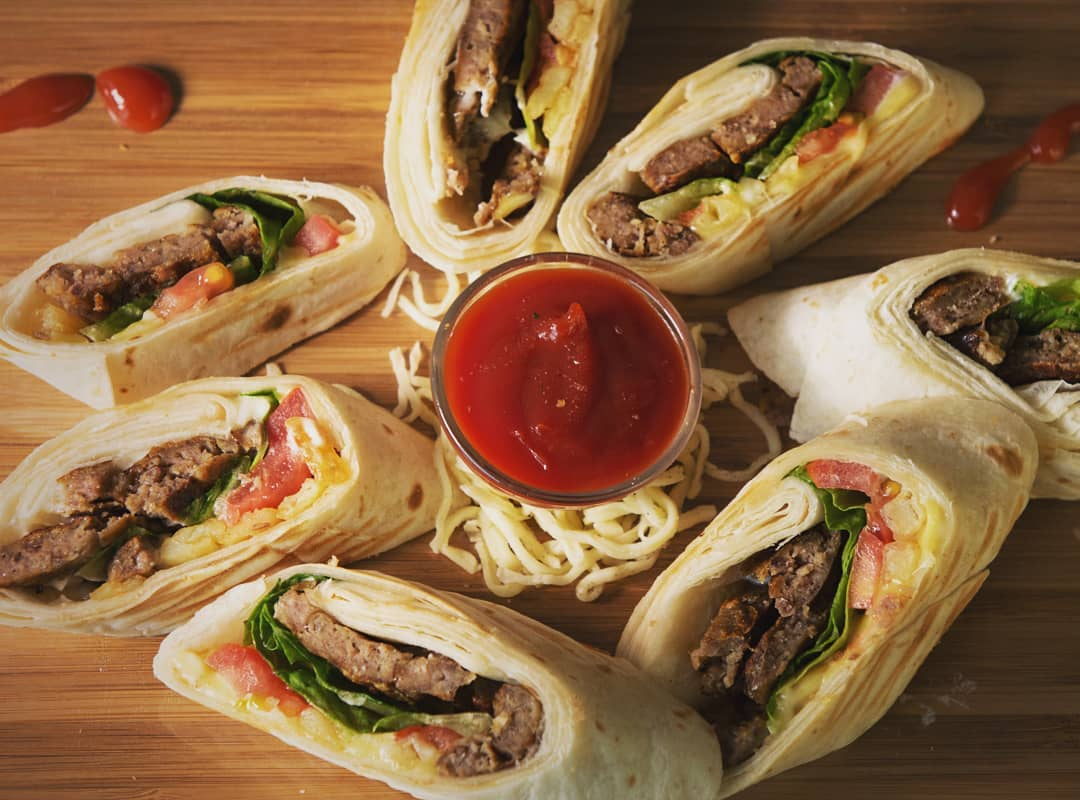 Once a Shawarma craving hits, nothing can be done but satisfy it. 
And when it comes to having the fastest shawarma in Dubai Al Ijaza Cafeteria is your superhero.
Old but gold
They opened 15 years ago, and during this, they managed to maintain their taste standards, professionalism, and fast service.
They are a fast food place, but they changed our opinion about street food because of their tasty food and vast menu. 
Their menu suits many tastes because it contains various items Shawarma, burgers, cocktails, milkshakes, and fresh juices.
Their prices are wallet-friendly, and the quality of the food is superb.
Al Ijaza Cafeteria is our favorite quick visit and takeaway spot, especially when we are roaming on Jumeirah road. The only problem is that the parking nearby is always full during peak time, but if you don't mind walking for 5 mins and parking near the beach, then the problem is solved.
 If you have a space in your stomach after eating Shawarma, try their Hassan Mathar (a sandwich stuffed with chicken, cheese, and fries on flat-grilled bread).
Location
Jumeirah Beach Road, Dubai United Arab Emirates.
Other Shawarma restaurants you should try
Barbar
Man'oushe Street
Café Beirut
Al Falamanki
Istanbul flowers
Laffah Restaurant
Many restaurants in Dubai offer shawarma. We tried to gather the finest of them to help you enjoy the tastiest Shawarma experience.
Next time you feel hungry or missing a shawarma bite, try one of the restaurants on our list.