10 Sushi Restaurants that will satisfy your Sushi cravings!
Dubai has plenty of Japanese cuisine options that serve fantastic sushi. The variety is endless from the fanciest to the cheapest. 
Whether you are a big fan of Sashimi, fond of simple Nigiri, or Maki is quite to your taste. You will definitely find a sushi restaurant in Dubai that is finger-licking good.
Gather around sushi lovers! We've prepared a list of the finest sushi restaurants in Dubai that will suit your taste and will surely satisfy your sushi cravings.
Tomo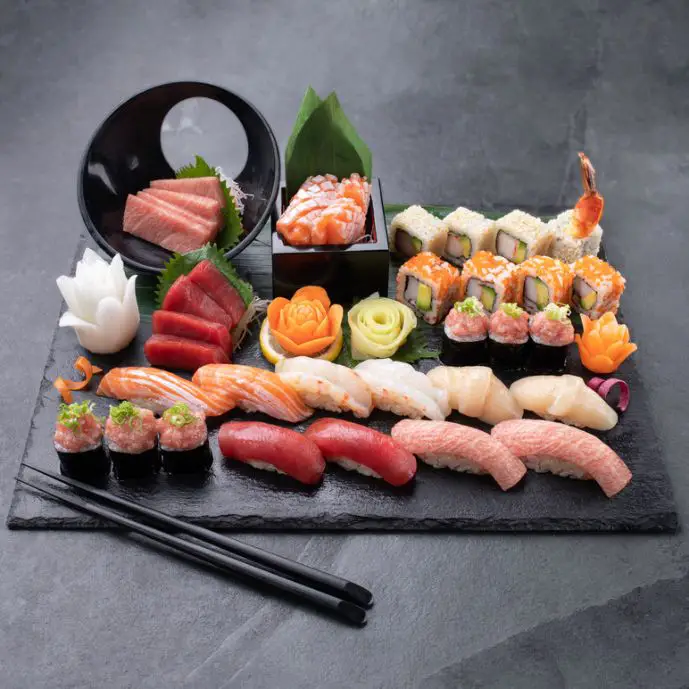 Inspired by the Japanese word TOMO which means longtime friend. Comes the name of this Japanese restaurant, and amazingly the name suits this place pretty well as its staff is amicable and helpful in a way that will make your experience remarkable.
Regarding quality, Tomo standards stay consistently excellent since they import their fish weekly from Japan. The ambiance is the cherry on top so you can enjoy your sushi with a stunning panoramic view of Dubai as you dine.
This Japanese restaurant is great for a business dinner and also works great for a romantic date as it is in the Raffles hotel.
The ramen there feels like a warm hug and they offer a set menu brunch with an unlimited selection of their best delicacies and beverages every Saturday from 12:30 to 3:30 pm for AED 319 AED or AED 449.
Location
Wafi City Shk Rashid Rd Raffles Hotel, Dubai, United Arab Emirates
Price per person: AED 220- AED 440
Booking
+97143577888
Hōseki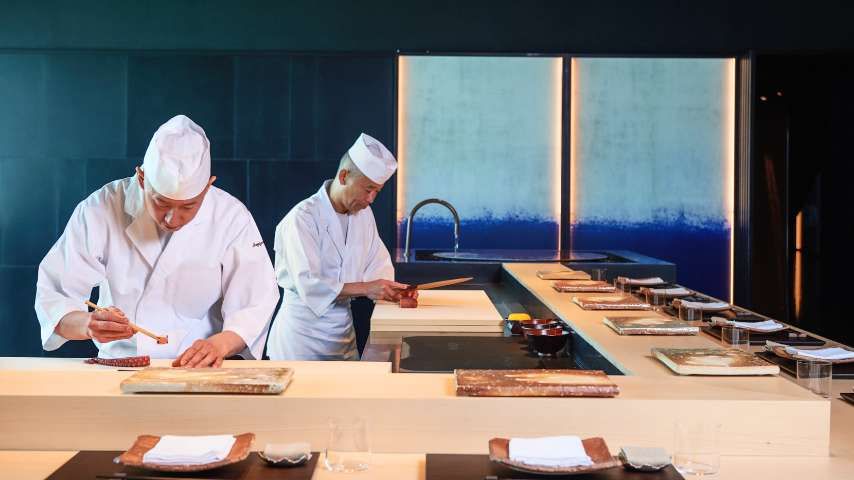 Feels as if you've been transported to Japan without even traveling by visiting Hōseki sushi restaurant in Bulgari Resort Dubai Jumeirah.
The restaurant is simple with only nine seats, pitch dark and lit by the lights of Dubai's skyline.
This place is for true sushi lovers, where you will taste the finest sushi. Its ingredients come freshly every day from Japan and are prepared by Chef Masahiro Sugiyama who comes from a long line of sushi masters.
Every meal includes miso soup, their signature omelet, and a sushi set. The restaurant is ideal for those looking for a taste of true tradition.
We recommend visiting this restaurant on special occasions only since it is on the expensive side and your wallet will hate you.
Location
Bulgari Resort – Jumeirah 2 – Dubai
Opening hours
Lunch: 1.00 PM from Thursday to Sunday
Dinner: 6.00 PM and 8.30 PM from Wednesday to Sunday
Price per person: AED 550- AED 1468
Booking
+971 4 777 5433
Akira Back Dubai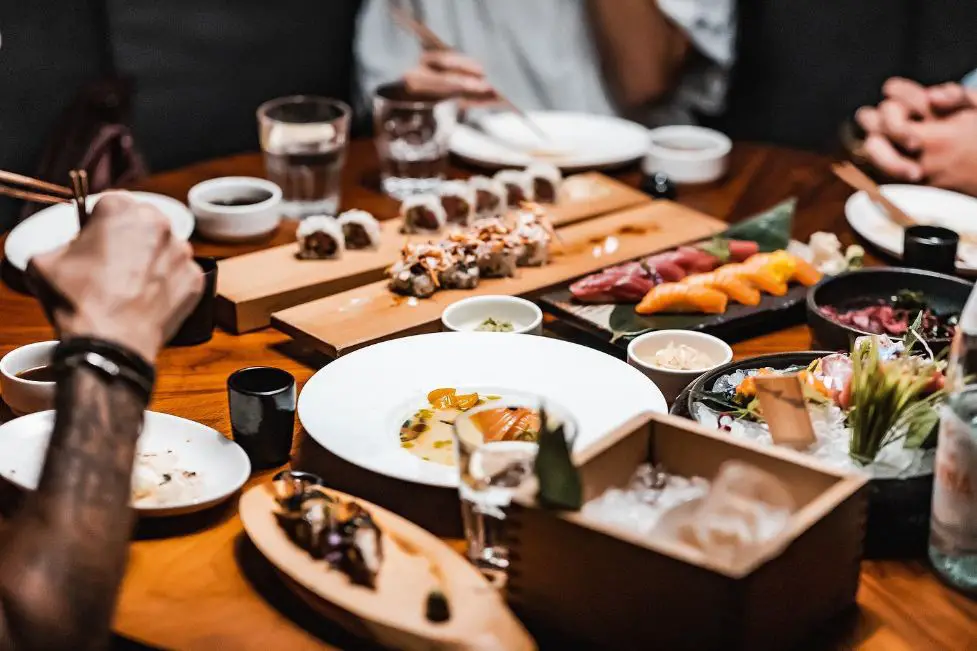 Chef Akira Back brings the traditional flavors of Japanese food using international Korean flavors. 
This restaurant is one of the best sushi restaurants in Dubai that offers superb service & Japanese dishes.
What differentiates Akira back from other sushi restaurants is their offers and the availability to either dine the outdoors or enjoy a private dining area, in addition to the variety of platters the restaurant offers that suit many tastes (Vegetarians, Vegans, Gluten-Free Options) 
They offer 3 promotions
Ladies' Night, Every Monday 7 PM- 9 PM for AED 250. 
Lucky number, where they let you choose from 1 to 9 to design your trio set menu Starting from AED 111 per person from Tuesday – Sunday, 7 PM – 11 PM. 
Candypants Brunch Every Saturday 1 PM – 4:30 PM From AED 399 per person.
 Location
W Hotel Dubai The Palm West Crescent, Dubai United Arab Emirates
Price per person: AED 149- AED 500
Booking
+971 4 245 5800
Sushi Art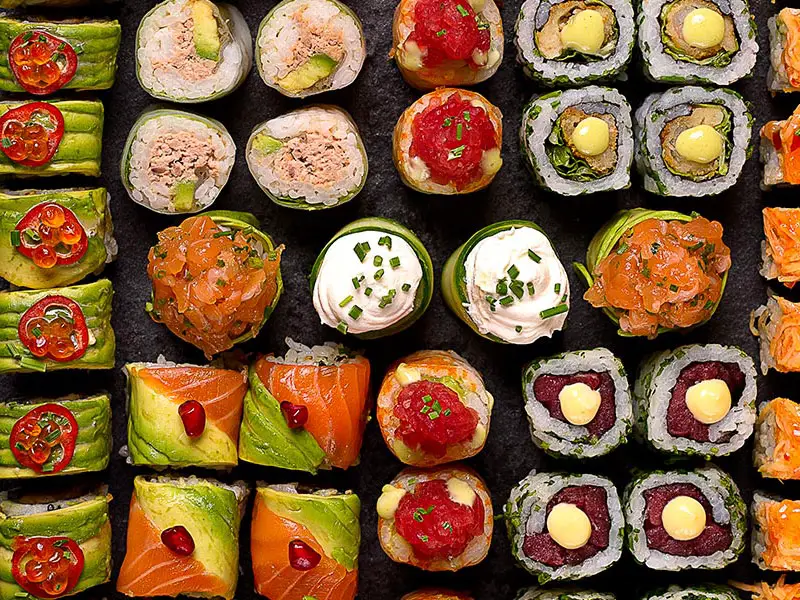 If you are searching for healthy traditional Japanese cuisine or an Asian sushi restaurant, then Sushi Art is your best choice.
The majority of the time, you will only find seafood sushi in Dubai. However, SushiArt has a gorgeous sushi menu including different varieties of beef, chicken, veggies, and seafood sushi.
This restaurant is truly unique as they serve goose liver sushi there. Not only that, but they have one of the best dynamite shrimps in Dubai!
Although Sushi can be quite an expensive option, this place solved the equation by offering decent-sized portions at reasonable prices, which works best for your sushi cravings at the end of each week.
Location
You can find Sushi Art almost everywhere in Dubai, from Media City, DIFT, JBR to Motor City!
Zuma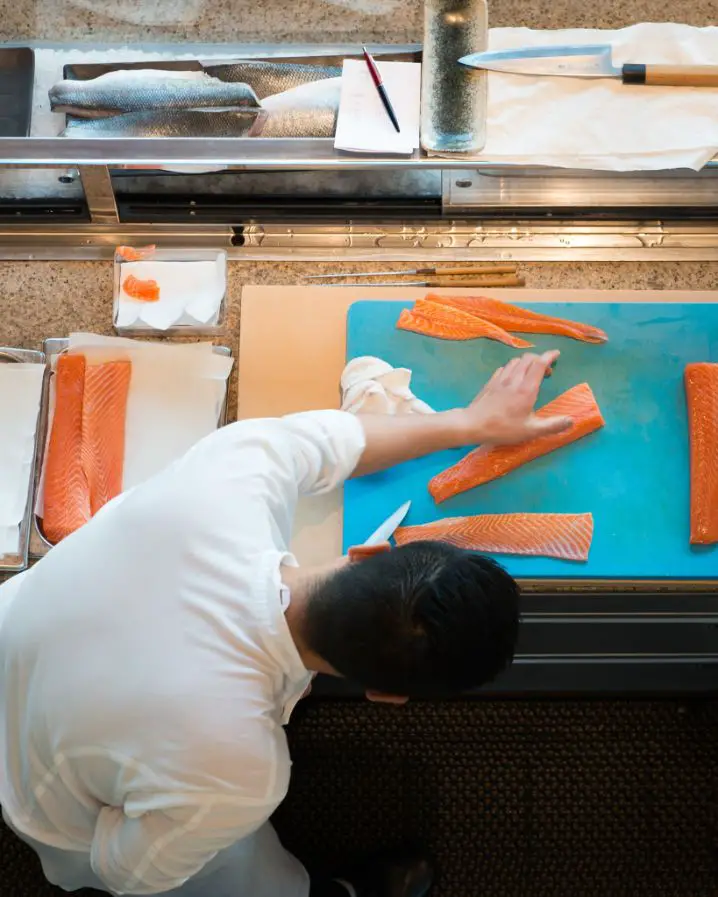 If you want to enjoy eating at a sushi bar near Burj Khalifa, then Zuma Japanese restaurant is your best call.
The restaurant is famous for its Izakaya style, where dishes are designed to be shared at table-making the place a truly authentic Japanese cuisine experience.
The menu is quite comprehensive and alluring at the same time. You can dine in the private area on the long solid oak wood table or go for the counter option which doesn't need a reservation.
The representation of each dish is very chic, simple, and stylish. 
Here is our recommendation… Try the black cod as it's one of their signature dishes and it's crazy delicious!
Location
Gate Village 06, DIFC, Dubai 506620 United Arab Emirates
Booking
+971 4 425 5660
Fujiya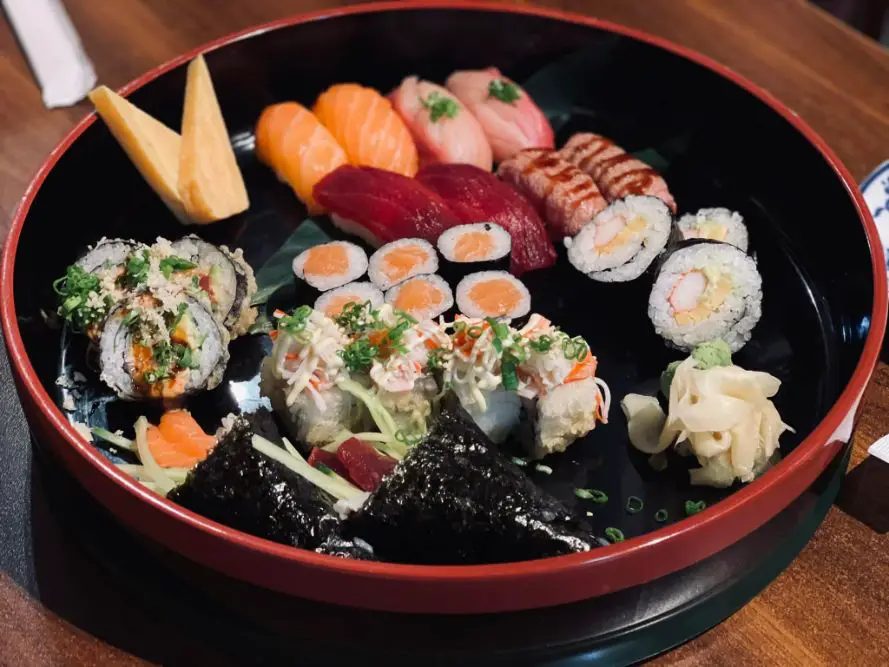 Ever tried the Izakaya (street) style Japanese food? if Yes, then Fujiya is the place to be being one of the best sushi restaurants in Dubai.
It doesn't take long to notice how authentic this restaurant is, The staff there are welcoming and very attentive. You can bring your kids, friends or even a romantic date, at Fujiya, there's something for everyone.
Try not to miss their Wagyu sushi, it's divine!
Location
Casablanca Street Millennium Airport Hotel, Dubai, United Arab Emirates
Booking
+971 4 702 8846
Sumo Sushi & Bento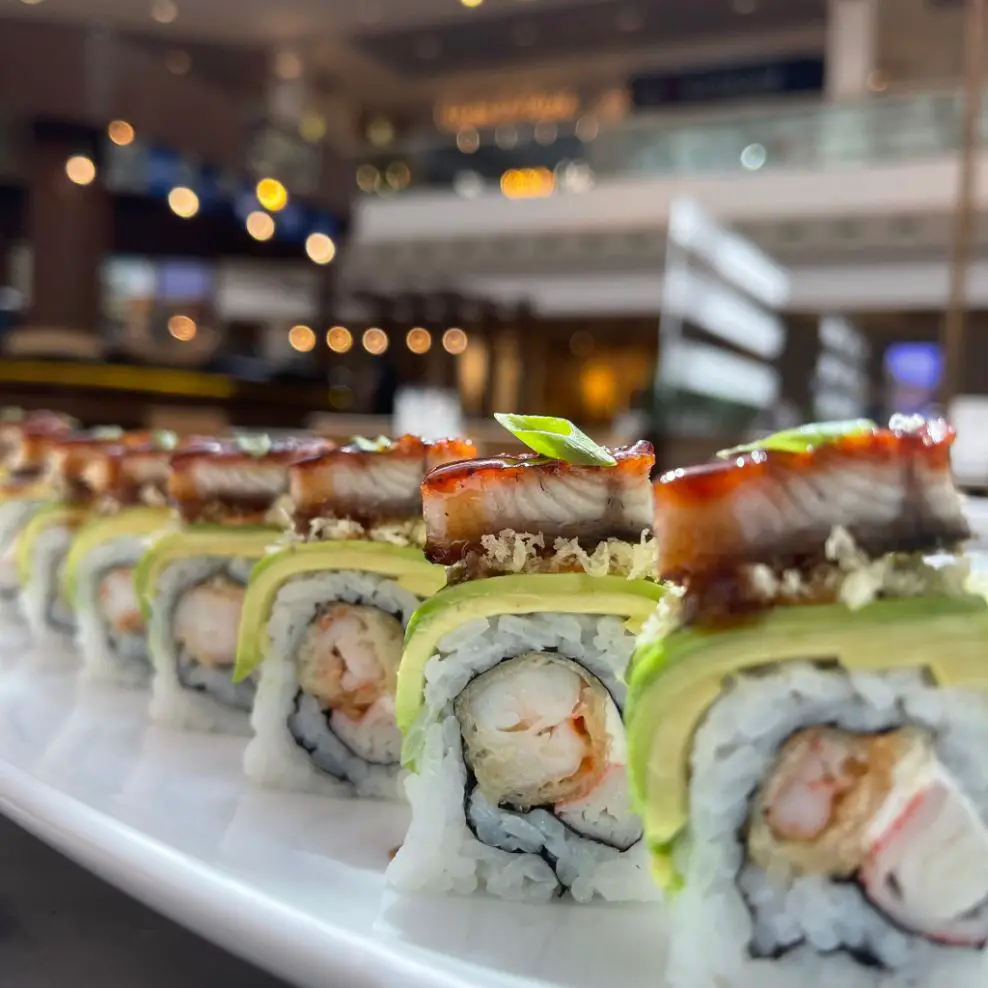 Spent an enjoyable day at the beach and can't shift your strong sushi craving?
Sumo Sushi & Bento is the perfect spot to treat yourself to an affordable sushi meal.
The restaurant is clean and they have a quick service in addition to their helpful and very polite staff.
They also offer healthy options such as Black Sushi rice which is good for the heart and tastes exquisite. We recommend the Dynamite Rolls and the Neptune-named ones.
The most fantastic news is that they've launched their own new delivery app called Sumo Sushi which will deliver all your favorites right to your door if you don't feel like dining outside. How convenient!
Location
You mean where is it not located, Sumo is all over Dubai (Literally) and in Sharjah too!
Price per person: AED 55 – AED 147
Chez Sushi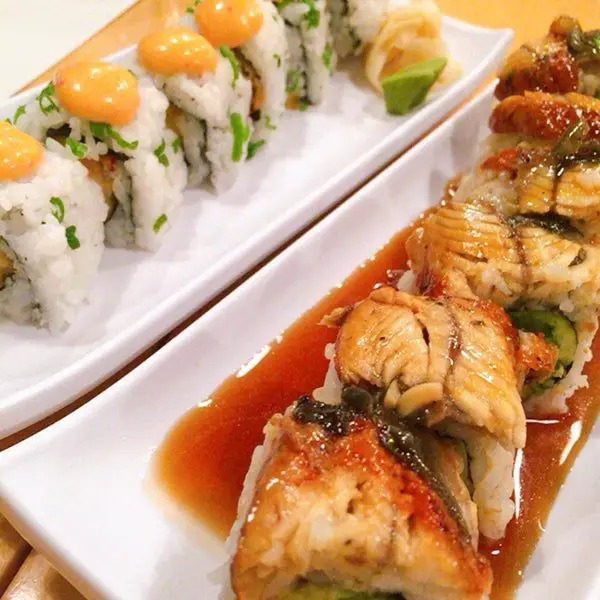 Continuing with the affordable Japanese restaurant options, Chez Sushi comes on the list for a heartily filling meal at an affordable price.
You can truly taste the freshness of the ingredients as if they came straight from the sea onto your plate. Not to mention the quality is unmatched. All of this combined makes the hearty recipe for the best sushi in Dubai.
Their menu has an extensive range of fish sashimi, Aiki, and sushi rolls such as salmon sake, kingfish hiramasa, and yellowtail hamachi.
We highly recommend the California maki and try not to miss their sushi burrito!
Location
Al Wasl Road, Block 5, Shop 18, Wasl Square – Dubai
3Fils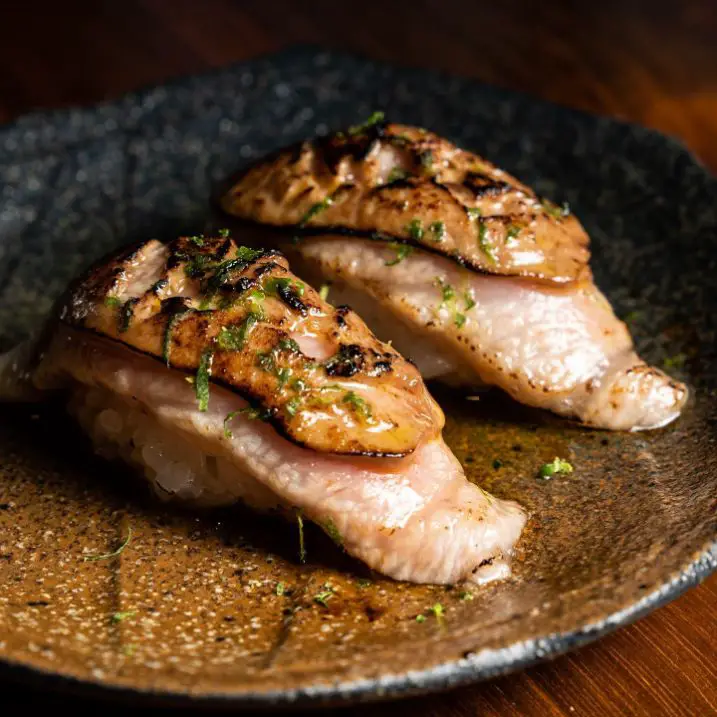 3Fils is Time out's best Asian restaurant in 2018, 2019, and 2020. On Forbes's top 10 coolest places to eat in 2019 and the best restaurant in the Middle East and North Africa.

Not just that, it is also located in a unique place-Jumeirah fishing harbor. This restaurant can compete up there with the fanciest sushi restaurants in Dubai and excel too, just because of its desired and well-known location next to Dubai Marina.
The restaurant serves delectable Sushi that comes in many flavors and it's one of the best sushi places if it's your first time eating sashimi. 
We recommend trying their Salmon-Carpaccio, and the seaweed salads are finger-licking good. We can still taste them as we are typing now!
Location
Jumeirah Fishing Harbour 1 Shop 02, Dubai United Arab Emirates
Booking
+971 4 333 4003
SushiNations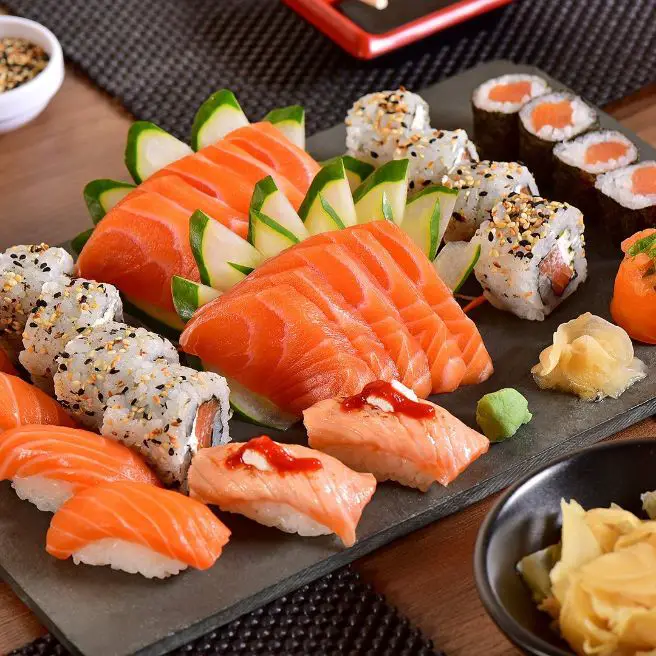 Did someone say all you can eat Sushi? YES Please!
Sushi lovers can't get enough of eating it and so a sushi buffet is probably the best option where you can eat as many flavors as you want without any limits.
At the top of our list for sushi buffets in Dubai is Sushi Nations, where you can eat tons of sushi without paying tonnes of money.
They have different dishes like maki rolls, noodles, and calamari. Calamari is a favorite for any seafood lover so don't forget to visit Sushi nations if that sounds like you.
Location
SushiNations have four different locations in Al Barsha, Motor City, Deira, and Mirdif
---
While there are many sushi restaurants in Dubai to choose from, the ten we've listed offer an unparalleled dining experience.
From fresh seafood to inventive rolls, these establishments will have you coming back for more. Whether you're looking for a casual meal or a special occasion spot, we've got you covered.
Prices range from affordable to luxurious, so there's something for everyone. What is your favorite sushi restaurant in Dubai?