In a city as glitzy as Dubai, it's no surprise that there are more than its fair share of luxurious and high-end restaurants.
Whether you're looking for somewhere to celebrate a special occasion or simply want to treat yourself to a night out, these 15 venues will definitely fit the bill. From elegant French eateries to energetic Latin & Mexican cuisines, there's something to suit every taste and budget in this list.
Isn't it the right time to start planning your next date night?
Al Nafoorah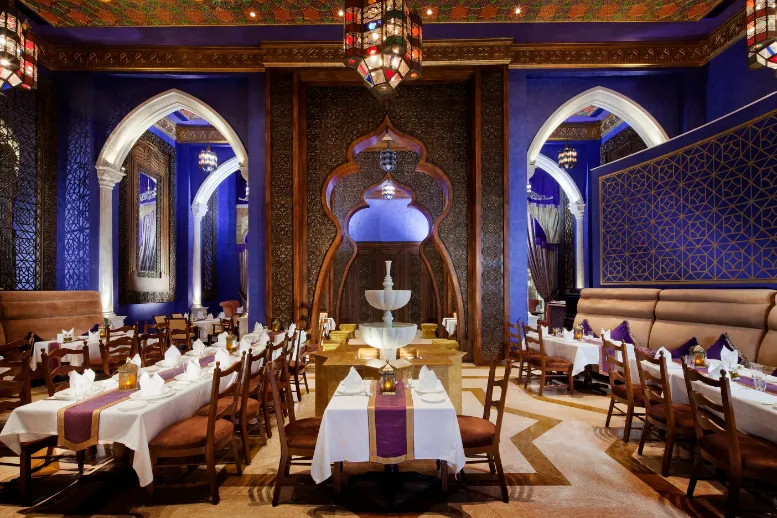 Prepare yourself for a memorable experience at one of the best Lebanese restaurants in Dubai.
From the first step you put inside Al Nafoorah restaurant, you will get royal vibes because of the high ceiling and the dark wood carvings.
The atmosphere is so calming and relaxing. Whether you want to sit inside or at the terrace with palm Jumeirah at your sight, you will find a welcoming, friendly staff to serve you.
This place is suitable for any occasion, and they have a distinctive menu with large portions of Lebanese dishes (mezze, shawarmas, mixed grills).
Location
Lower Ground Floor, Jumeirah Al Qasr
opening
Lunch: Thursday – Sunday, 13:00 – 15:30 | Dinner: Daily, 18:30 – 23:30
Le Rosé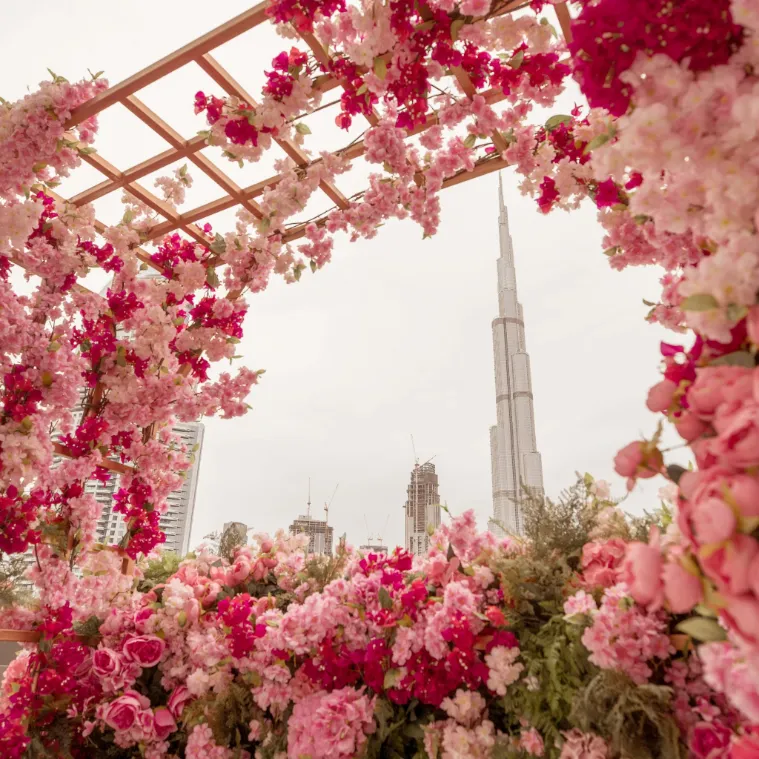 This place will transfer you to France while sitting in Dubai. Le Rose is an elegant restaurant with beautiful decorations that will stun you.
If you love pink, this place will be your favorite as it is pink& chic. Le Rose is a french gem with Burj khalifa as a view. You must visit when you are passing by the Downtown.
When you visit this restaurant, try not to miss their onion soup & baked camembert.
Location
Fountain Views Hotel 12th Floor
Opening
7:00 pm till 12:30 am
Deseo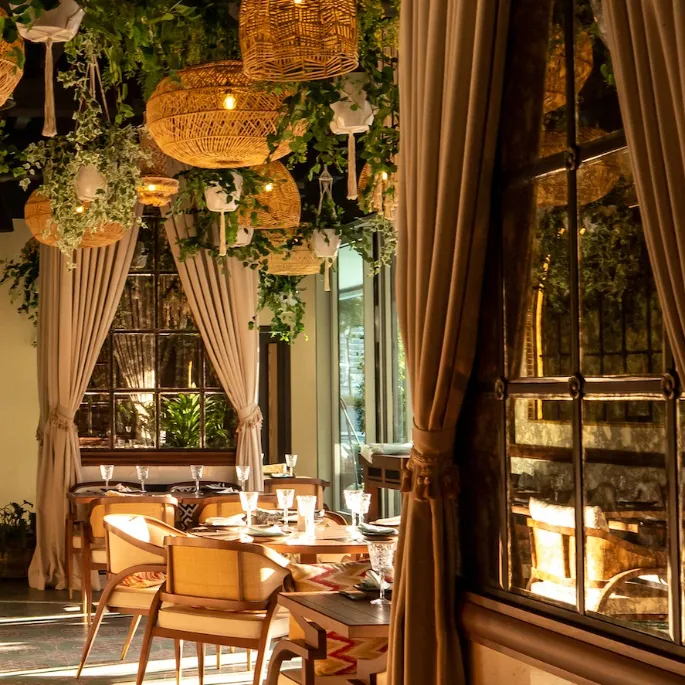 Latin American restaurant in the heart of Dubai
Deseo is one of the fanciest restaurants in Dubai that should be on your list if you want to spend a day by the pool and then treat yourself to a couple of Latin delicious dishes.
This place will stun you with its Boho style, leafy greenery pendant lighting, and outdoor seating. In addition to rafia furniture, a picture at this place will get tons of likes.
Their menu is varied with everything from steaks, nachos & sushi. It is typical for a fancy romantic dinner or a lunch with your loved ones since both indoor and outdoor seating will make you feel amazing.
Location
The Opus By Omniyat Burj Khalifa District.
Inti
Peruvian dining experience mixed with Japanese flavors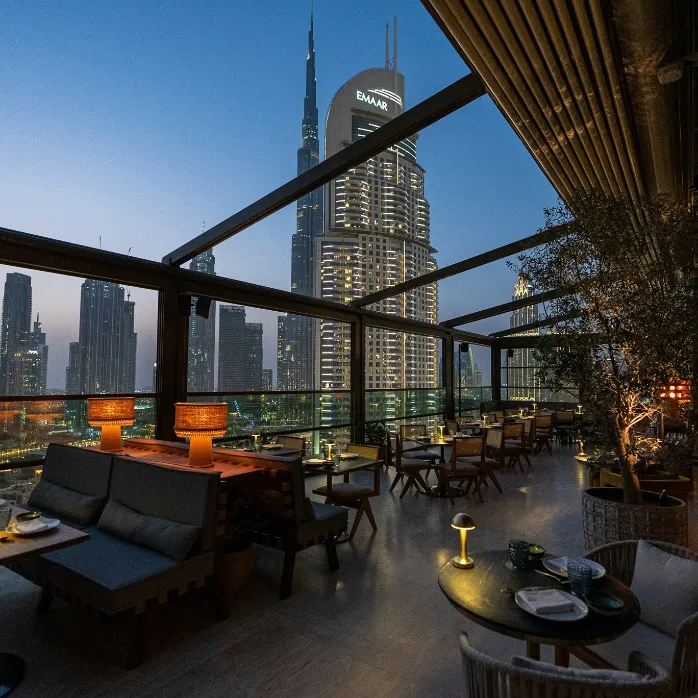 You will feel the elegance of this place the moment you walk into the lobby. The view at Inti is breathtaking, a great choice if you want to impress your lover with a romantic dinner.
As incredible as their stylish rooftop but it comes in second place compared to their divine dishes. Every plate was excellent.
You will be lucky enough if you get the chance to reserve your table at Inti near the window, where you will enjoy a fancy dinner with Burj Khalifa in your view at a very fair price compared to other restaurants.
Seafood is the star of their menu, so if you are a seafood lover, your taste buds will thank you for picking this restaurant.
Location
Dubai Fountain St The Dubai Edition
Opening
7:00 pm – 2:00 am
Basko
Colors Colors everywhere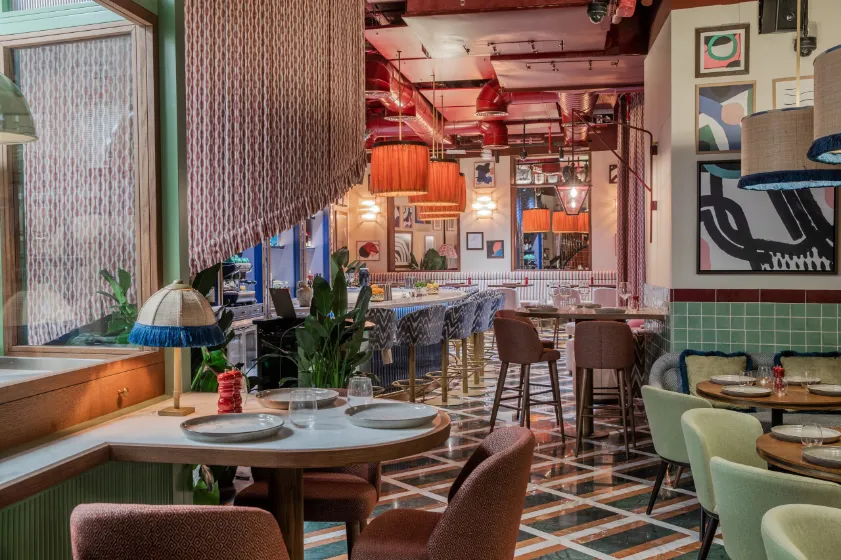 We have been hearing about this restaurant lately, so we decided to try it ourselves, and we got impressed.
First, we must say that it has a beautiful ambiance the decor at Basko is inspired by the 60s, abstract artwork framed all over the walls of the place, ruby red tassels dangling from the ceiling that makes you feel that there is a rose over your head.
The dinner we had there was amazing, portions are big enough that you can share them with your partner. It is a Mediterranean-inspired cuisine that serves dishes like langoustine risotto, frog Provençal, prime rib, and lobster fregola, and truth speaking their risotto is a must try.
You should opt for Basko if you love fancy old restaurants.
Location
Ground Floor – Al A'amal St – Business Bay
Pai Thai
Pai Thai is one of the restaurants that will make you have a memorable experience before arriving at it since it is located at the prestigious Jumeirah Dar Masyaf Hotel.
Your experience will start before reaching the restaurant, whether you are going to walk between the amazing gardens or take an abra boat through Madinat's waterway to arrive at Pai Thai.
As you reach the restaurant, the magic of the authentic flavors of Thailand will begin. Any plate you will taste from sun-dried crispy beef with garlic chili sauce, roasted red duck curry with Thai basil, or their signature dish: Goong Kratiem Prik Thai is incredibly delicious.
Set sail to one of the fanciest restaurants in Dubai.
location
Al Qasr Hotel, Madinat Jumeirah
Scape Restaurant & Lounge
Eat and enjoy the sunset by the sea.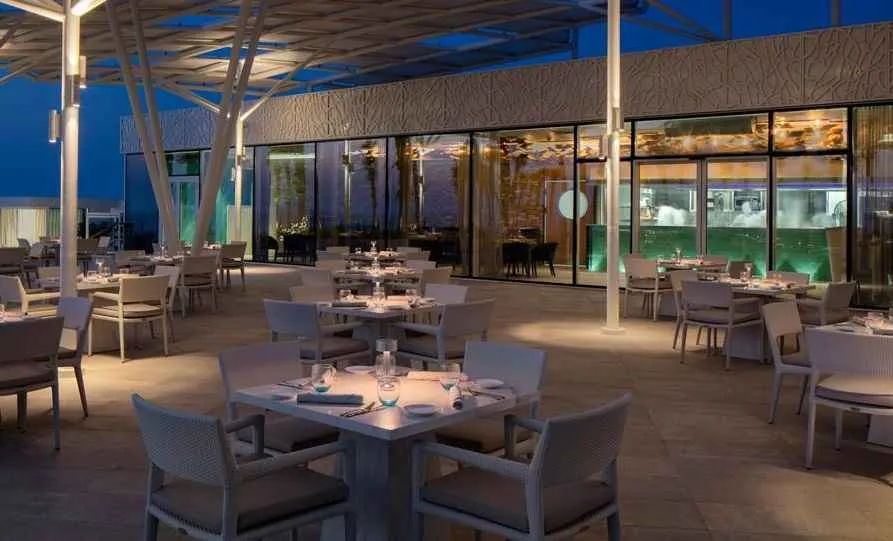 It's rare to find a restaurant that gathers good food and a beautiful view. But, Scape Restaurant & lounge won this challenge.
The restaurant extends over the gulf where you can see Burj al Arab & the sea all at once if you sit on the terrace.
Scape Restaurant & Lounge offers a diverse menu inspired by the  Mediterranean, Asia, and Latin America, which makes the restaurant serves delightful dishes that match many tastes.
Signature dish:
 Cold Seafood Tower for 2. It is a platter of mussels, prawns, lobster, and scallops with dipping sauces.
The place is a bit pricy, but it is justified compared to the beautiful food and the fancy view you will enjoy.
Location
Jumeirah Road Burj Al Arab Jumeirah Terrace
Social by Heinz Beck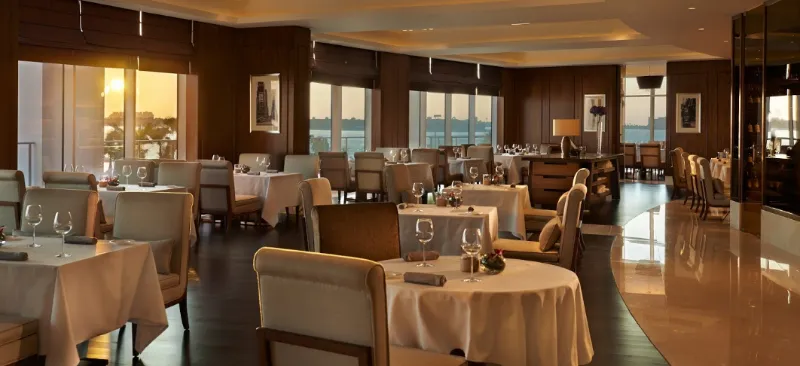 We visited many restaurants in Dubai, but Social by Heinz Beck is one of the fanciest and loveliest in our hearts. Our experience there was different, from the time we entered the restaurant till the moment we left.
The view is the charming Dubai skyline. They have various menus, all inspired by Italian cuisine, we tried their A La Carte menu, and it was the best choice for our limited budget.
Another time we tried their blind menu, and it was fun, the food is tasty, and the service is top-notch, professional, and yet friendly& caring. 
They explained the menu to us to make sure that we understood everything.
When at Social by Heinz Beck try not to miss their signature fagottelli carbonara.
Location
Crescent Dr. Waldorf Astoria Dubai Palm Jumeirah
COYA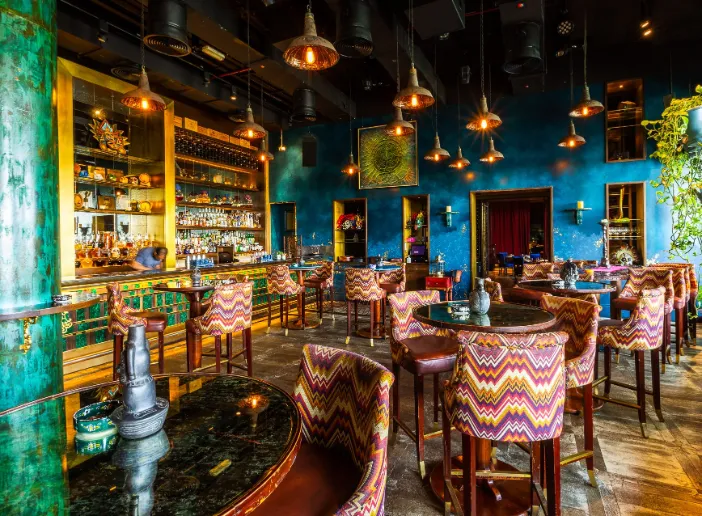 If you want to experience sitting in a restaurant watching chefs preparing your food, then Coya will grant you this experience.
The designs on the walls and the music played at the restaurant are inspired by Latin American culture. You will feel that you entered a time machine and transferred to the past.
Their menu has many dishes, from lamb chops to steak. 
What makes Coya unique is the open kitchen concept they adopt, where you will get the opportunity to watch what's going on during the preparation of your meal.
The ambiance at this place is lively, and the interior is chic, which makes it a perfect choice for a fancy evening with your family or beloved ones.
Location
Restaurant Village Four Seasons Resort at Jumeirah Beach, Jumeirah 2
Timings
12:30 pm – 04:00 pm, 07:00 pm – 02:00 am
Average Price
AED 295 per person
Hell's Kitchen Dubai by Gordon Ramsay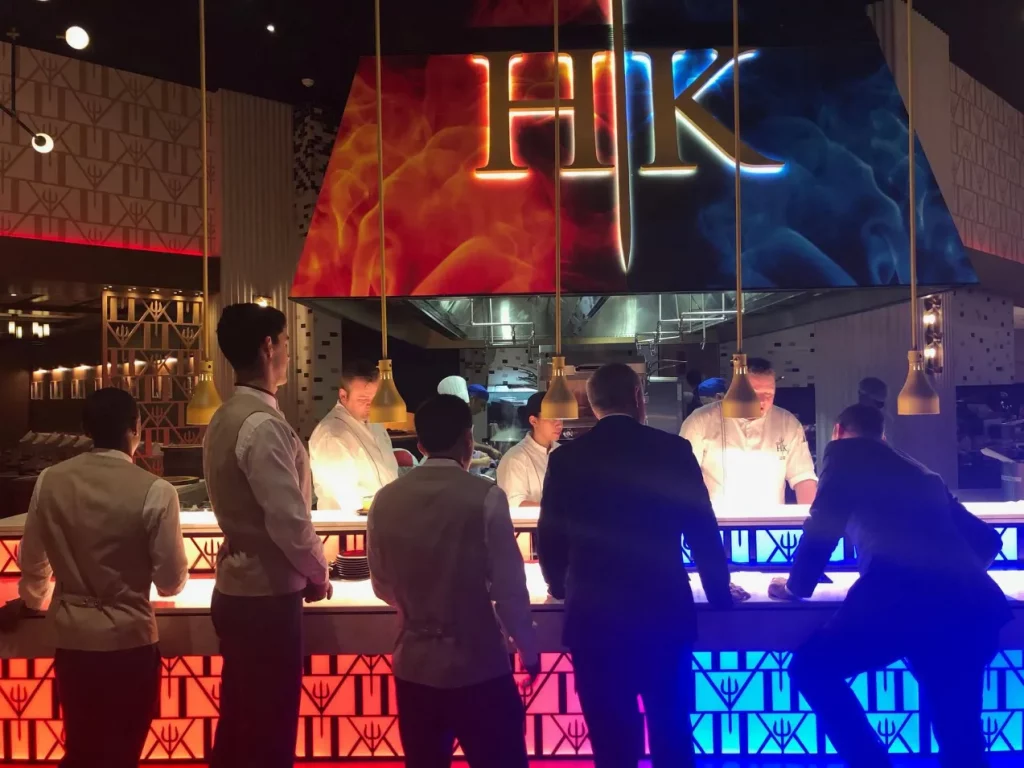 Who doesn't know the famous show Hell's kitchen by the famous chef Gordon Ramsay? But at the restaurant, unlike the show, the blue and red team work together to bring the most mouthwatering dishes ever.
Hell's Kitchen is a fancy restaurant for those who care about tasty food and the specifics of each plate. You will enjoy everything from starters to desserts. There won't be a single dish that is ain't delicious or appealing, especially their signature beef Wellington.
Location
Caesars Palace, Blue waters Island
Average Price
AED 700 for two
Timings
07:00 am – 12:00 am
ZUMA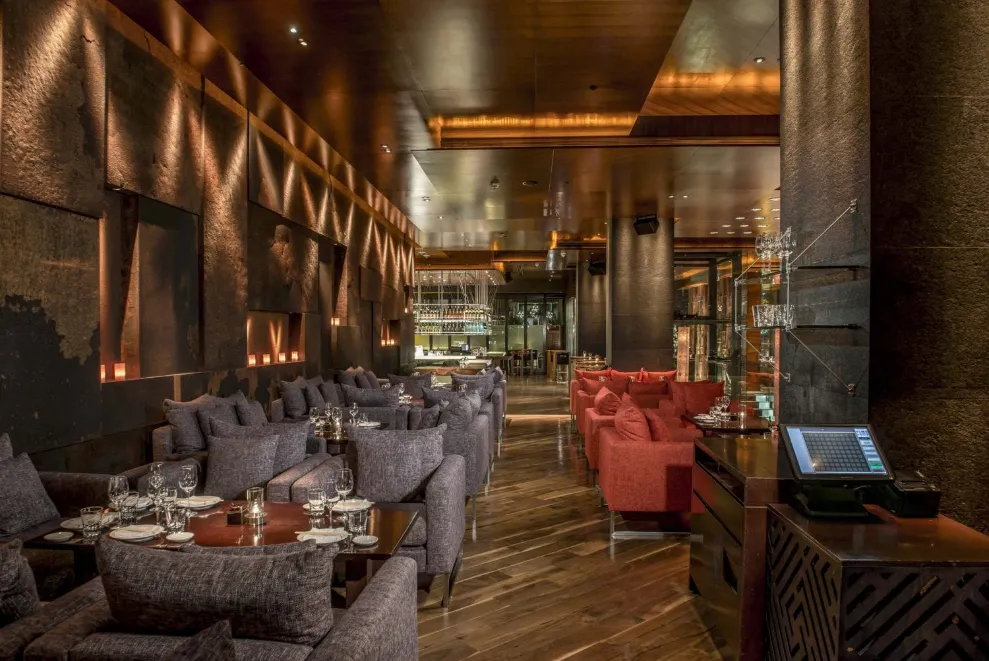 Our next pick is Zuma, another fancy place where you can experience the tastiest Japanese dishes.
It is a bit pricy, but compared to the ambiance, service, food you will eat, atmosphere and friendly staff it is noting.
At Zuma, the tables are close to each other, so there will be no room for too private conversations. Zuma is always busy so try to book earlier to have a table to set on.
We recommend the cod fish. A must-try there.
Location
Podium Level, Gate Village 6, Sheikh Zayed Road, DIFC
Timings
12:30 pm – 03:30 pm, 07:00 pm – 01:45 am
Ossiano – Atlantis The Palm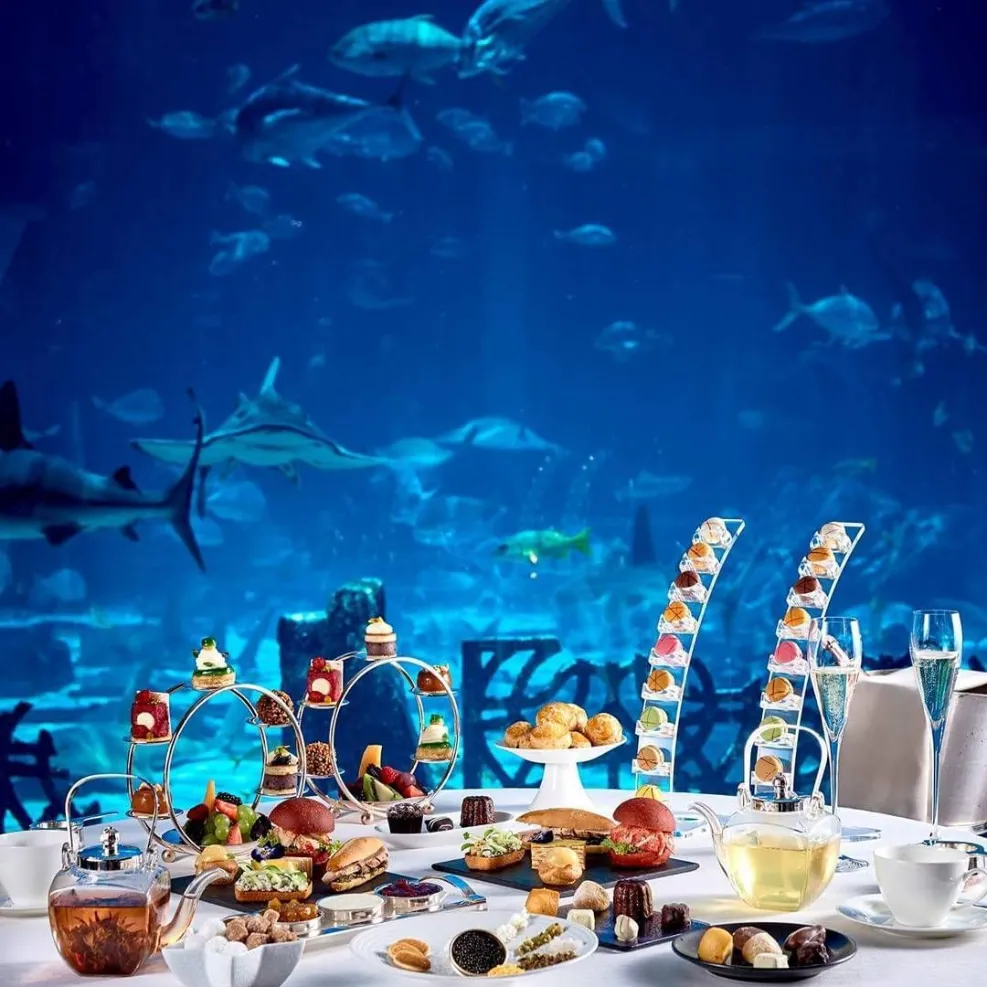 Imagine having lunch or dinner with your beloved ones while looking at the fascinating marine creatures sliding up and down in the aquarium!
Ossiano deserved its top spot on our list of fine dining restaurants in Dubai for many reasons…
They have the best seafood in town.
They have a beautiful ambiance.
We had the chance to have our dinner and the marine creatures were in our view.
The service is superb, and the storytelling they do makes you enjoy the culinary travel of their Chef Grégoire.
The place is considered the most expensive among the whole restaurants o in Atlantas, but the experience deserves the price tag. We highly recommend this place for those looking for a different fancy level of food enjoyment.
Location
Lobby Level, East Tower, Atlantis, The Palm, Palm Jumeirah,
Timings
06:30 pm – 10:00 pm
Entrecôte Café de Paris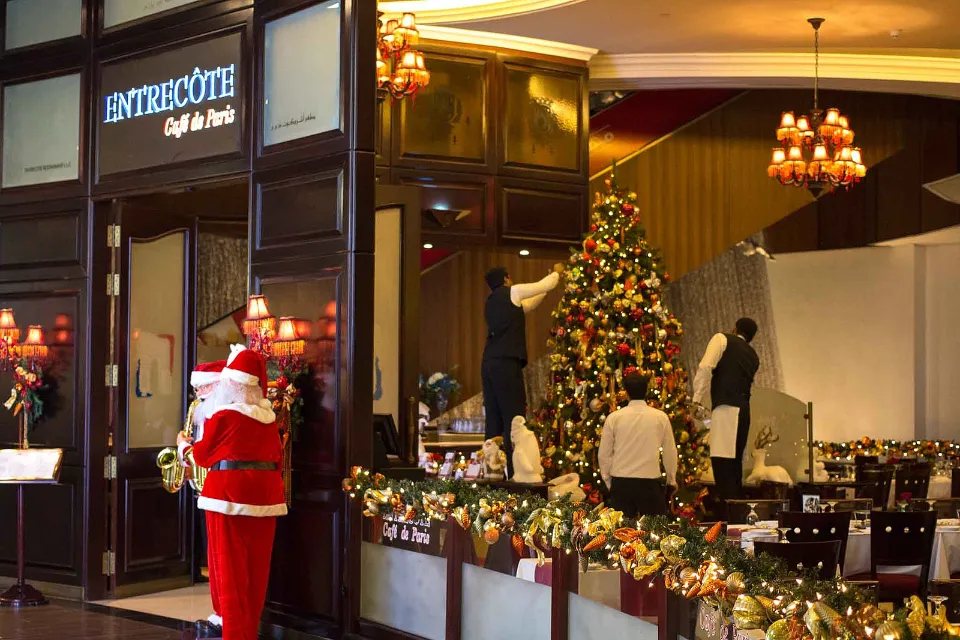 The story of this restaurant goes back to 1930 in Geneva, when they started with a restaurant called Café de Paris, where Chef Boubier developed the world-famous secretive sauce Café de Paris. Then his daughter and her husband developed the single menu formula. It has green salad, entrecôte steak with café de Paris sauce, and fries.
Entrecôte Café de Paris has steak only, but it is the best steak in town. The atmosphere there is very Paris-like, plus you can dine while watching the fountain & light show, so if it's not hot, try to sit outside.
Believe us when we say you will have a steak with the Café de Paris butter sauce experience you won't forget.
Location
The Dubai Mall, Lower Ground, Waterfall.
Timings
11:00 am – 12:00 am
Muchachas Mexican Cantina
Best Mexican food in Dubai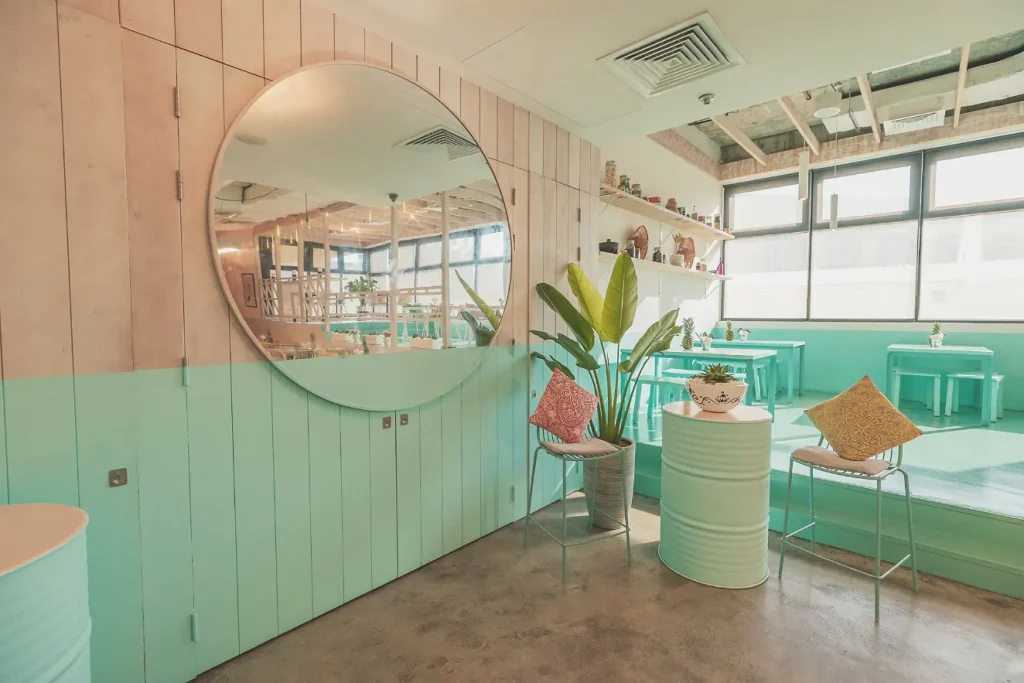 Look no further if you want to have the best Mexican dining experience ever, as Muchachas Mexican Cantina brought the flavor of Mexico to Dubai.
The restaurant is small, but they succeed in creating a colorful, festive & energetic dining experience. The place is lovely, the staff is attentive, and they have a great selection of tacos, burritos, and quesadillas.
Most of their menu is gluten-free, so if you have gluten intolerance, you will have plenty of options.
Location
Holiday Inn Express Safa Park Opposite, Gulf News, Sheikh Zayed Road.
Restaurant Verde Dubai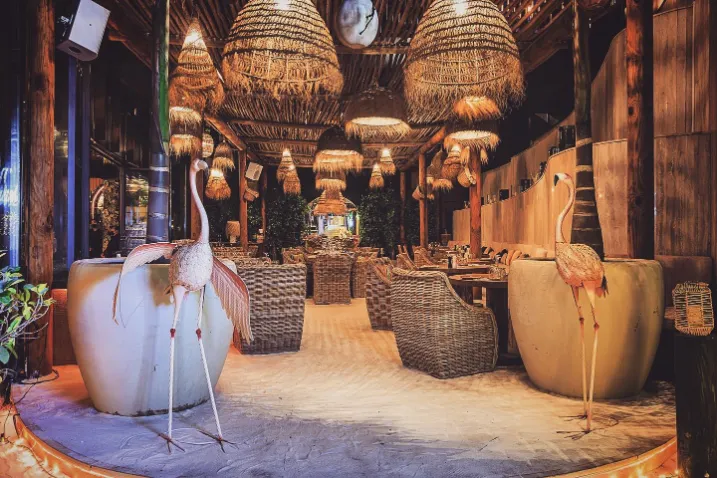 After seeing this restaurant too much on Instagram and reading that it is a hotspot in Dubai, we wanted to check it ourselves. The moment we stepped into Verde, we felt the elegancy and classiness. They have a unique outdoor area with real beach sand.
The restaurant is located near Four Seasons Resort Dubai, where you will enjoy tasty food and a warming atmosphere.
Our friends recommended trying pizza with truffle as a starter & Wagyu tartare with black olive powder& their signature dessert. The food was superb, and watching them prepare the dessert was super fun but if you aren't a big fan of sweets, try not to order it as it is overwhelming with sweetness.
Their best night is Wednesday. So, if you plan to Dine in Verde on a special night, try to book Wednesday in advance to enjoy the show they carry and the upbeat atmosphere.
Location
Restaurant Village Four Seasons Hotel, Jumeirah Beach
---
There are many fancy restaurants in Dubai. We gathered a couple of them that should cover different tastes. So what is your perfect dining spot in the city?