Hotels in the desert UAE
There's more to the UAE than just the glamorous city you know? Beyond Dubai's landmarks and its luxurious nightlife scene, it also has the greatest desert life as its hotels lie rural retract nestled between the dunes, excitedly awaiting adventurous guests who are willing to explore the desert landscapes that spread away towards the heart of the Arabian Peninsula.
Here's our pick of the best 15 hotels in the desert United Arab Emirates, desert resorts, safari camps, and hotels, near both Dubai and Abu Dhabi.
The Ritz-Carlton Ras Al Khaimah, Al Wadi Desert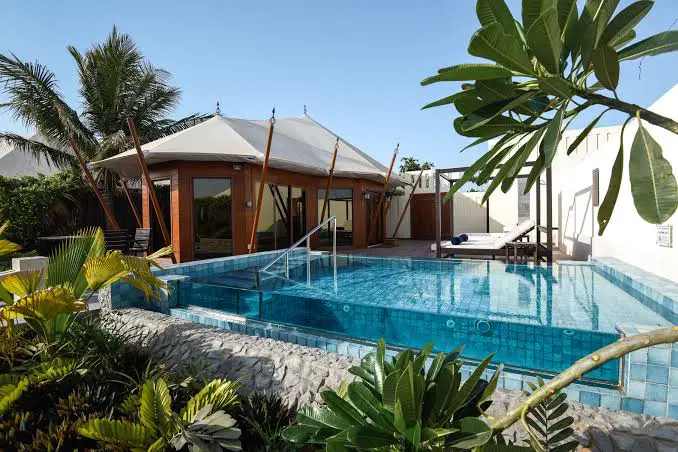 In the north of Dubai, the Ritz-Carlton Ras Al Khaima offers you an elevated experience among the dunes. There, you will find a lot of activities to do, all up to your mood! (Wink)
So, if you're in the mood to relax, there at Ritz Carlton Ras Al Khaimah, you'll be offered more than a thing to do from the anti-aging facial Spa, the spiced oil massages, the crushed ice body scrubs, salted steam room, herbal sauna, and a hammam.
And if you want to do your daily workouts, nothing will stop you as the gym is always open, 24 hours a day, seven days a week. Horse, pony, and camel riding lessons are also available, alongside archery, biking, stargazing, bird-spotting, and nature tours of Al Wadi's protected reserve.
After all that, sleeping is easy in the Ritz Carlton Ras Al Khaimah's luxurious Bedouin-inspired villas with private pools and breathtaking views of the desert.
Platinum Heritage Overnight Safari
It can sometimes be hard to identify one desert safari from another. As most of them are all about a ride in a Toyota Land Cruiser, a buffet in a Bedouin-style camp, a hookah (shisha), some camel rides, henna tattoos, and perhaps a belly dancer.
Platinum Heritage has a totally different agenda.
You'll be driven through the Dubai desert with a highly trained driver in the vintage open-top Land Rovers for an unforgettable ride-in-the-desert experience.
And after having dinner, you'll be sleeping in the best traditional Arabian stone dwellings Albeit, with comfier bedding, before being woken up with a gourmet breakfast in time for a sunrise hot air balloon ride.
Bab Al Shams Desert Resort & Spa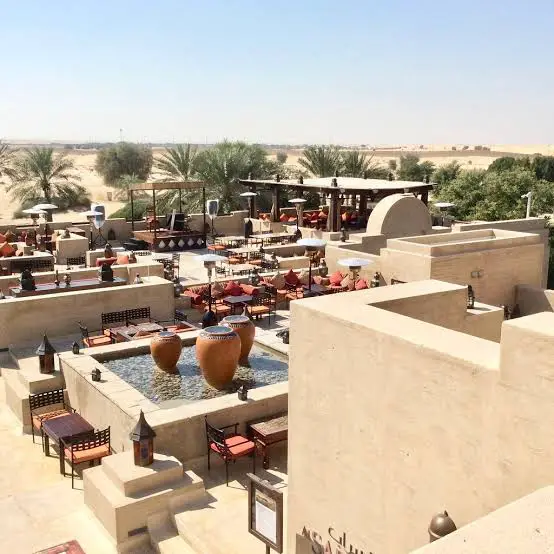 Bab Al Shams is the gateway to the sun, an original Arabian desert retreat, Bab Al Shams, this amazing place opened in 2004 intended as luxury lodgings for Dubai's equestrian set in Al Qudra, the place is only occupied by stables, racetracks, and now with the addition of cycle paths and artificial lakes.
In that gateway to the sun, you'll watch the sunrise from the comfort of the resort's infinity pool.
And by night, the stars help you navigate the way to Al Hadheerah, a place that is a handful of restaurants, best described as an amazing easing experience. Part culinary bazaar, part cultural theatre, Arabian singers, and drummers dance to a beat of their own, with horse and camel riders re-acting the historical tales, At weekends, there are even fireworks that fill up the desert sky.
Al Maha desert resort
A Luxury collection desert resort spa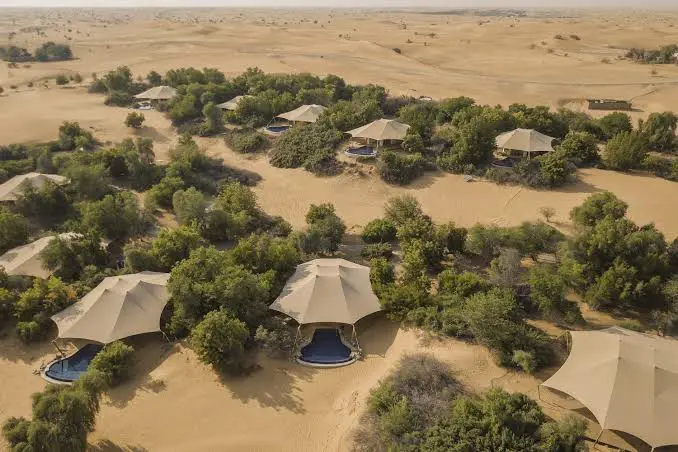 Al Maha a luxury collection desert resort that is only an hour from Dubai you'll find this desert resort, Al Maha.
This stunning desert oasis has completely individual villas with private pools, the main resort area where you'll find an all-day dining restaurant, and a relaxing spa featuring both single and couple treatment rooms.
You can either spend the day at your private pool or head to the fabulous outdoor pool overlooking the dilating desert dunes for a different mesmerizing experience.
Anantara Qasr Al Sarab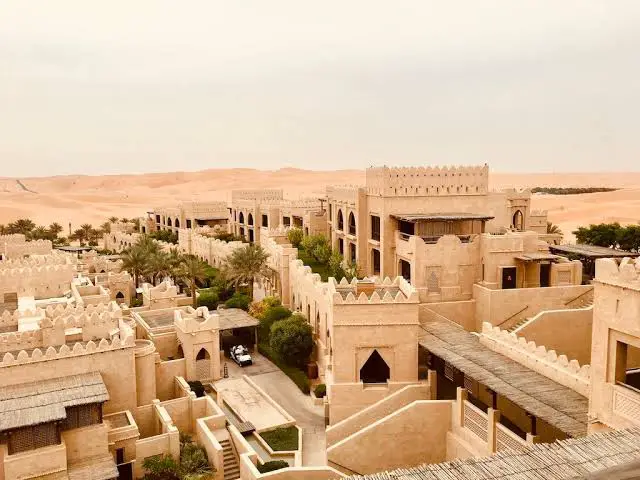 Qasr Al Sarab desert resort, a hidden oasis among the sea of the flaming-orange dunes of the United Arab Emirates' Empty Quarter.
Anantara Qasr Al Sarab is one of the city's best-loved Arabian escapes.
It's an isolated oasis in the UAE's desert, at Qasr Al Sarab there are 140 rooms, 14 suites, and 52 villas each with a private pool that you can pick from what best suits you, the place is all decorated in the traditional arabesque style, with endless breathtaking spectacles out across Qasr Al Sarab desert.
Telal Resort Al Ain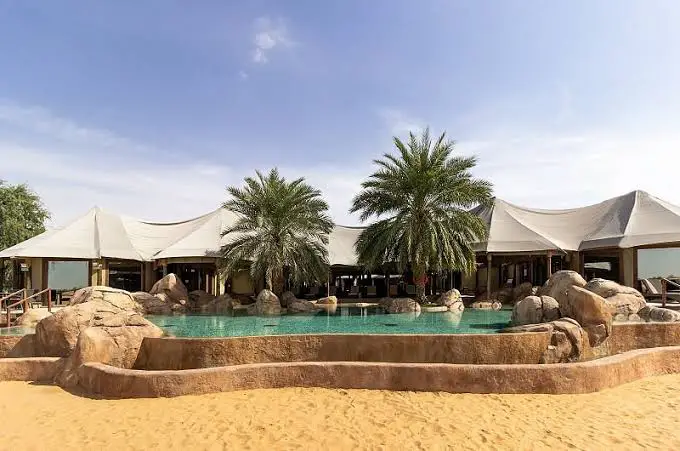 A rustic resort in Al Ain overlooks a natural protected area, with unleashing views of the desert.
The decor will get you overwhelmed as it is Emirati-inspired, you can look forward to traditional artwork, arabesque touches, and timeless local detailed rooms, villas, and suites.
The resort has various accommodations ranging from deluxe rooms to a three-bedroom villa with a private pool and a jacuzzi.
If you're looking for a relaxing stay, book a treatment at the spa or pass by the cozy library. And for those with a passion for adventure, you can enjoy ATV drives or a desert safari.
Tilal Liwa Hotel, Abu Dhabi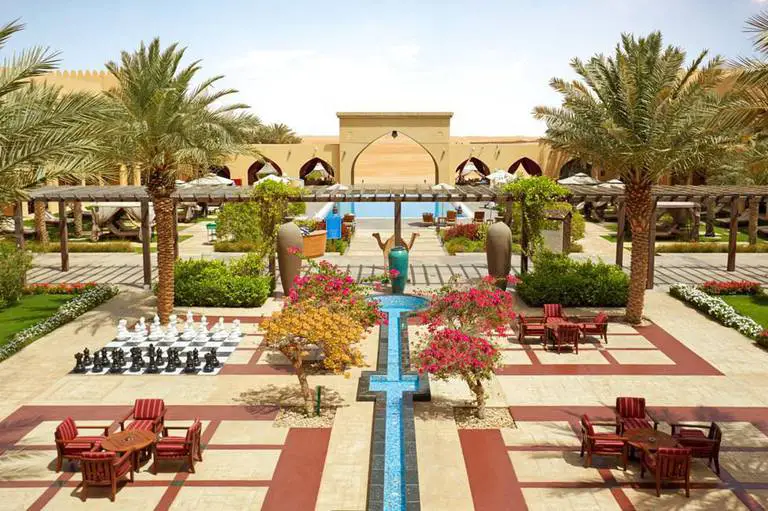 If you want desert isolation without spending too much money then the Tilal Liwa Hotel is a good option.
Getting there takes a two-hour drive from Abu Dhabi, upon arrival you'll be rewarded with the endless dunes of the empty quarter as your view.
In the Tilal Liwa Resort, you'll find traditional Arabian architecture that will get you inspired, and the room's view is to the desert sands or over the swimming pool and gardens.
The hotel's activity team is on hand to sign you up for dune bashing, quad biking, or sand boarding antics.
And at night, gather in the dunes around the fire and eat your marshmallows while staring at the starlit sky.
Al Wathba
A luxury collection desert resort and spa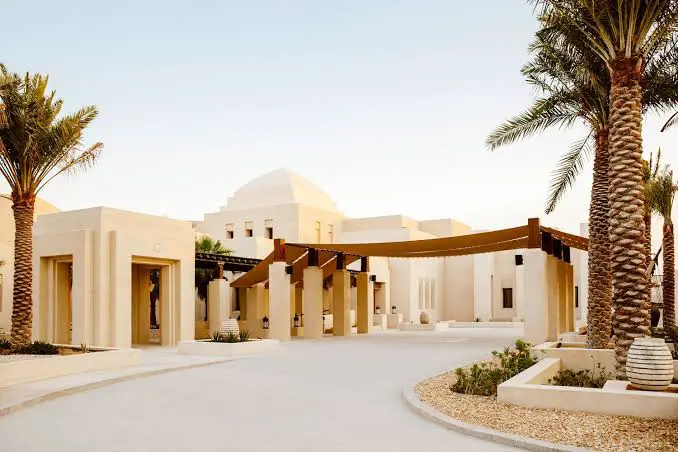 If you ever dreamt of living in a historic village, this Arabian-style desert resort is your place, the resort sprawls over a massively wide area of tranquil desert.
Al Wathaba is a luxury collection desert resort that includes 13 villas with private pools, 90 traditional bedrooms, and six restaurants and bars.
It promises you an idealistic escape, there's a huge focus on wellness there at this resort, with a 1000-square-meter pool and luxury spa that offers you treatments and many other things to pamper yourself with such as hammams, crystal salt saunas, and dedicated cryo treatment room.
At Al Wathba, they aim to make you have the best easing and most relaxing vacation you have ever had!
Arabian Nights Village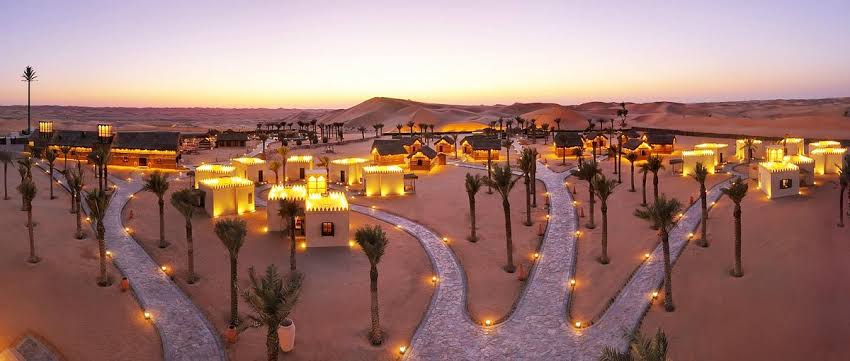 The village approach is dramatic, making an illusion that maybe you're in a movie like (Aladin) or something with those vibes, and by getting closer to the village, you will smell the freshly brewed cardamom coffee with the woody perfume smell of bukhoor that you will never forget.
In the Arabian Nights Village paths are shaped like palms, dazzling with lights like Christmas trees by night, you will be welcomed to more than an option from the spacious tents to the stone rooms.
At Al Maqam, you'll feed your inner Arabian Bedu with meats and Arabian bread after spending days of camel trekking, biking, dune bashing, and sandboarding.
Meliá desert palm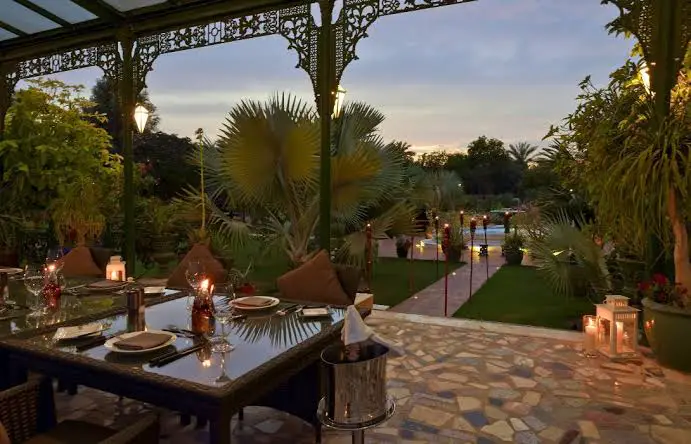 It's called the wellness hotel, Meliá Desert Palm will not only impresses you with its close city location but also with the charm of a desert hotel as it is located right on the edge of the desert.
In this resort, you experience wellness at its fullest with its gardens and green areas despite the fact (that you're in the desert).
You will live in elegantly furnished rooms to fulfill your experience, and you can also have the opportunity to power out with a game of squash!
This hotel also has a fitness center, an excellent selection of fine wines, a dance hall, and exclusive apartments with private pools.
It's one of the places that aims to give you the best calming yet refreshing vibes you may be looking for!
Bedouin Oasis Camp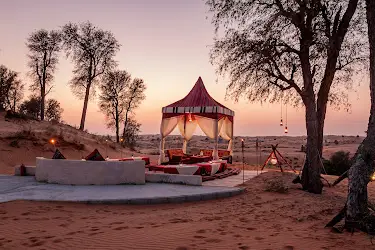 A casual resort that is located in Ras Al Khaimah desert, in the Bedouin Oasis Camp, your desert life experience will be taken to another level, and you'll get to know a little Arabian Bedu inside of you! the vibes there are something else mixed between calming, festive, and energetic ones.
You'll find more than an activity to do and more than a show to witness from fireworks, and Bedouin music to camel trekking, and dune bashing.
The Chedi Al Bait
One of the resorts in the United Arab Emirates that brings its history back to life, it's a luxury resort with Arabian designs and style, a location in Sharjah, and it's just ten miles from Dubai.
At this resort, you will enjoy Emirati gourmet served family-style at The Arabic Restaurant, and you will also find international fare from morning to evening. Relax with a sanctuary in the truest sense, and enjoy the Spa as it opens the door to traditional Middle Eastern beauty and wellness secrets while including the most effective healing techniques from the Far East.
You'll be amazed by the relaxing, calming vibes with the Arabian-inspired style and the warm lights experiencing the best desert life yet the comfiest one.
Mysk kingfisher retreat, Sharjah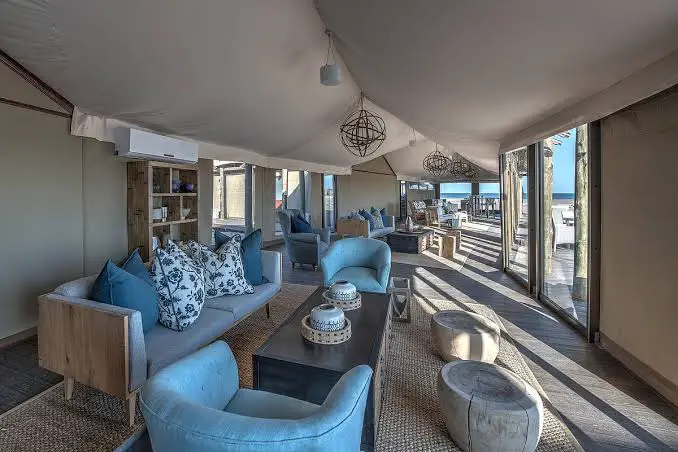 Located in Kalba, on the UAE's east coast, the retreat overlooks the Indian Ocean, it features 20 luxury tents with private pools. Suited up in natural, with calming views for maximum relaxation levels,
Chill by the fire at the main tent, or make your way to the spa space, where a various selection of treatments is waiting for you.
There, they allow you to try new activities, you can try archery, kayaking or paddleboarding, hike, or taking a visit to the Mangrove Center.
Mysk Al Badayer Retreat
Looking for an adventurous, serene, relaxing vacation with a dose of Emirati culture? Mysk Al Badayer Retreat is the perfect staycation spot for you!
One of the most uncontaminated, eco-friendly desert resorts in the UAE, Al Badayer is located inside a traditional Arabian fort but with all the modern comforts you need.
The resort also offers customized desert experiences such as falconry, dune bashing, quad biking, horse riding, and desert safaris, don't miss them out!
Mysk Al Faya Retreat
If you're looking for a little less adventure vacation, this place is for you!
Have a time of relaxation with yourself or with a beloved one there at Mysk Al Faya, where privacy and serenity reign supreme, cuddled in the dunes of Mleiha desert where you can embark on a journey of well-being at the unique spa, with a herbal room, salt pool, and tropical shower walk.
The place allows you to explore a new kind of relaxation where you'll be in a room that is fitted with a skylight for stargazing at night, to only be you with the sky.
---
With our list of the top 15 hotels in the desert of the UAE, you're sure to find the perfect one for your next vacation. So what are you waiting for? Start planning your trip today!