In Dubai and looking for a "Lebanese restaurant near me"?
Dubai is overflowing with wonderful Lebanese restaurants serving delicious mezze, mouthwateringly good grills, and more.
Lebanese cuisine is known to be one of the healthiest foods in the world because of the ingredients that are used and their style of cooking. Lebanese food serve many healthy options such as tabbouleh, hummus, and salads.
Lebanese food is rich in flavor and full of aromatic spices including cumin, mint, garlic, and cinnamon, Lebanese cuisine is generally not spicy however it is very flavorsome.
Hungry? Continue reading to learn more about Dubai's best Lebanese eateries.
16 Top Lebanese Restaurants in Dubai
Mezza House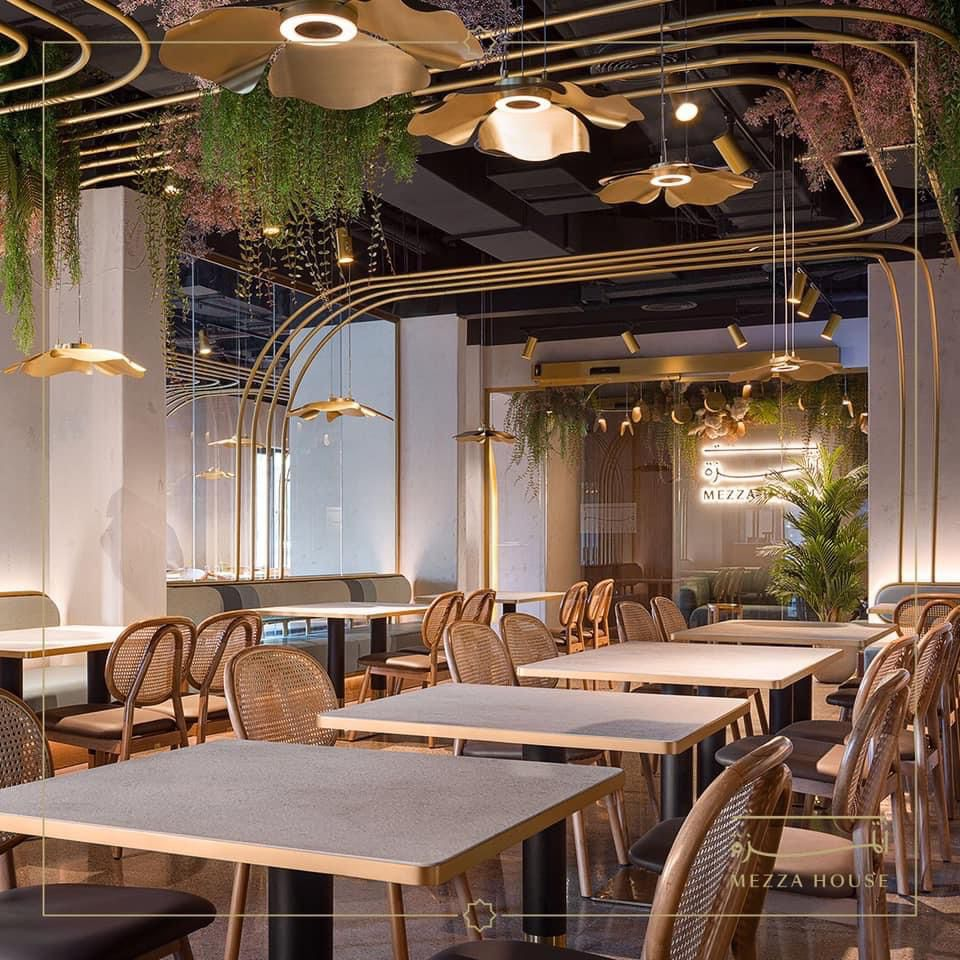 Healthy and full of flavor which is something we're all looking for nowadays to tie in well with our healthy diet. The chefs at Mezza House use exotic spices and blend them together to create the most amazing fine dining dishes for all to enjoy.
They also offer shisha on the terrace. Spend an evening with friends or family, watching over the amazing view and seizing the atmosphere at this very popular restaurant in downtown Dubai.
This restaurant is a must-visit when you are in Dubai and want to enjoy some of the best Lebanese food.
What to order?
Fattouch, hummus with nuts, shish taouk, and batata harra
Location
Shaikh Muhammad bin Rashid Road, Near Al Manzil Hotel, Downtown Dubai
Grand Cafe Boulevard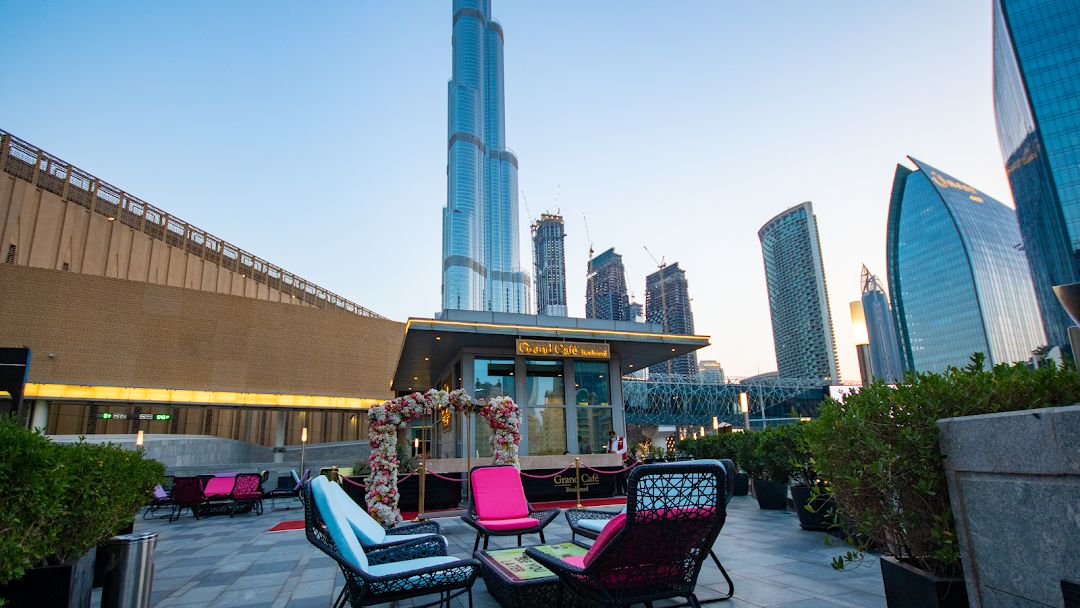 Grand Cafe's delicious food, live music, and Arabesque decor have transported a piece of Beirut right into the heart of Dubai.
The food and ambiance of the renowned restaurant were developed by Grand Cafe using some of the best recipes and customs that were influenced by the familial eating culture of its native country.
By presenting an outstanding dining and entertainment experience of the greatest caliber, they strive to deliver superb service to every one of their customers.
At the Grand Cafe, you will have a luxurious dining experience enjoy some of the best Lebanese food in the city, and also have an iconic view of the Burj Khalifa.
This restaurant is an amazing vibe on an evening for a great time to have with family or friends.
What to order?
Yellow Lentils Soup, Fattoush, Moussaka, Cheese Burek
Location
Unit LG – 180 – Sheikh Mohammed bin Rashid Blvd – Downtown Dubai – Dubai – United Arab Emirates
Al Safadi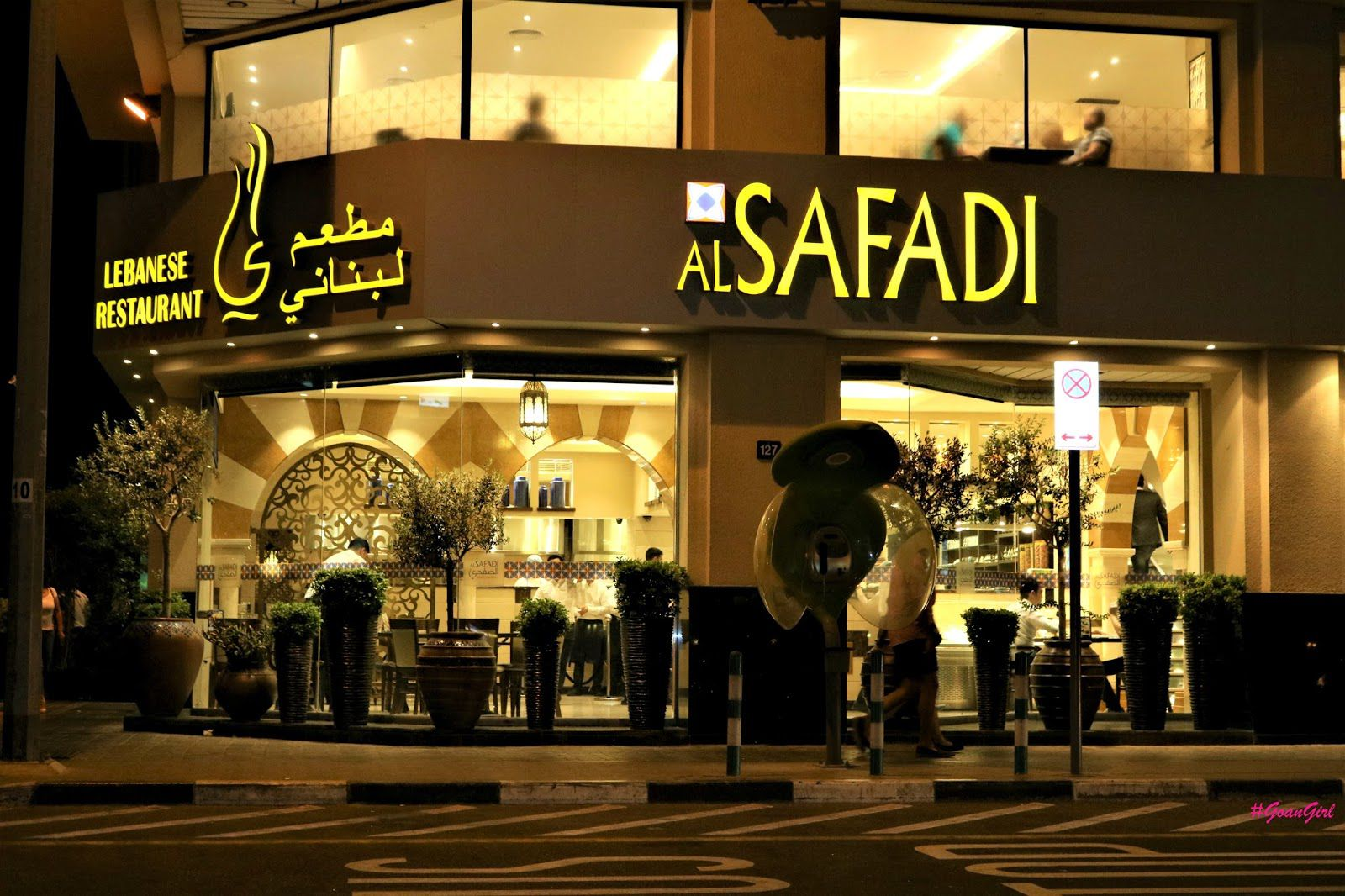 Al Safadi Restaurant is one of the most famous Lebanese restaurants in Dubai, and it offers the most authentic Lebanese food. The goal of this restaurant is to serve delectable food that will entice you to return each time you visit. Any meal at Al Safadi will exceed your expectations because it is prepared to perfection by renowned chefs.
The restaurant is known for its specialty dishes, which include Manakish, Shawarma, and barbecued meats.
Vegetarians won't be let down because the restaurant offers a variety of tasty vegetarian dishes, that will not disappoint.
Al Safadi serves delicious hummus along with hot bread. Be sure that all the food on the Al Safadi menu is authentically Middle Eastern.
You can order a variety of cold appetizers and salads, hot appetizers, soups, sandwiches, juices and cold beverages, desserts, hot beverages, and shisha from the menu here. They also offer gluten-free meals.
What to order?
Fried Kunooz Al Baher, stuffed chicken, chicken shawarma
Location
127 Sheikh Zayed Rd – Dubai – United Arab Emirates
Al Mandaloun
Lebanese cuisine and Sheesha go hand in hand, and Al Mandaloun is one of the eateries in one of Dubai's posh neighborhoods that serve both. I would recommend this location if you want to unwind with a relaxing shisha and dessert after a long day.
There is a great passion for Lebanese cuisine as people are looking for healthy but tasty meal options and it is great for those that appreciate the delicate textures of the meals, which are very popular and well-prepared by the chefs here at Al Mandaloun.
Al Mandaloun is one of the best Lebanese restaurants in Dubai that serve a large variety of Lebanese food. Why not try their hot and cold mezze and finish off your evening with their flavorsome and relaxing sheesha to complete your dining experience?
What to order?
Chicken Shwarma Platter, Batata Harra, Mix Grill Platter, Fatoush, Manakeesh
Location
Dubai International Financial Center, Building 3, Level 2, Dubai, United Arab Emirates
Leila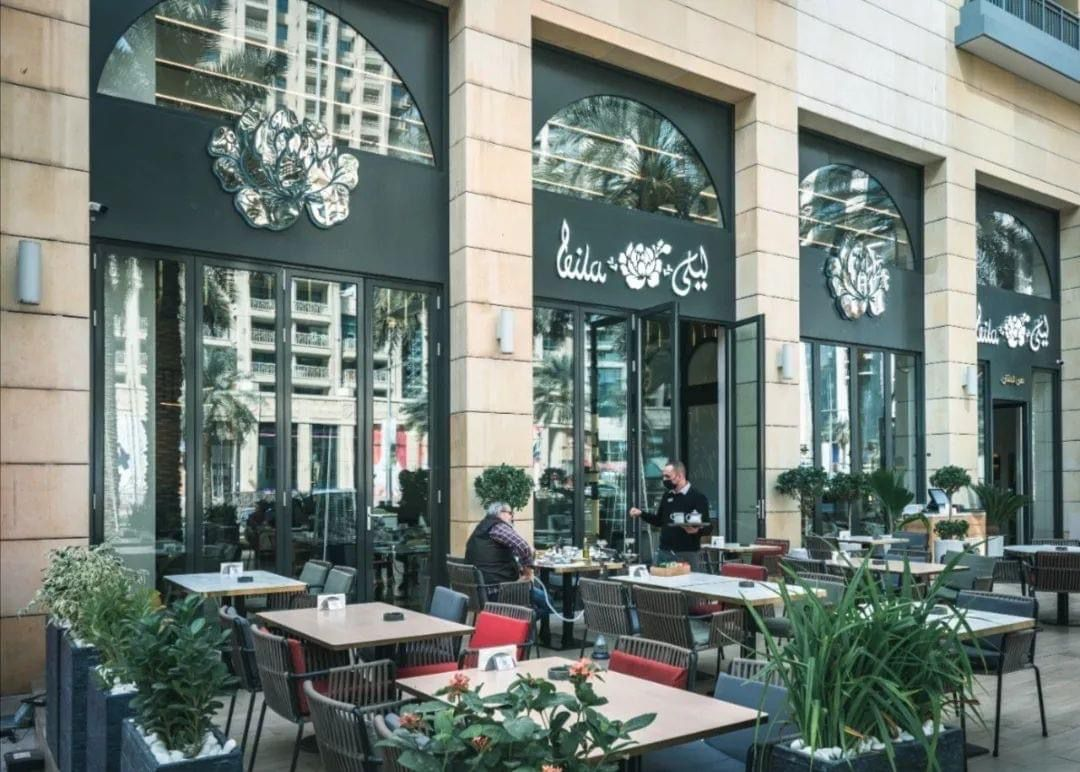 Leila is a restaurant, that offers more than just healthy Lebanese food.
The setting is very pleasant, and the soothing Arabic music will make you feel at ease. With its patterned wallpaper, clean tablecloths, and floral dinnerware, the warm design goes amazingly well in the antique category.
It's a good place for breakfast lunch and dinner as well.
Its authentic traditional cooking is matched by its friendly ambiance, the kind of cooking that takes each and every diner back to the old kitchen of the Lebanese grandma when they were younger. The perfect simplicity of the cuisine will take you back to an earlier time that although creating a sense of nostalgia, is in no way out of date. It is the perfect combination of contemporary comforts and traditional tastes, that will leave you questioning how you survived without it.
Popular dishes
Mixed grill platter, Pomegranate Molasses, Beetroot Salad
Location
Claren Tower, Sheikh Mohammed Bin Rashid Boulevard Road, Downtown Dubai, Dubai
Beirut Khanum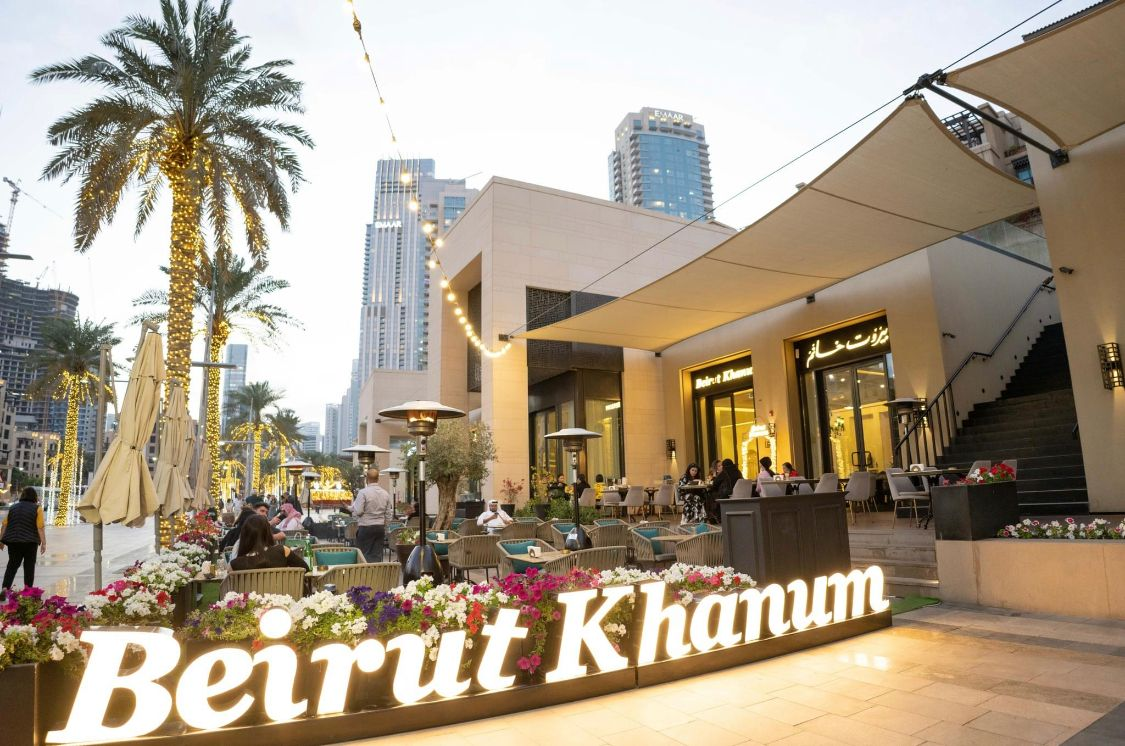 Beirut Khanum is a recently introduced home-away-from-home culinary concept in Downtown Dubai that combines a hip, contemporary ambiance with lost Lebanese delicacies that will take you on a culinary journey back to your grandmother's kitchen. The name "Al Khanum," which is given to ladies of affluence throughout the Middle East and South Asia, served as another inspiration for the meal.
Beirut Khanum is a quiet, cultural restaurant with two indoor rooms and one outdoor space in the heart of Downtown Dubai. It has wooden floors, cozy booths, and Levant-style lighting. Hummus, moutabel, and kibbeh in yogurt are among the well-known Lebanese delicacies on the menu which can be enjoyed whilst dining at this beautiful restaurant.
What to order?
Spicy Potato, Hummus, Grilled Chicken Steak, Shish Tawook, Moutabel
Location
Opposite Souk Al Manzil, Sheikh Mohammed Bin Rashid Boulevard Road, Downtown Dubai, Dubai
Awani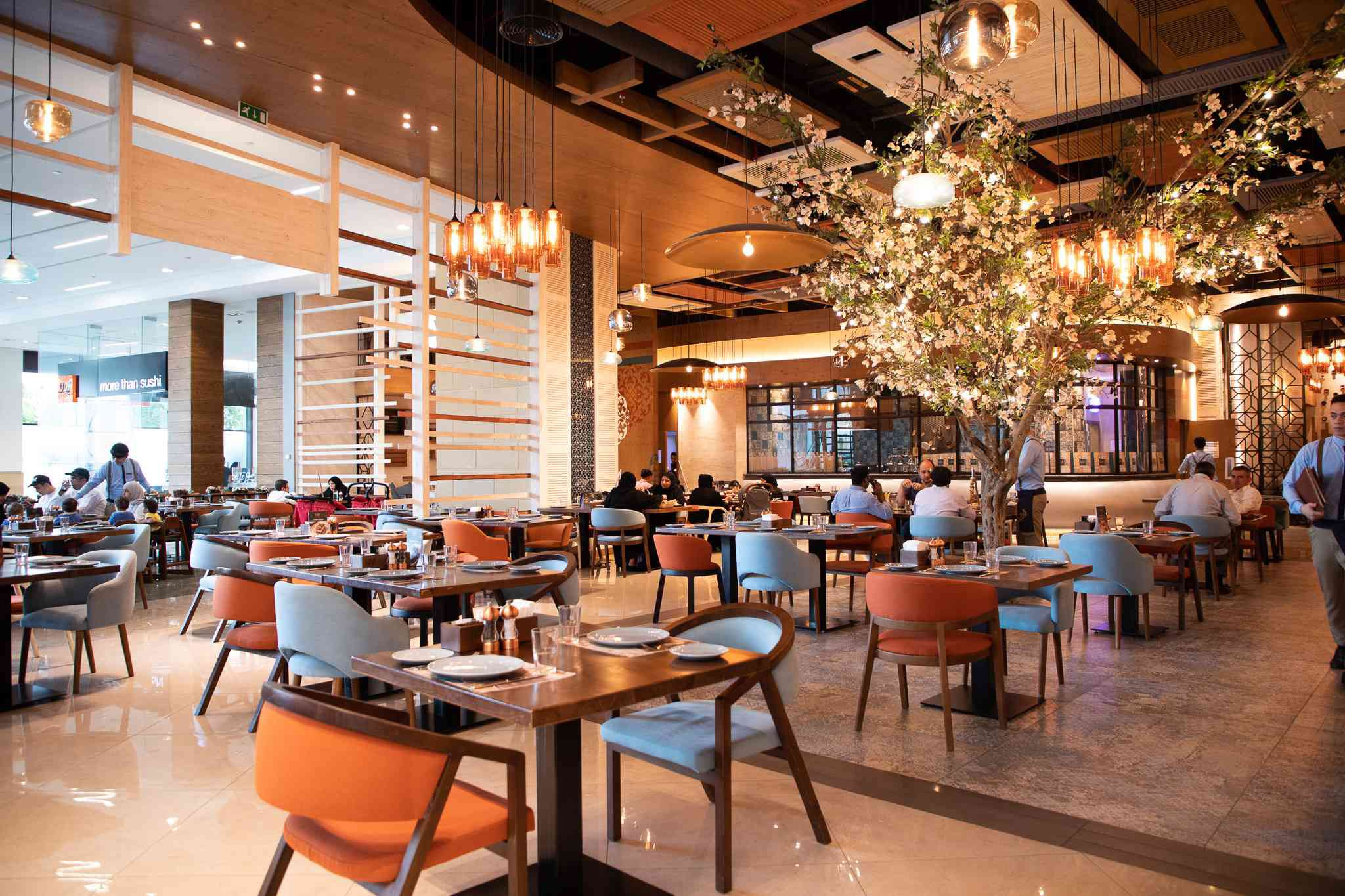 Awani is a Lebanese restaurant that specializes in popular international, Middle Eastern, and Mediterranean flavors.
Inspired by Arabian hospitality, Awani is a modern oriental restaurant delivering fusion Mediterranean food with a creative culinary twist. Being skilled in both Lebanese and Armenian cuisines, it truly is a melting pot of the Levant.
Modern surroundings with wooden accents and hanging tungsten lighting create a cozy ambiance where chefs prepare meals employing time-honored techniques that genuinely characterize Lebanese cuisine.
The food is delicious and fresh. Service is excellent, the atmosphere is quite lovely, and the staff are very friendly
What to order?
Cucumber Soup, Beef Shwarma, Chicken Shawarma, Shisha, Hummus, Salad
Location
Level 2, Opposite Hamleys, The Dubai Mall, Downtown Dubai, Dubai
Al Nafoorah jumeirah Zabeel Saray
Swiftly gaining a reputation as one of Dubai's top Lebanese eateries. All customers at Al Nafoorah receive a great meal.
The inside of the restaurant has high ceilings and heavy wood carvings, the ambiance is welcoming and laid-back. The staff is incredibly welcoming and helpful, whether you're inside, listening to soft live Arabic music, or out on the terrace, overlooking the beautiful Palm Jumeirah.
Al Nafoorah restaurant offers a broad menu with generously portioned classic Lebanese cuisine suitable for any occasion.
What to order?
Fattoush, Kebbeh orfaly, lentil soup, Cheese rukak
Location
Crescent Road Ground Level, right-wing, Jumeirah Zabeel Saray, Dubai
Al Hallab Bab El Bahr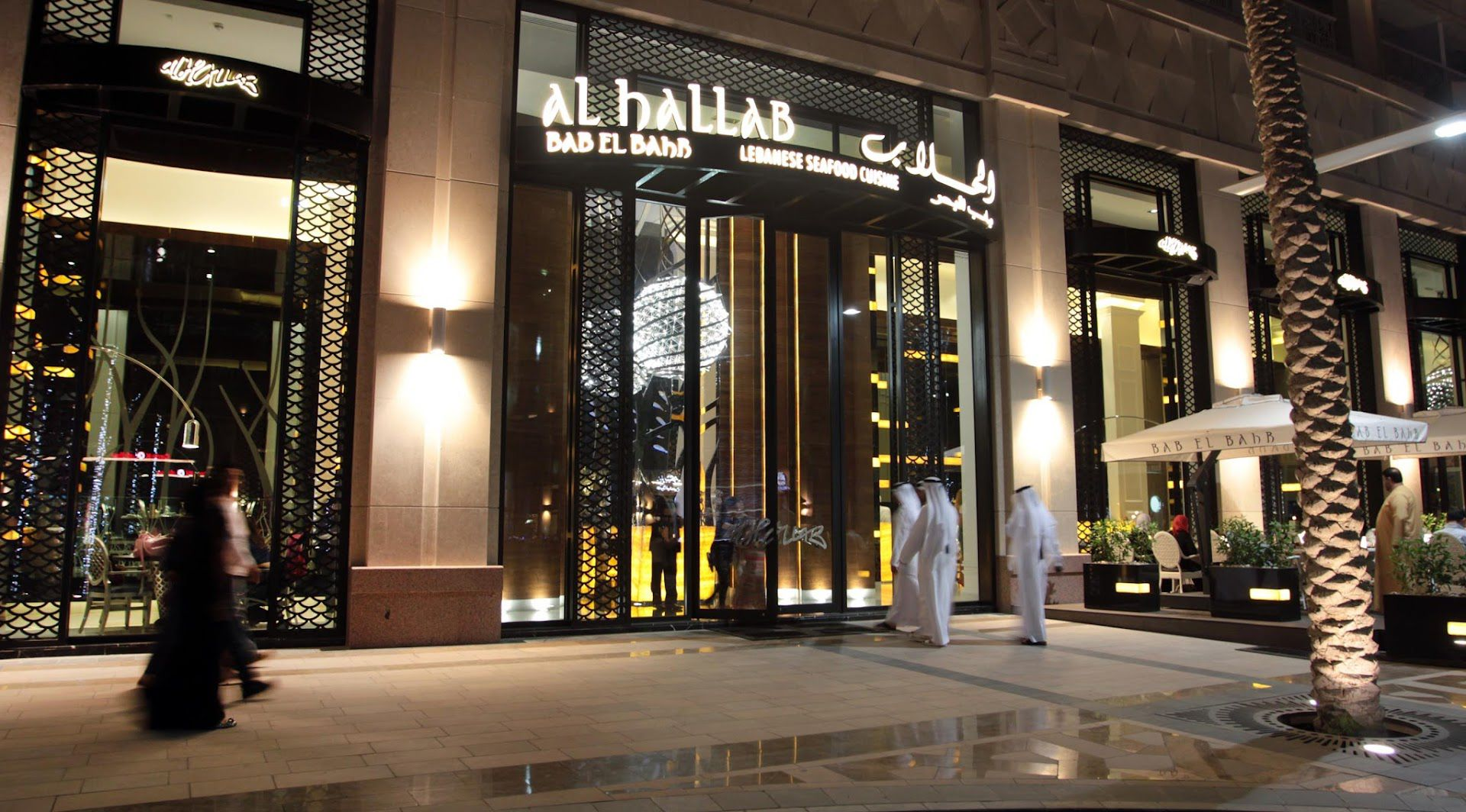 Inspired by Lebanese coastal cuisine, Bab El Bahr aims to preserve the Mediterranean seafood legacy of Lebanon by utilizing the freshest ingredients and serving market-style, allowing diners to choose their own fish for their cooks to then prepare.
Al Hallab boasts of combining a wide range of goods and ingredients to produce genuine flavors.
Bab El Bahr has a pleasant outdoor terrace and is located near the Burj Khalifa in Downtown Dubai.
Al Hallab, which began as a small family bakery in Tripoli, Lebanon, in 1881, has developed into one of the most reputable eateries serving authentic Lebanese cuisine.
With enduringly stunning interiors and authentic Lebanese cuisine. They focus heavily on grills and mezze. Foodies from all over the world have fallen in love with their menu. Make sure to leave space for their delectable desserts.
What to order?
Grilled Taouk, calamari, grilled seabass, tabbouleh salad
Location
29 Burj Dubai Boulevard – Moh'd Bin Rashed Blvd – Downtown Dubai – Dubai
Ayamna
Lebanese food is a feast for the senses since it is vibrant, fragrant, and flavorful. At Ayamna, one of the top Lebanese restaurants in Dubai, you can sample the real flavors of Lebanon. Share traditional mezze, flavorful appetizers, chargrilled meats, and traditional Lebanese desserts while dining in the gorgeous marble dining room or outside on the lantern-lit terrace.
At Ayamna, one of the top Lebanese restaurants in Dubai, you can experience the genuine flavors of Lebanon.
You can savor regional specialties including hot and cold mezze, grills, soups, and salads prepared using recipes that have been passed down through the years here.
What to order?
Rack of lamb, Baked puff pastry ouzi rice, Baba ghanouj, Cheese rekakat
Location
Crescent Road, The Palm Atlantis, The Palm – Dubai
Amaseena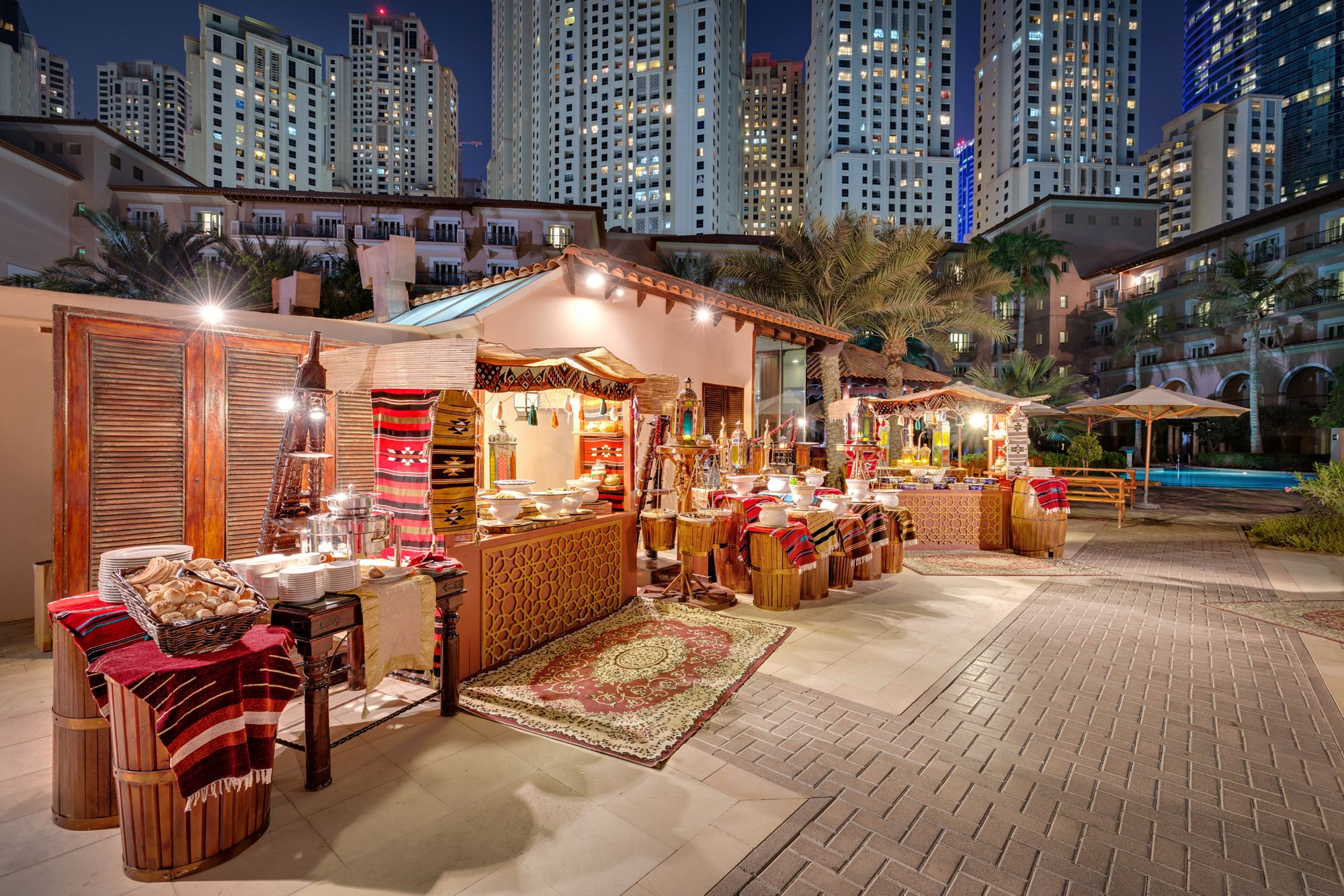 Amaseena at The Ritz-Carlton, Dubai, offers an extraordinary dining experience with flavors of Arabia served under the stars.
Genuine Arabic street food and other cuisines from the Middle East are served at the restaurant Amaseena. Starters, appetizers, hot and cold fezzes, live cooking stations, desserts, and drinks are all available.
Amaseena is an outdoor restaurant that evokes the enchantment of Arabia with its Bedouin-inspired tents strewn beneath sparkling desert skies. The Arabic buffet will enchant your taste buds and your imagination with its traditional favorites and unexpected dishes like lobster and lamb chops that have been barbecued.
After dinner, unwind to the sounds of live Arabic music and belly dance while browsing the restaurant's menu of more than 20 kinds of shisha flavors.
What to order?
Lamb Harirah soup, shish tawook, grilled lamb chops
Location
The Walk at Jumeirah Beach Residence, The Ritz Carlton, Dubai- JBR, Dubai
Zaroob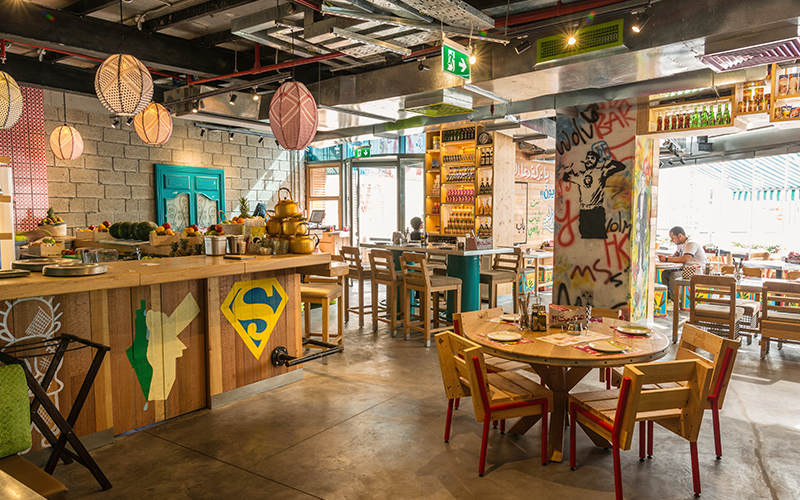 Traditional Dubai street food with a modern touch
Lebanese and Arabic cuisine is produced in an open kitchen and at live cooking stations at the Zaroob restaurant. While the food is presented in a modern manner, the bright, cheerful environment with lanterns and colorful steel shutters evokes a street food alley atmosphere.
The Arabic word for "narrow alley" is Zaroob. It is an idea that was influenced by conventional street sellers that can be seen all over the Levant region.
In addition to bringing the legacy of Arab street food to a modern audience, Zaroob highlights the best and most authentic elements of nutritious, straightforward cookery.
Dining patrons can experience the sights, sounds, and scents of strolling through a traditional street or market in Lebanon, Syria, Jordan, Palestine, and Egypt thanks to live cooking stations, open kitchens, and a range of Arab-inspired decor.
What to order?
Mousabaha, meat fatteh, za'atar, zaroob French fries
Location
Jumeirah Tower, Shop 1, Ground floor, Sheikh Zayed Rd, Dubai
Al Mallah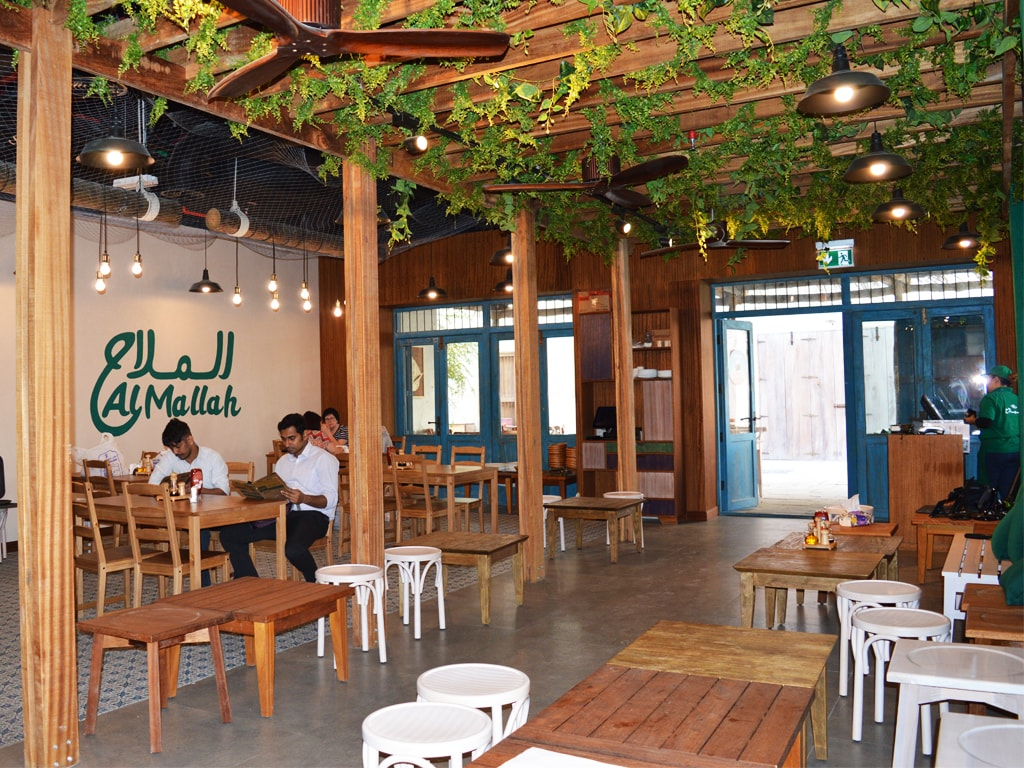 Al Mallah Cafeteria has been a mainstay of Lebanese fast food and dining in the United Arab Emirates for more than 30 years… Al Mallah was first established in 1979 as a juice stand on a Dubai street corner.
Al Mallah offers a wide range of pastries, shawarmas, falafel, grills, snacks, fresh juices, and signature shakes.
Al Mallah strives to provide a distinctive ambiance. Al Mallah offers a dining experience unlike any other, from seating by the main road to neon lights that are a vivid green color.
Al Mallah, a fast-turnaround takeaway restaurant, is still available for those who are constantly on the go. Combining all of these factors, Al Mallah offers something for everyone, from individuals who want a quick snack to parties who want to eat a Lebanese-style supper.
What to order?
falafel, homos, and meat, grilled chicken, kebab al Mallah
Location
Al Dhiyafa Rd – Al Hudaiba – Dubai
The Courtyard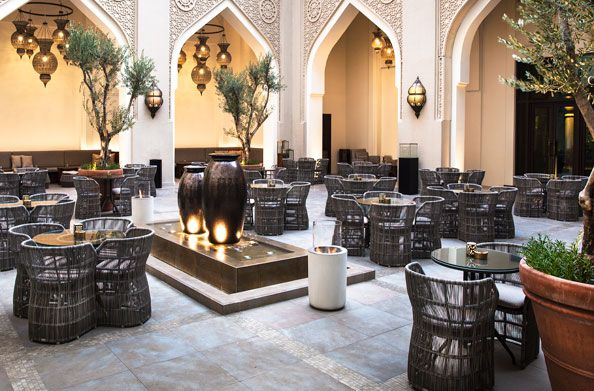 One of Dubai's most well-liked Mediterranean restaurants and shisha lounges, The Courtyard, is situated in the hotel's center. fusing the cultural diversity of the world with Arabic tradition. The Courtyard provides a great outdoor location.
The Courtyard experience is distinctive because it expertly combines colors, designs, tastes, and sounds. It has developed a reputation for its laid-back attitude, which is perfect for enjoying the company of family and friends.
The Courtyard offers a stunning al fresco environment with a dining experience that expertly combines colors, designs, tastes, and noises while fusing Arabic culture with global ethnic tastes.
The Courtyard, well-known for its mouthwatering food and flavorful hubbly-bubbly, offers more than simply a pleasant eating experience; it's a location where you can savor the relaxed, peaceful atmosphere and spend an evening over tea or filling dinner.
What to order?
harrier soup, lamb kibbeh, grilled haloumi,
Location
Ground floor, Sheikh Mohammed Bin Rashid Boulevard Manzil, The Old Town, Downtown Dubai
Awtar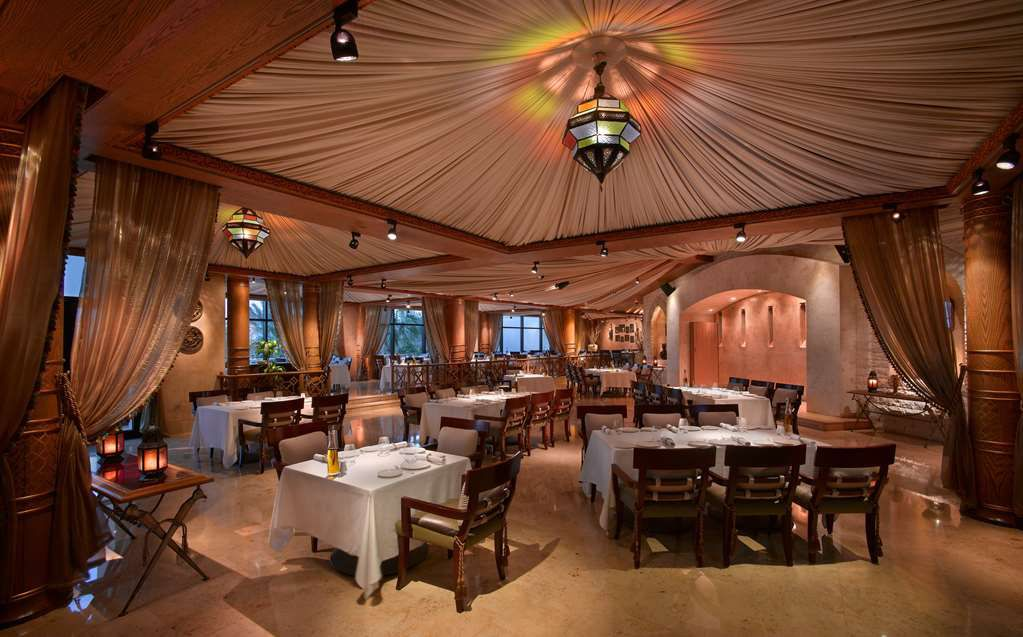 Awtar, the busiest restaurant in Hyatt Dubai, is the best place to experience how popular Lebanese food is in Dubai.
Awtar, one of Dubai's top Lebanese eateries, aims to produce an amazing overall experience. The restaurant offers live Arabic music and belly dancing performances in addition to its original dishes, giving customers a fully unique experience.
You can opt to eat inside one of Avatar's cozy tent settings or on the restaurant terrace.
What to order?
Mashawi Bahria, kebab orfali, zatar and baklah
Location
Grand Hyatt Dubai, Sheikh Rashid Road, Oud Metha, Umm Hurair 2 – Dubai
Jabbour Lebanese Restaurant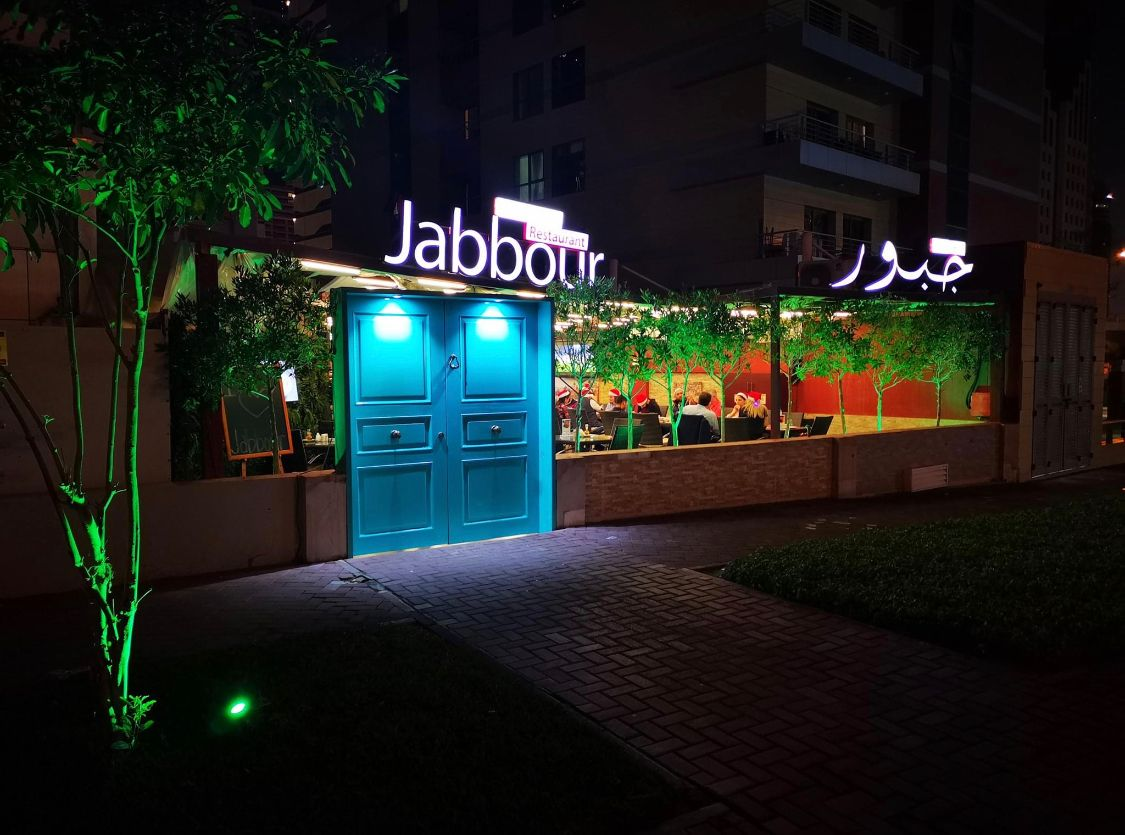 Jabbour Lebanese Restaurant aspires to emphasize the gastronomic diversity of Lebanese communities by focusing on cuisine peculiar to specific cultures. The dishes served here are traditional fare that originates from Lebanon's numerous communities. Although the restaurant has a seating space on the terrace, indoor dining is always an option.
Along with offering traditional cuisine, Jabbour is renowned for serving some of Dubai's best-tasting shisha.
What to order?
Moudardara, spicy potato, labneh, souk grilled
Location
Boutique 7 Building – Barsha Heights – Dubai
Dubai has an amazing variety of Lebanese restaurants that will allow you to enjoy all kinds of authentic flavors and give you a taste of Lebanon without actually being there.
Why not try some of the Lebanese restaurants from our list next time you visit Dubai, and want to experience something aromatic and Mediterranean.