Nothing can go wrong when it comes to Tacos, this signature Mexican street food can be made in several ways, with hard tortillas or soft ones, rolled or folded, with only veggies or a meat-filled one, it's all according to your preference, but for sure tacos will leave you asking for more, as it's great as a snack or a light bite but it's so mouthwatering you can't only have just one.
So if you're a big fan of Mexican food and tacos, Here's your guide to the tastiest Mexican street food and tacos in Dubai, so let's find out. 
Señor Pico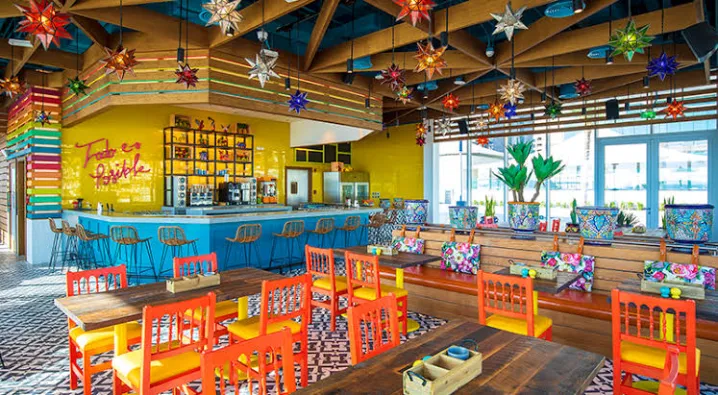 It's a restaurant that brought a refreshing taste of Mexico to the Palm, and it's one of the best Mexican restaurants in Dubai.
Señor pico's vibes are fun, colorful, and friendly which will surely get you aesthetically pleased, and with the gorgeous weather of Dubai, you'll be enjoying a casual beachside meal spiced up with some breeze.
The staff there is so welcoming, they're more than happy to make some helpful recommendations for you from their varied menu.
The food is fresh, and the burrito comes tightly wrapped and packed with tender, and all the usual suspects such as the well-spiced beef, beans, and Cotija cheese.
Location
The palm, Jumeirah, Dubai.
Tel.
La Tablita Dubai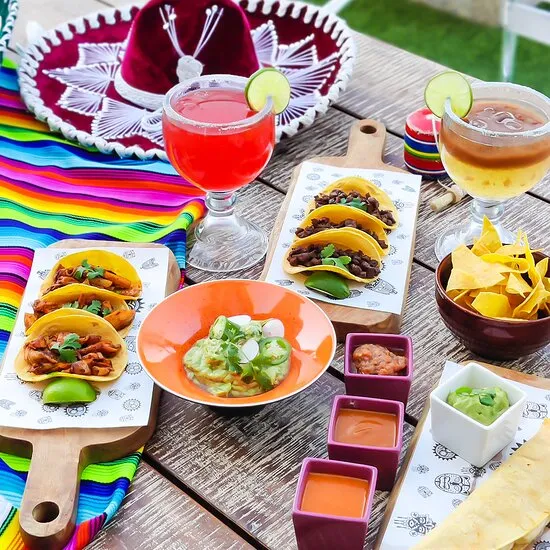 La Tablita specializes in authentic Mexican food, it's a Mexican restaurant in Dubai where one can go to find the most delicious tacos of Mexico in Town. And let's admit that the tacos on the menu are well worth the trip.
Everything there in La Tablita is amazing, the atmosphere, the Mexican/Spanish DJ, and the super tasty food and delicious cocktails, especially the Nopales taco, and the octopus one they are our favorites! The dessert Três lèches with jalapeno ice cream was also very tasty you have to try it out.
Location
Hyatt Regency Dubai Creek Heights, Dubai.
Tel.
Puerto 99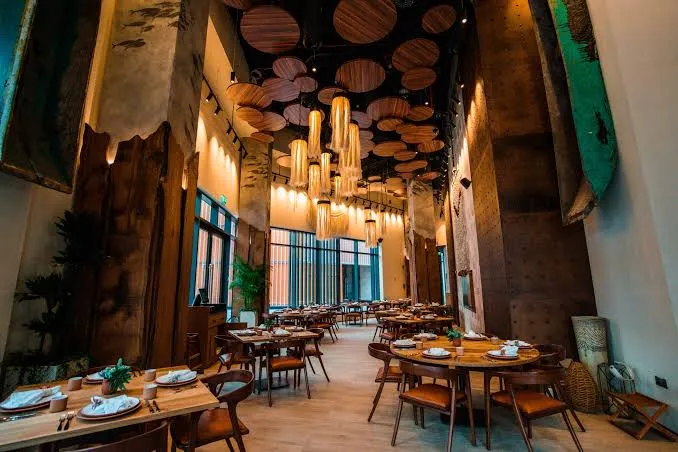 Puerto 99 is another spot where you can find the tastiest tacos in the UAE, the restaurant is located on Blue-waters island, which is a great place with a hip vibe to enjoy some delightful tacos in the city with a very eventful dining experience, the staff there is so welcoming and very friendly which makes the best service ever, the food quantity goes well with its decent price, so you'll be enjoying some Mexican food without exhausting your wallet.
Location
Blue-waters island, Dubai marina.
Tel.
Meshico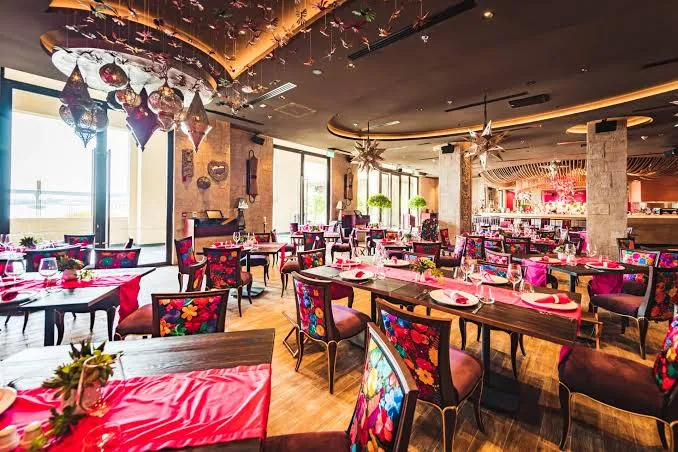 From all the Mexican restaurants in Dubai, Meshico is a place where you will feel the soul of Mexico in the city for real.
You will be living the real Mexican folklore experience in this place with a combination of killer views, top-class entertainment, and the most delicious flavorful Mexican food, we went there for Brunch and the total experience was INCREDIBLE. The appetizers were all delicious, the tacos were out of this world.
And the live entertainment takes you to Mexico. The staff is super nice, and friendly, and the place offers great service overall.
Location
Palm Jumeirah The Pointe, Block B, Dubai.
Tel.
Coya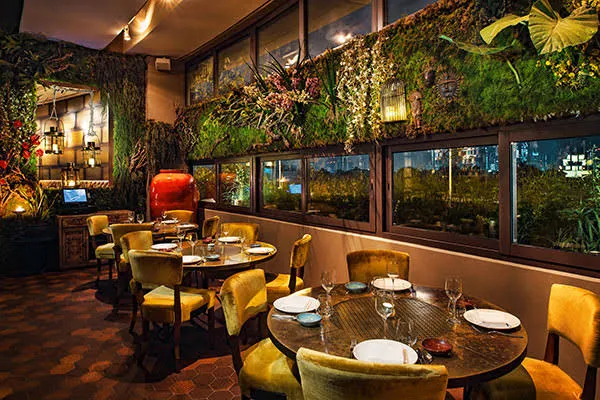 A luxurious dining experience, with a buzzing atmosphere in Dubai.
Coya certainly is one of the most interesting Mexican restaurants in Dubai to try out a taco. As they have a really varied selection of options, they have some of the famous Mexican wraps on their menu that you must try.
If you're a seafood enthusiast don't forget to try the Salmon and Tuna tacos, made with avocado, and wasabi. You'll love it!
Location
Four Seasons Resort, Jumeirah Beach Road, Dubai.
Tel.
Tortuga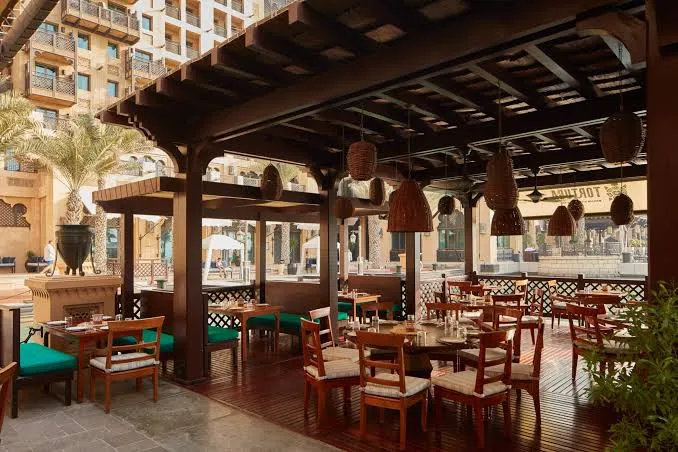 Tortuga is a Mexican restaurant where you can find the most delicious tacos in Jumeirah. It is a great place to enjoy your Mexican tacos in an outdoor setting.
This place is known for its three versions of tacos, served in "homemade tortillas" such as the Habanero Carne Asada, the Cancun Inspired Prawns, and the Skini Flacos. With fillings that will take it to the next level, such as the salsa, the beans, or the sour cream, this is an experience you won't want to miss. 
Location
Mina A'Salam, Jumeirah, Dubai.
Tel.
Maya Mexican Kitchen & Bar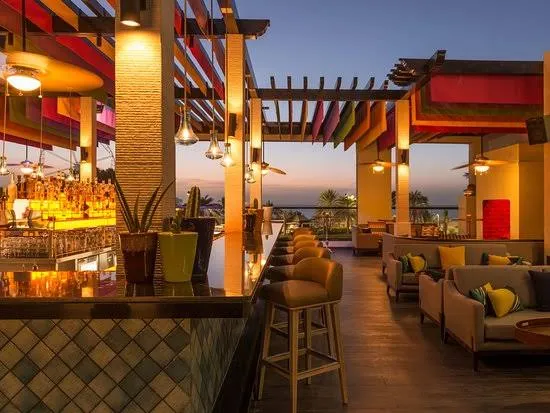 From the marinated chicken to the tenderloin strips, seafood, and crunchy veggies, tacos at the Maya Mexican Kitchen and Bar wrap up our list of the best tacos here in Dubai.
Level up your taco experience, and try the Tacos De Langosta, made with meaty lobster chunks, black beans puree, avocado, and a drizzle of Chilli De Arbol sauce.
Location
Le Royal Meridien Beach Resort and Spa, Dubai.
Tel.
The Maine Oyster Bar & Grill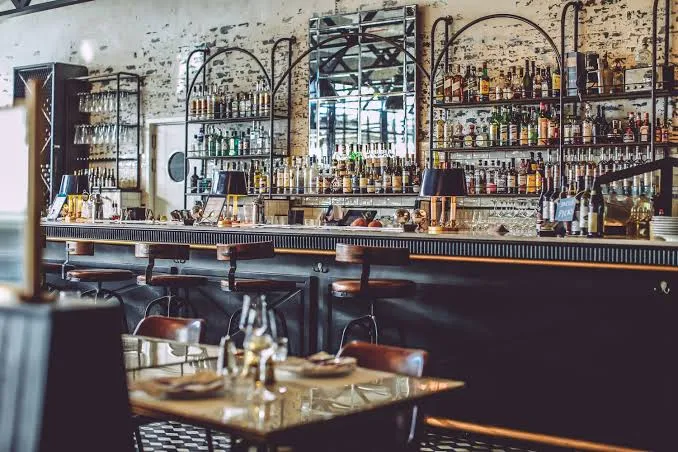 A restaurant in Dubai where you can enjoy some of the best tacos that taste like Mexico.
It is also an exciting option where one can go try delicious tacos, their tortillas are soft flour ones which is crisper, loaded with your favorite fillings topped with some of the best sauces ever. And yes yes yes it's as delicious as it sounds.
If you're a veggie lover, welcome to the club, you can now enjoy their Cauliflower Taco that comes with a filling of Mexican beans, salsa, guacamole, sweet corn, and tahini dressing as well.
Location
Oyster Bar and Grill, DoubleTree by Hilton JBR, Dubai.
Tel.
Black Tap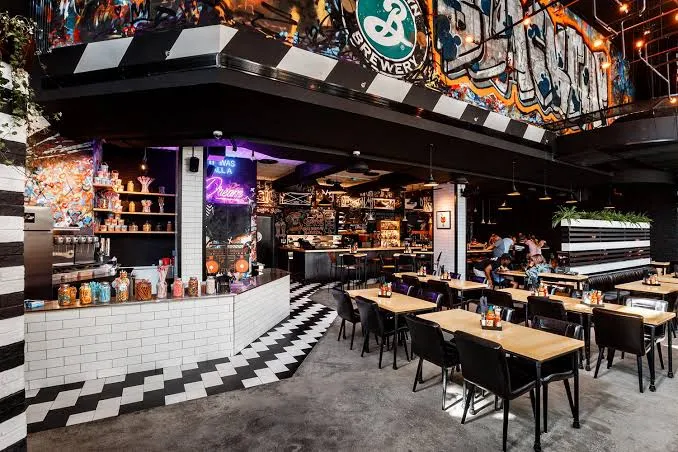 Apart from its amazing burgers, salads, and the best milkshakes in The city, this place also has some of the tastiest Mexican food in Dubai, it's also a great choice if you are craving tortilla treats.
Black Tap only offers three taco variations, and they are so good you can't pick just one.
So if you're in the Dubai mall looking for some Mexican food to try this is gonna be your go-to place.
Location
The Dubai Mall, lower ground floor, Dubai Festival City, Intercontinental Hotel, The Walk | Jumeirah Al Naseem, Umm Suqeim 3, Dubai.
Tel.
Luchador
Enjoy some Mexican food with some air breeze while listening to a cool Mexican melody.
Luchador is a new Mexican-themed restaurant that is known for its particular taco stuffed with braised lamb, sour cream, cheese, and lettuce.
But one of the most amazing things about tacos is that they can be stuffed the way you like, so if the one we've mentioned up there does not make your taste buds go crazy, there's a lot more to try that can do this!
Location
East Crescent, Dubai.
Tel.
Miss Lily's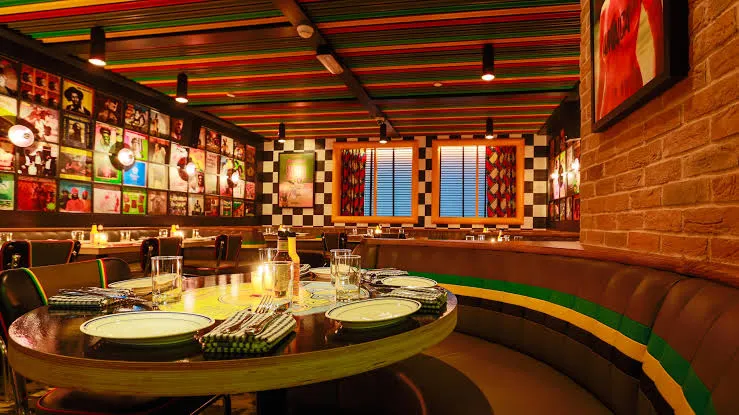 Looking for a cozy night? This is for sure gonna be the place! One of the Mexican restaurants in Dubai that serves A taco with a Caribbean twist that is guaranteed to be the tastiest one to try.
You'll enjoy a lively night fueled with a lot of fun.
This place gives the best dining experiences ever, their taco is a must-try, and if you're looking for a drink the Passion fruits mojito hits differently, it deserves a try!
Location
Sheraton Grand Hotel Dubai, Sheikh Zayed Road, Dubai.
Tel.
El Mostacho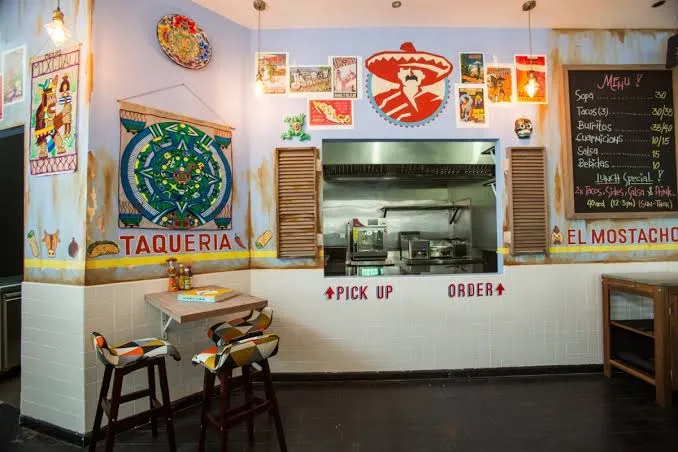 If you're up to try something new, get your wallet and head to El Mostacho, located in the silver tower, this Mexican kitchen offers the most delicious yet one of the weirdest tacos you'll ever eat in Dubai, Have you ever thought of how a cow's tongue would taste? Probably not, but we're here to get you convinced to give it a try.
The Lengua taco is made of classic cooked beef tongue, with chipotle mayo dressing and a flourish of coriander. It's tender with such a unique flavor that you have to try out.
Location
Silver tower cluster l, Dubai.
Tel.
Tortilla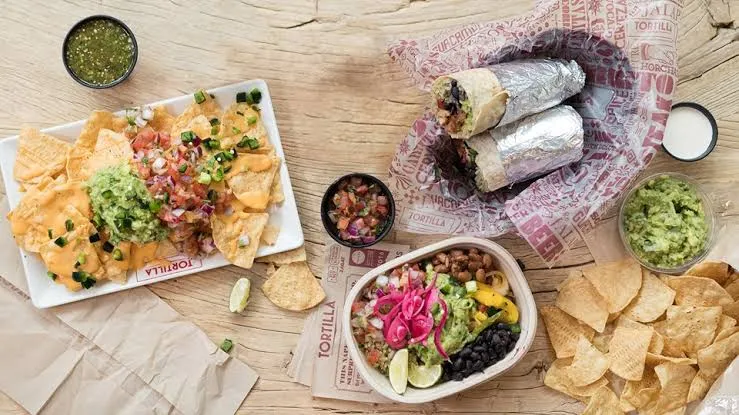 If you want to try tortilla bowls, Tortilla serves the best bowls in Dubai, their crispy tortilla bowls are filled with romaine lettuce, your choice of beans or rice, vegetables, meat, salsa or your favorite dressing, and cheese or sour cream.
No place does as great tortilla bowls as this place, so you have to give it a shot.
Location
Dubai Festival City Mall, Dubai.
Tel.
Chalco's Mexican Grill
If you're gluten intolerant or you're following a gluten-free diet, and you're craving tacos, have a visit to Chalco's Mexican Grill, as they serve a special gluten-free taquito plate that will fulfill all your needs.
Sink your teeth into this crispy and crunchy rolled taco, stuffed with everything of your choice with a mouth-watering salsa.
What more could you possibly ask for? Go ahead to this Mexican kitchen now!
Location
Lake terrace tower, cluster D, Jumeirah lake towers, Dubai.
Tel.
Jam Rolled Ice-Cream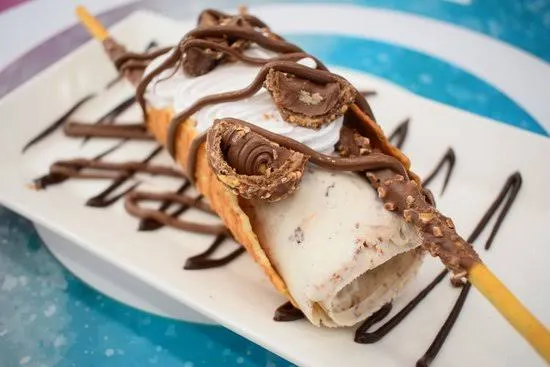 If you're craving something sweet, it is the time to satisfy those teeth with a delicious sweet taco, that is fresh, handmade, and irresistible, with ice-cream rolls all in a crunchy and crispy taco base.
Choose your favorite base and flavor, a type of drizzle, and a cheeky topping for the best sweet taco ever.
Location
Oud Metha, Lamcy Plaza area next to Haji Ali Juice center, Dubai.
Tel.
---
There are many Mexican restaurants and Taco places in Dubai. Here we gathered some of them that we think you should try, So what is going to be your favorite Mexican kitchen in the city?