The UAE is a shopper's paradise, with endless options for online shoppers. Whether you're looking for the latest fashion trends, electronics, home appliances or anything else you can think of, you'll be able to find it online in the UAE.
In this blog post, we'll be listing 20 of the best online shopping sites in the UAE. So whether you're looking for some inspiration or just want to know where to go when you need to do some online shopping, keep reading!
Groceries And Full Fledge Online Shopping Websites
Kibsons
Best for Daily Groceries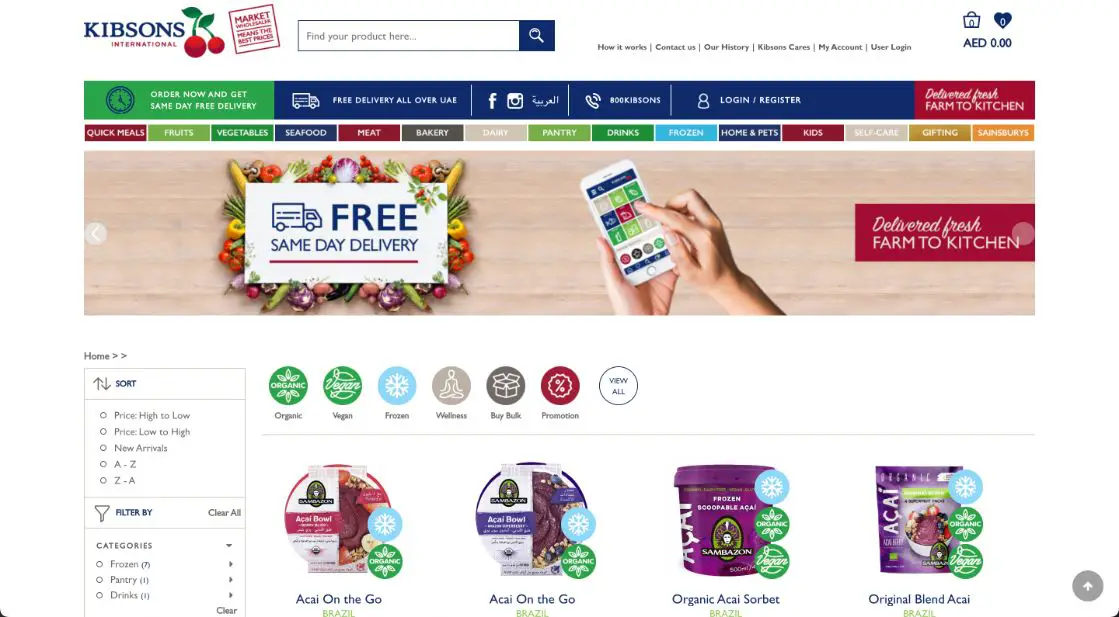 Kibsons has quickly become one of our go-to online shopping destinations for quality fruits and vegetables. They offer an ever-increasing range of products from all continents, and We've always been impressed with the quality of their produce.
The website is easy to navigate and the checkout process is streamlined and efficient. I also appreciate the wide selection of specialty, pre-packed, and ready-to-eat products that Kibsons offers.
In the increasingly competitive GCC market for fresh produce, Kibsons stands out as a leader in quality and service.
We highly recommend Kibsons to anyone looking for a great online source for fresh produce.
Carrefour UAE
Best Deals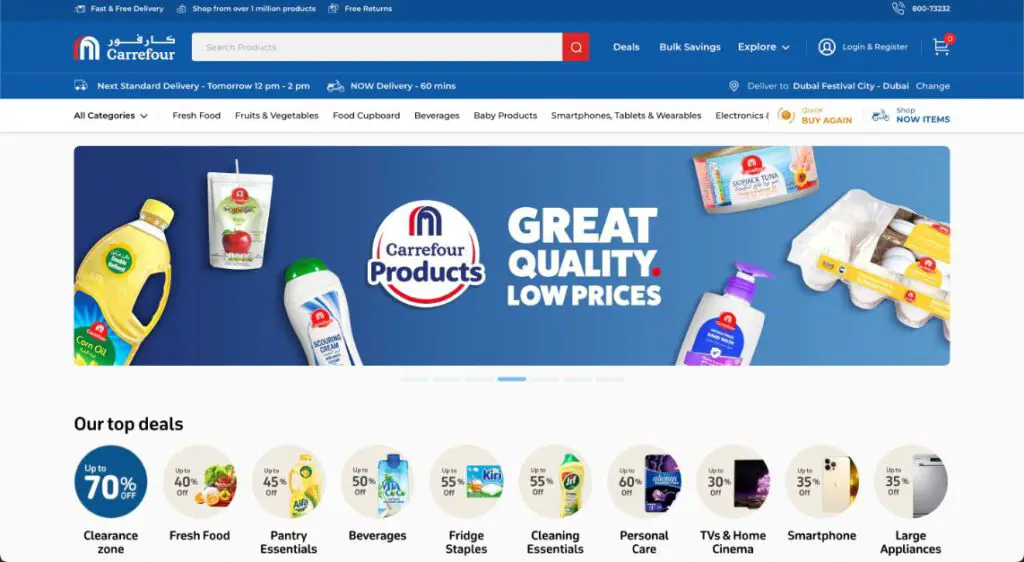 Carrefour came into being in the year 1959 and has since been a big name when it comes to supermarkets. The company has now spread its tentacles into 16 states in the Middle East, Africa, and Asia. Ideally, Carrefour has been known for its supermarket and hypermarket operations.
The company's first store was opened on French streets and offered a wide assortment at quite reasonable rates. This allowed people to buy whatever they wanted without having to go through the hassle of standing in long queues. 
Carrefour UAE provides an online shopping service that is quite comprehensive with over 1,000,000 products available at low costs including furniture. The website is user-friendly and easy to navigate which makes the whole experience much smoother for customers.
You can also find a lot of information about various products and services on the website which helps you make better-informed decisions and a lot of online deals on electronics that you don't want to miss!
Overall, Carrefour is a great option for online shopping if you're looking for convenience and good value for money being one of the cheapest online shopping sites.
Supermart
Great if you love shopping online for Groceries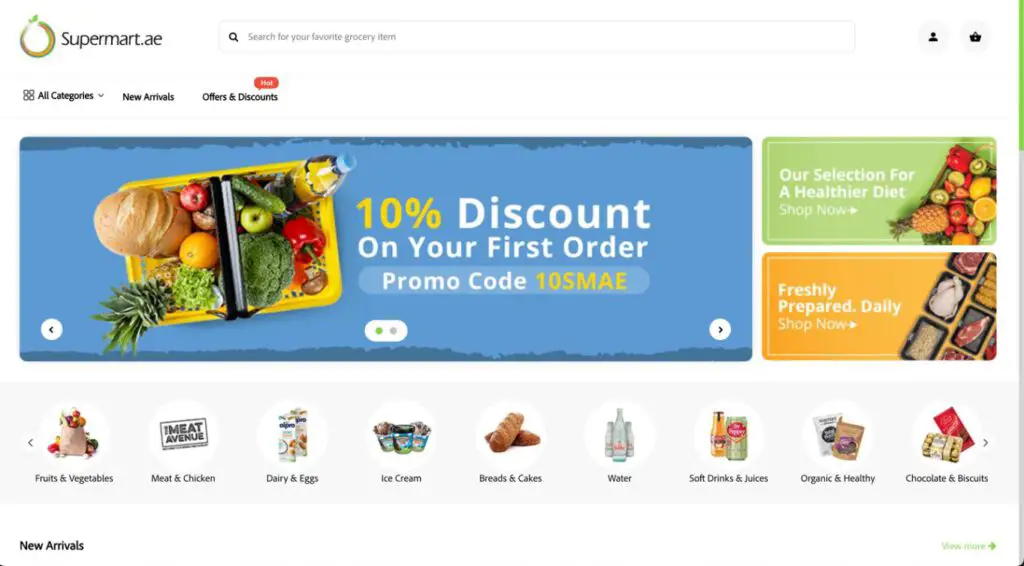 Supermart is one of the leading online grocery ordering websites. They offer a wide range of products, from fresh produce to frozen foods, and they provide delivery to most parts of the country.
The website is easy to use, and customers can create an account and order groceries with just a few clicks. Payments are secure, and orders can be tracked online.
Supermart also offers some unique features, such as the ability to order groceries in bulk and a loyalty program that rewards customers for their continued business.
Overall, Supermart is a great online grocery ordering site that offers a convenient shopping experience.
noon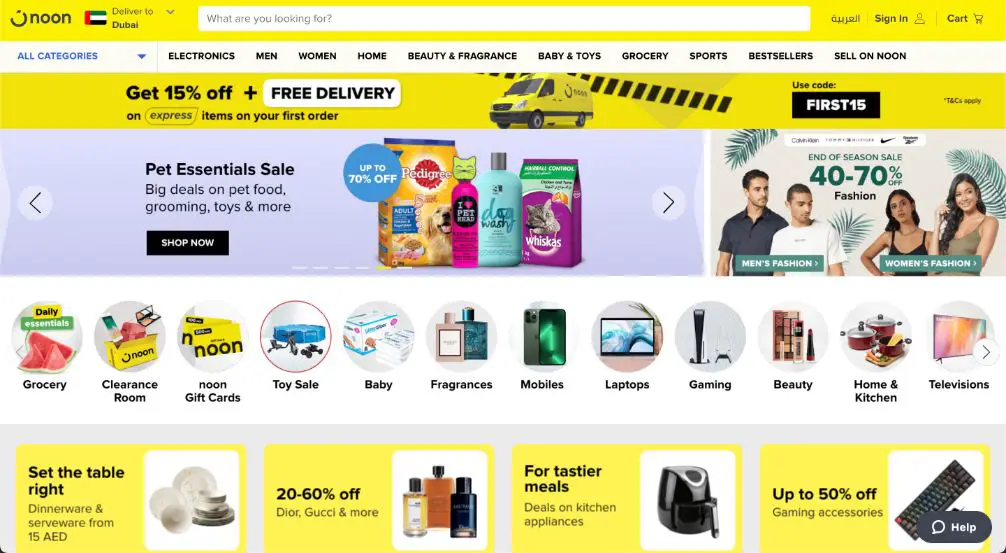 Noon is one of the leading online retailers in the Middle East and has quickly become one of the largest eCommerce platforms in the region.
The Website offers an extensive selection of items for sale, including toys, clothes, footwear, electronics, perfumes, and other household products.
noon.com also offers a wide range of products at relatively cheap yet competitive prices and provides good offers. In addition, the website offers free shipping on all orders shipped to noon lockers (At a nearby delivery spot) and an AED 10-only shipping fee for their For VIP customers.
They also provide a cash-on-delivery service in the UAE and Egypt. Overall, Noon is a great online shopping platform that offers a wide range of products at great prices.
Amazon.ae (Previously Souq.com)
Best for International Products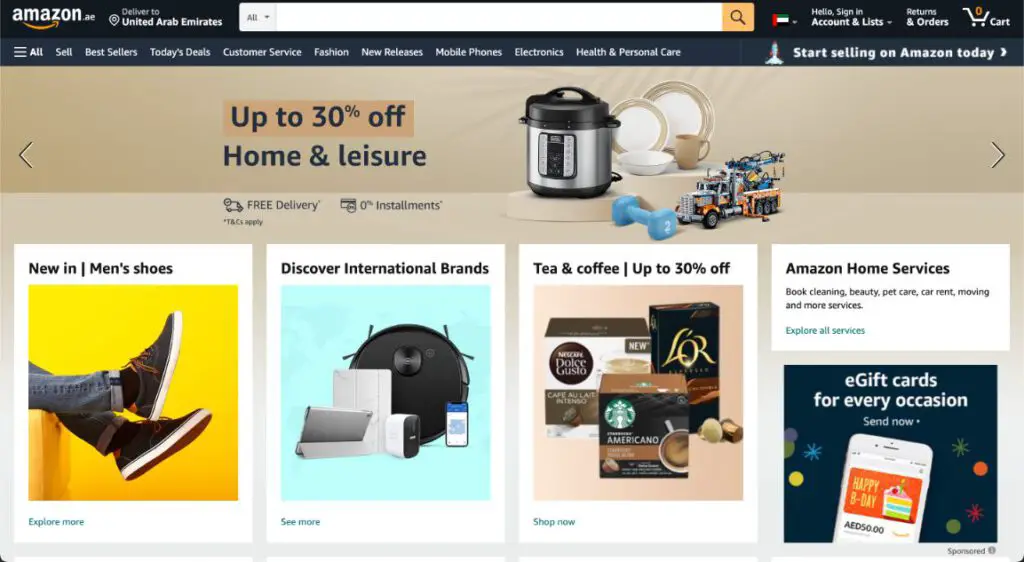 Amazon has been a dominant force in online shopping for many years, and its acquisition of Souq.com only solidified its position. Amazon is an easy place to shop, with a wide variety of items available from all over the world.
Shipping fees can be high, but prices are generally lower than local retail stores. Amazon also offers a vast collection of products for the whole family, that can be shipped directly to your door in just a few days.
You can easily order online on their UAE website or through their mobile app which is available on the App Store and Google Play Store.
The launch of Amazon's Prime makes it even easier for consumers in the region to take advantage of the company's vast selection and low prices.
With Amazon's excellent customer service and global shipping network, there is no reason not to shop from the world's largest online retailer.
Electronics & Gadgets Online Shopping Websites
Ubuy
Best for Online Transactions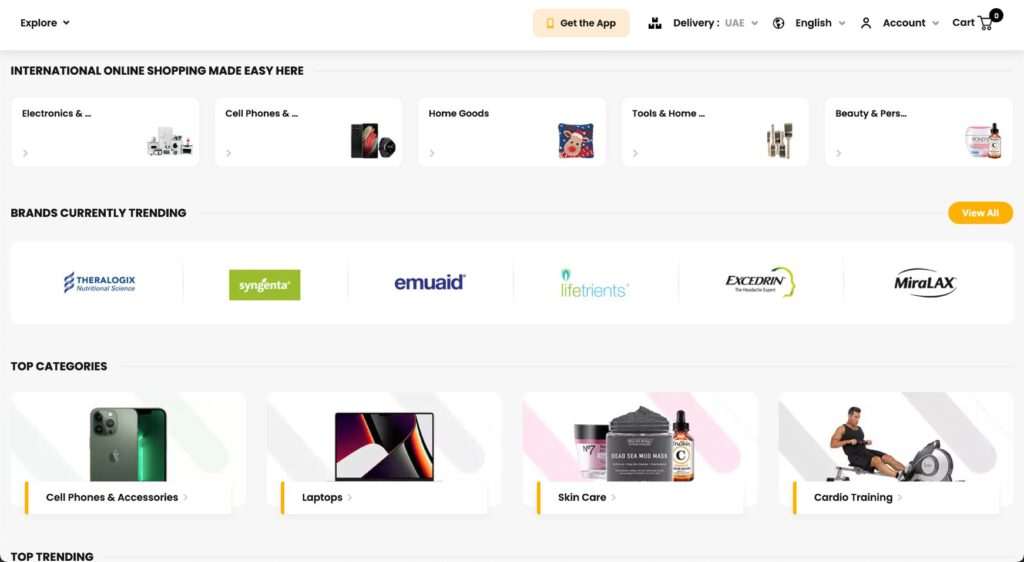 Ubuy used to be widely recognized as an online electronics store by consumers (Or at least it used to be limited to electronics).
Well not anymore, now you will find numerous offers for good quality products at low prices. Products on the Ubuy platform now include clothing, books, electronics, beauty products, office supplies, and home decor.
The main aim of Ubuy is to provide an exceptional online shopping experience to customers all over the UAE.
There are various helpful features on the website such as product reviews and ratings that help customers make informed decisions. Moreover, the customer care team is always available to answer queries and address concerns.
Delivery times may vary depending on the location but generally, orders are delivered within a few days.
Overall, We would highly recommend Ubuy to anyone looking for a great online shopping experience.
Virgin Megastore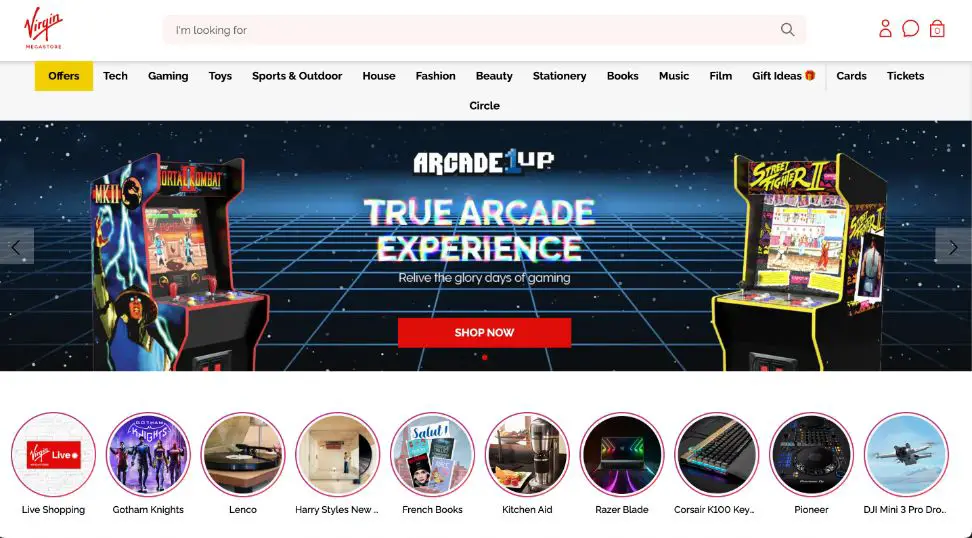 Let's be honest, we all love a bit of online shopping. But when it comes to music, it can be tricky to know where to buy from. With so many options out there, it's easy to feel overwhelmed.
But if you're looking for a user-friendly experience and a great selection of tunes, electronics, games, and game consoles. Virgin Megastore is the perfect place to shop.
The website is easy to navigate, and you can filter your search by genre, artist, or release date for music or brand for electronics.
Whether you're a classical music fan or a die-hard gamer, Virgin Megastore has something for everyone.
So why not give them a try next time you're in the mood for some new tunes or games? You won't be disappointed.
Gadget by
Best for Electronics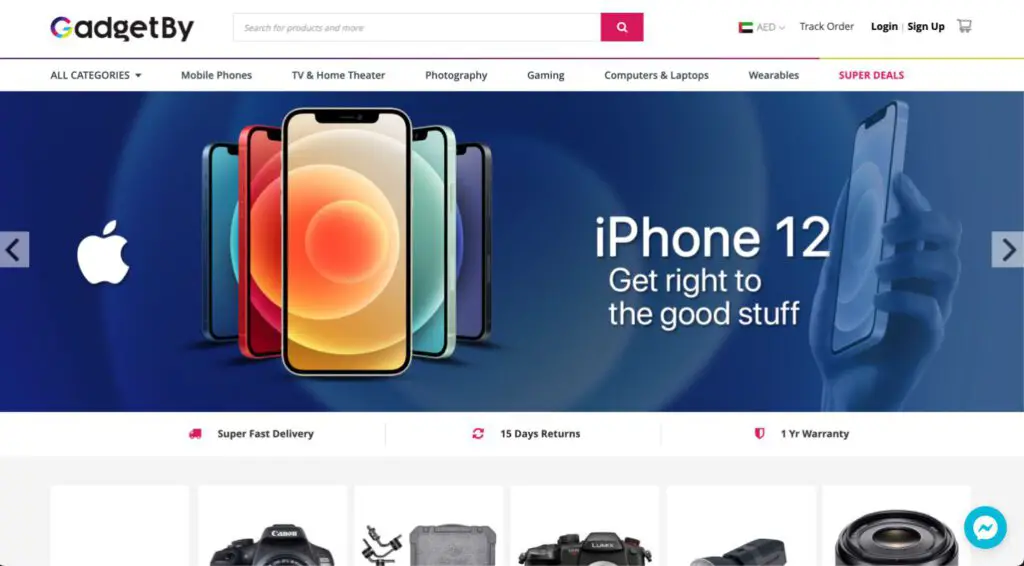 If you're in the market for new electronics, Gadgetby is definitely worth checking out. They sell everything from mobile phones to laptops to TVs, and they even have a few personal care products thrown in for good measure.
Shipping is free on orders over 300, and if you're in Dubai you can even expect same-day delivery. The prices are very reasonable, and the quality of the products is excellent.
In particular, We were extremely impressed with the customer service. The staff was incredibly helpful and made sure that We found exactly what We were looking for.
Overall, Gadgetby is a great option for anyone looking for new electronics.
Desertcart
Best Customer Service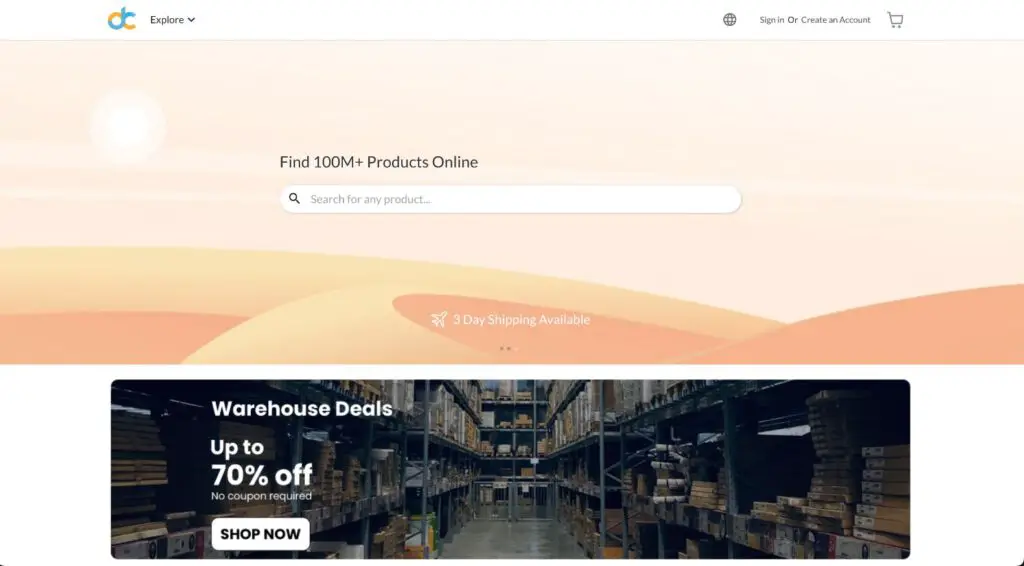 Desertcart is a welcome addition to the UAE online shopping world. The website offers a wide variety of items, from groceries, clothes, cosmetics to smart watches, and the prices are very reasonable.
The free delivery for orders over 500 is a nice touch, and the delivery times are quite speedy.
Overall, We were very pleased with my experience with the Desertcart site. The only downside is that the selection of items is not always consistent, so it's worth checking back frequently to see what's new. But all in all, Desertcart is a great option for online shopping.
Jumbo
Best Deals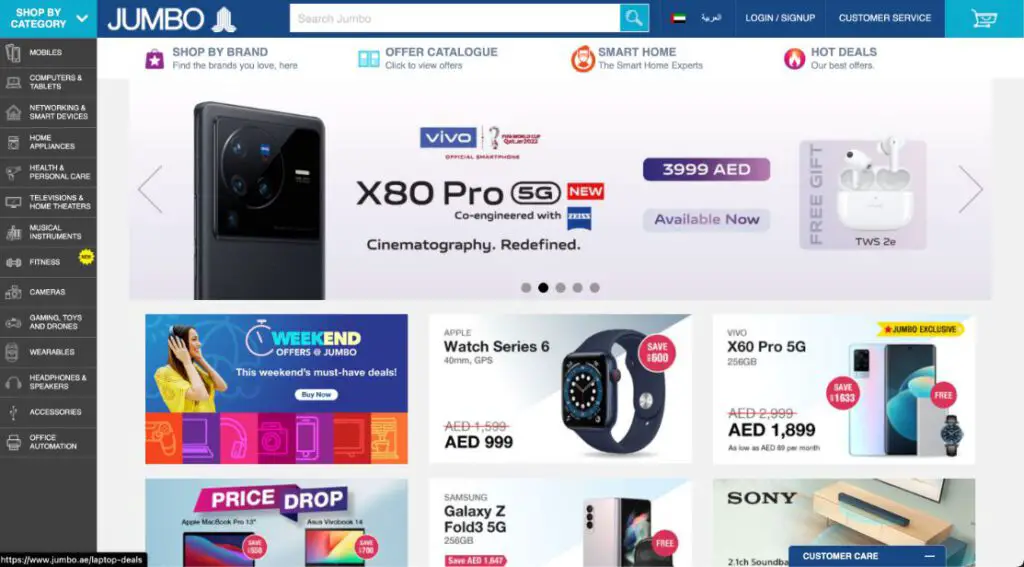 If you're looking for the latest and greatest gadgets, then you need to check out Jumbo. This online retailer offers an impressive selection of new and innovative products, ranging from smartphones and tablets to home appliances and wearable tech.
Prices are very competitive, and there's almost always a sale or promotion going on. Shipping is fast and reliable, and customer service is excellent.
We've been a happy customer of Jumbo for many years, and We highly recommend them if you're looking for new electronics.
Fashion & Clothing Online Shopping Websites
Namshi
Best for Fashion Shopping and Beauty Products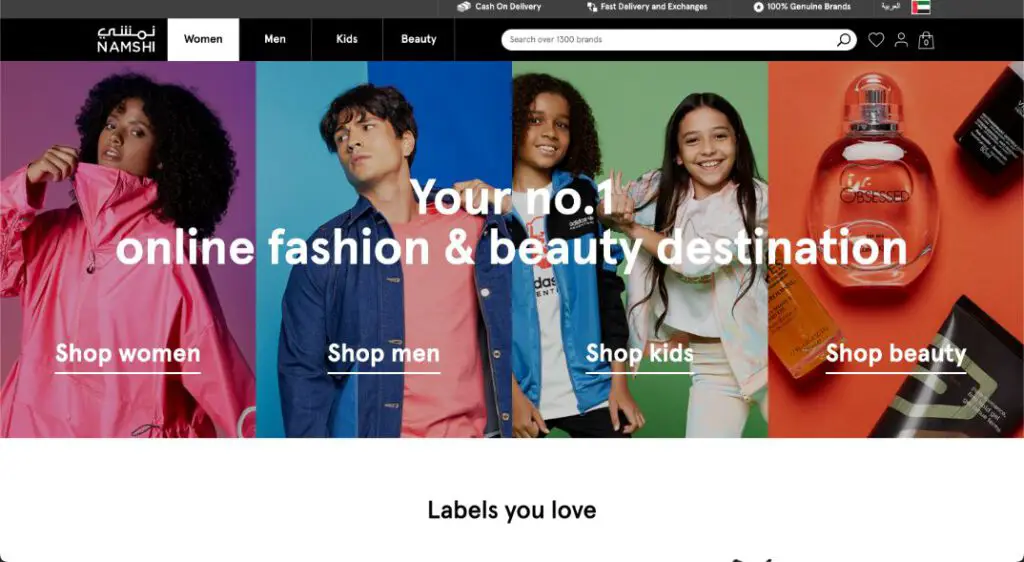 Namshi is one of the most popular online fashion retailers in the Middle East. It offers a wide range of clothing from high-end fashion brands like Mango and Lacoste, to more affordable options like Adidas and Nike.
In addition, Namshi frequently offers discounts and sales on its products, making it a great option for budget-conscious shoppers.
Another great thing about Namshi is that it offers free returns on all of its products. So if you're not happy with a purchase, you can simply return it for a full refund.
Overall, Namshi is an excellent option for anyone looking for stylish, well-made clothing at a reasonable price.
Mumzworld
Best for Baby Products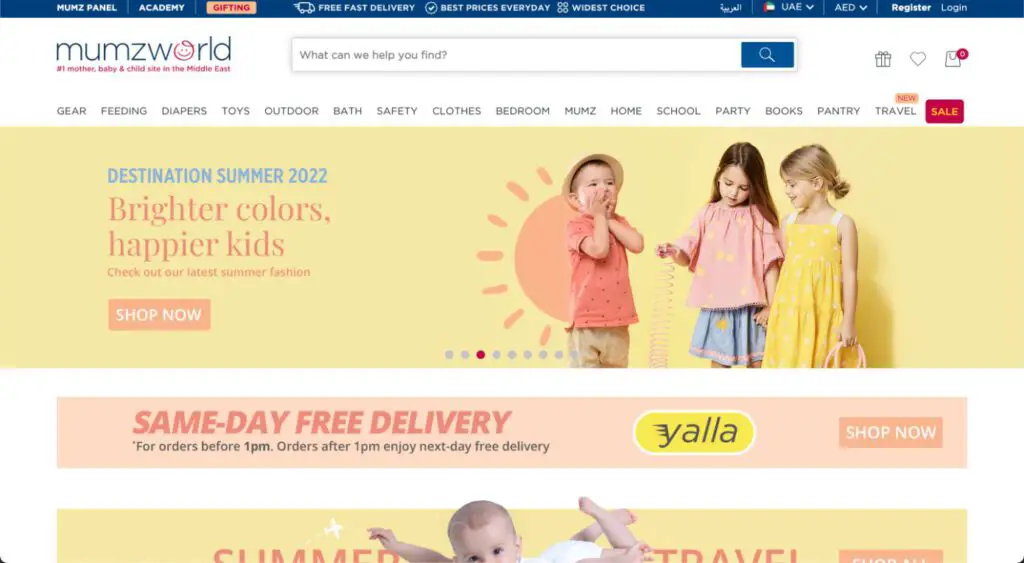 We have been using Mumzworld for a few months now and We absolutely love it!
They offer a huge selection of baby products including strollers, diapers and toys, baby food, bathroom essentials, diaper-essential clothing, school essentials, and medicine.
The best part is that you can order everything from the comfort of your own home and they will deliver it right to your doorstep. No more lugging around heavy bags at the mall! The website is very user-friendly and easy to navigate.
You can filter the products by price, brand, category or even age range, which is really helpful. I have also found that the products are of high quality and very reasonably priced.
Delivery has always been on time and the customer service is excellent. We would highly recommend Mumzworld to any parent looking for a one-stop shop for all their baby needs.
Retold
Best Value for Money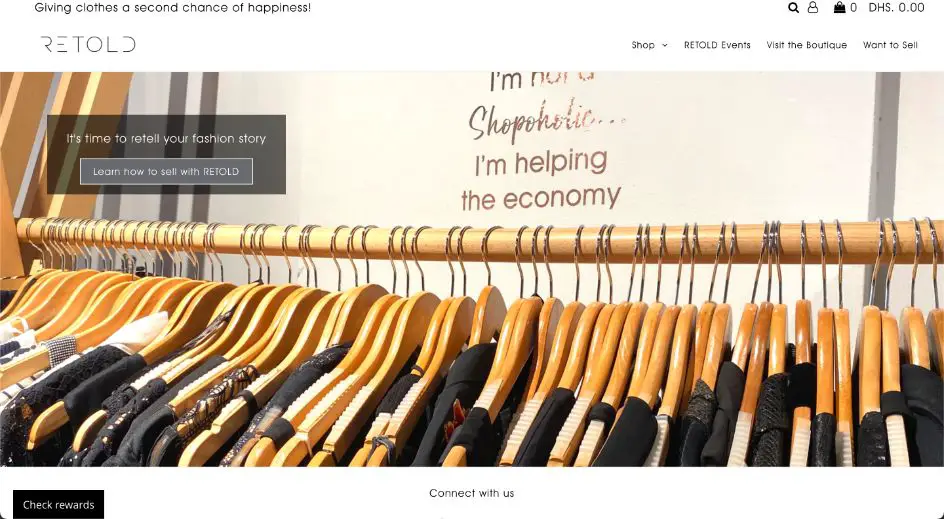 We had a great experience with Retold. The website is easy to use and We were able to find fashionable clothes at reasonable prices. We also appreciate that the store helps to conserve the environment by reselling used clothing.
We would definitely recommend Retold to anyone who is looking for an alternative to fast fashion. The store is a great way to get off the fast fashion lifestyle without compromising your style.
You can also sell clothing from your own wardrobe which is newly worn or very newly.
Overall, We had a great experience with Retold and would highly recommend it to anyone looking for environment-friendly online shopping delivered to your doorstep!
Sivvi
Best Delivery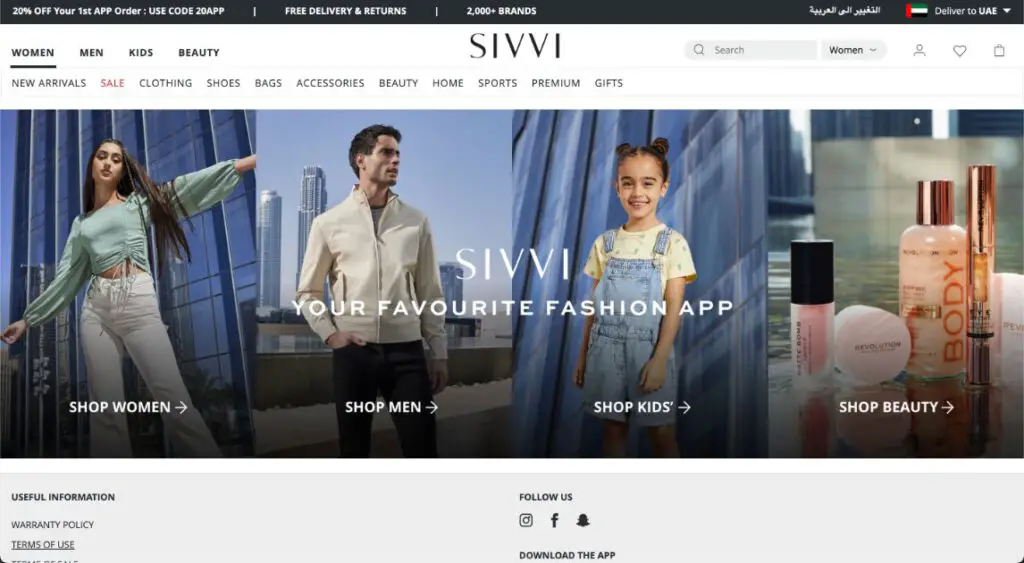 There are many online shopping websites available today, but not all of them offer the same level of quality or selection.
Sivvi is a Dubai-based fashion eCommerce company providing services for customers in the UAE, Bahrain, and Kuwait.
Sivvi presents fresh fashion from top brands, and they offer awesome discounts on the best brands every once in a while. They also ensure seamless deliveries, so you never have to worry about your order not arriving on time.
In addition to their great selection and prices, Sivvi also offers excellent customer service. If you have any questions or concerns, you can always reach out to their team and they will be more than happy to help.
Overall, Sivvi is a great online shopping option if you love shopping for top-quality fashion at an affordable price.
Ounass
Best For Luxury Fashion Shopping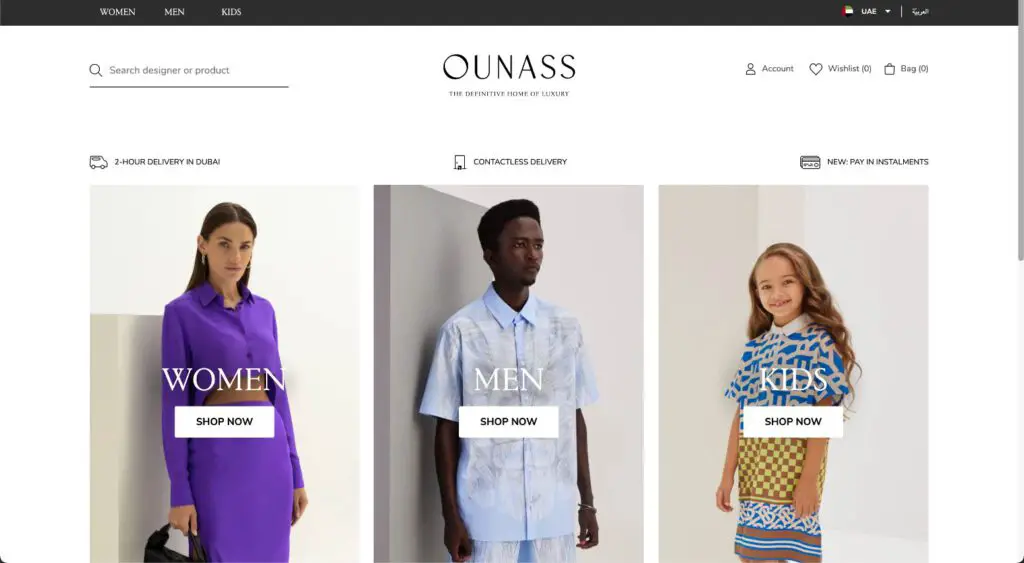 There's no doubt that shopping online has become the go-to for many people when it comes to buying clothes, shoes, and accessories.
However, with so many online shopping websites out there, it can be hard to know which one to choose. If you're looking for a luxurious and exclusive shopping experience, then Ounass is the website for you.
Based in Dubai, Ounass offers a range of designer premium brands, both locally and internationally. The website is beautifully designed and offers a personal shopping experience, it just screams buy online!
What's more, orders are delivered within 2 hours in Dubai and 48 hours in Abu Dhabi. So if you're looking for the latest fashion trends and insider news, make sure you visit Ounass online.
Shein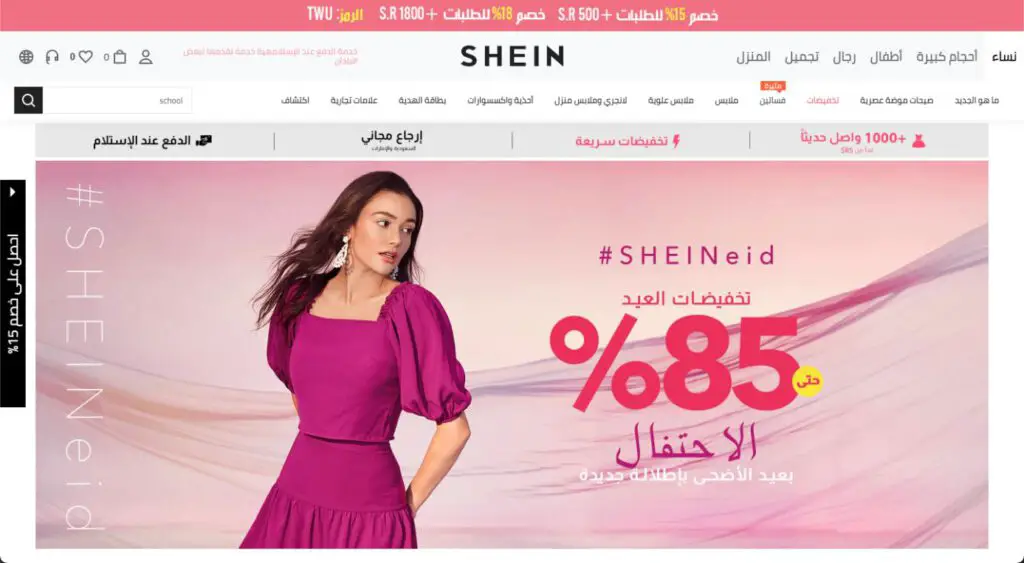 Shein is one of the online shopping websites that has increased in popularity in recent years. Shein offers a wide range of clothing and accessories for women, men, and children.
One of the reasons why Shein is so popular is because it offers affordable prices for its products.
In addition, Shein frequently releases new collections of clothing, so shoppers can always find the latest fashion trends on the site. Another benefit of shopping on Shein is that shoppers can earn rewards points with every purchase, which can be redeemed for discounts on future orders.
Overall, Shein is an excellent choice for online shopping, and We would highly recommend it to anyone looking for affordable and fashionable clothes.
Letstango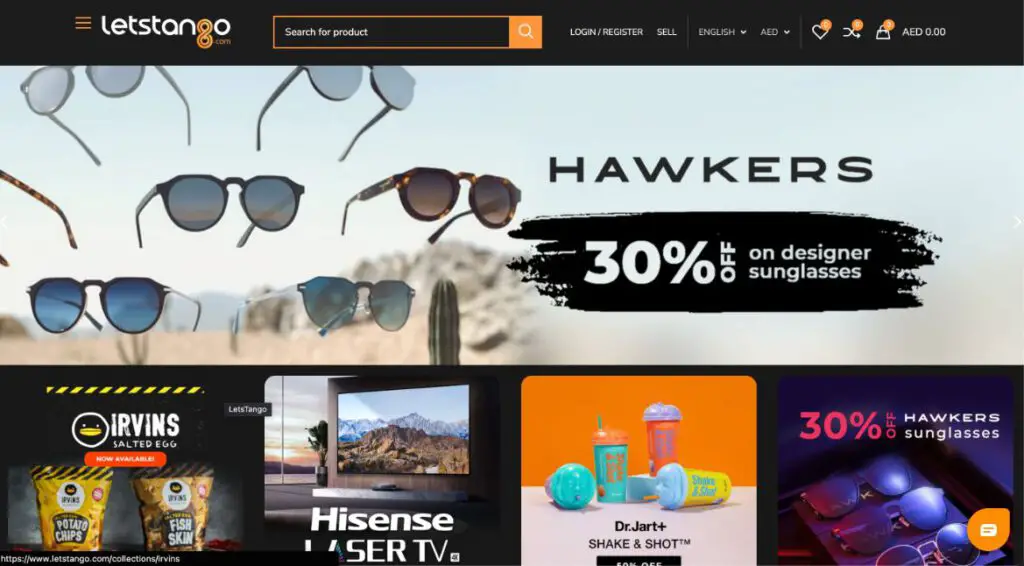 In the online shopping world, Letstango is a relative newcomer, having only been founded in 2013. However, it has quickly established itself as one of the leading online shopping websites for electronics, media and pretty much everything else.
One of the main reasons for its success is the innovative digital support that it offers customers and the ongoing deals.
This allows them to easily navigate the site and find the products that they are looking for. In addition, Letstango offers a wide range of payment options, including cash on delivery and swipe cards. This makes it easy for customers to purchase items without any hassle.
Overall, Letstango is a reliable and user-friendly online shopping site that is well worth checking out.
Eyewa
Best For Eyewear
If you're looking for a new pair of shades or prescription glasses, Eyewa is a great option. They offer a wide selection of both sunglasses and contacts, all at very competitive prices.
They also have a great return policy, so if you're not happy with your purchase you can always send it back.
One thing to note is that they only ship to certain countries in the Middle East, so if you're not in that region you'll need to find another online retailer. Overall, Eyewa is a great online shopping website for all your eyewear needs.
DODuae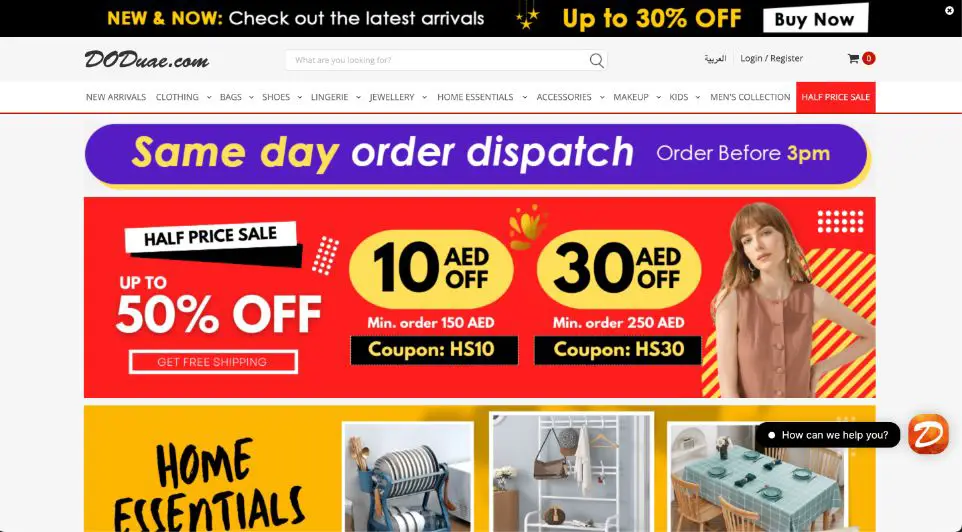 DODuae is a one-stop shop for all your fashion needs when shopping online. Whether you're looking for the perfect dress to wear to that upcoming wedding or just some new jewelry to spruce up your everyday look, the DODuae website has something for everyone.
And the best part?
The prices are unbeatable. We found the perfect pair of earrings on sale for less than half the price We would have paid anywhere else.
You can also find great discounts on shoes, handbags, and even watches. So if you're in the market for some new fashion finds, be sure to check out DODuae. You won't be disappointed!
Dubizzle
Best for used products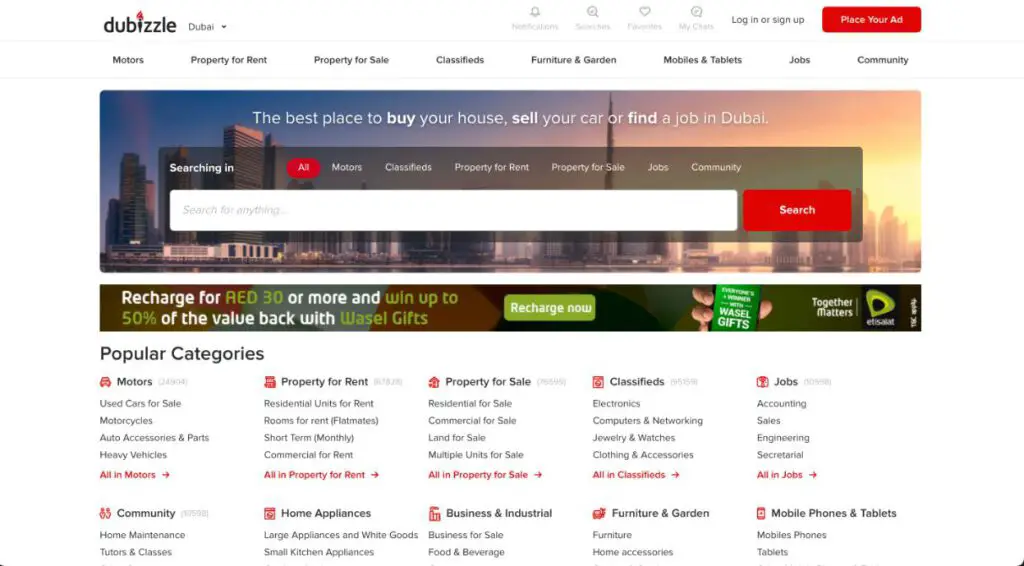 Online shopping websites are a dime a dozen these days. But every so often, you come across one that's just a little bit different from the rest. Dubizzle is an online classified site based in the UAE, and it offers a wide variety of products and services.
The site provides businesses and regular users with a free platform that can display ads with images, videos, and catchy descriptions to reach the targeted audience for sales and purchasing of products through the platform, where you can reach out to the seller directly!
Dubizzle also has a strong presence on social media, which makes it easy for potential buyers to find and connect with the businesses they're interested in.
While there is a fee for advertising on the site, it's relatively affordable compared to other online shopping websites.
Overall, Dubizzle is a great option for businesses looking for an online platform to showcase their products and services.
---
UAE online shoppers are spoilt for choice with an abundance of e-commerce websites to choose from when it comes to buying goods and services.
However, not all sites are created equal and some offer a better shopping experience than others.
In this article, we have listed 20 of the best UAE online shopping sites based on a variety of factors such as product range, prices, delivery options, payment methods and customer service. We hope you find it helpful!
Have you tried any of these websites before? Let us know!