Yoga is a great way to relax and release all the negative energy you might be feeling.
Generally, people do yoga for several reasons,
To relax their bodies or to heal their minds.
To improve strength.
Some people also love to try something new during their free time.
And for the fitness freaks/ gym rats who hate missing out on their workout routine or the Yoga enthusiasts who are already practicing, there are a lot of yoga spots in Dubai that offer the practice of all Yoga kinds.
If you're new to Yoga, Start your Yoga journey of stretching, relaxing, and healing at any of these Yoga Studios in Dubai. 
Trident Wellness Center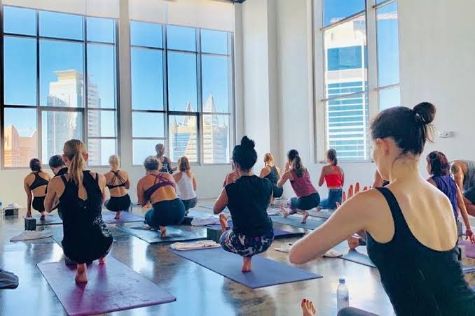 Enjoy a Yoga class filled with some natural light along with some calming vibes in Trident Wellness Center, It's the most popular Yoga studio in Dubai that has huge windows from floor to ceiling viewing the Marina, located in the heart of Dubai marina, They specialize in all kinds of classical yoga from Iyengar Yoga, Ashtanga Yoga, Sivananda Yoga, Hatha Yoga, Yin Yoga, to Power Yoga and a lot more.
Location
136.1 Trident Wellness Centre, Trident Bayside, Dubai.
Contact: +971 4 441 6287
Zen Yoga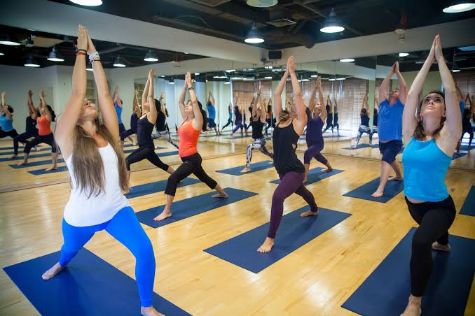 Zen Yoga is Popular as it is the first yoga center in Dubai, and it is also one of the oldest Yoga studios here, the place is offering classes for all levels, kids, adults beginners, and advanced.
They also offer regular Yoga, and Meditation workshops and foundation classes, which is a great choice for all Yoga first-timers.
Location
Media City, BBC Building 10, Ground floor, Dubai Media City.
Contact: +971 4 367 0435
Voyoga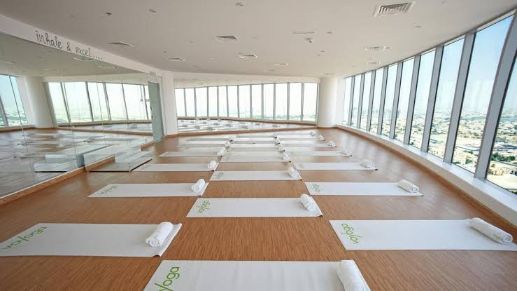 Voyoga studio is a joyful place that offers a variety of yoga practices including Hot Yoga, Swing Yoga, and Voyoga Flow. And that is what makes this place a special one.
A wide place that is naturally lit, with an amazing view of the city from the 31st floor of Barsha Heights, book a yoga session in Voyoga to spice up your workout routine. 
Location
Voyoga, 31st Executive Floor, i-Rise Tower, Opp. Saudi German Hospital, Barsha Heights, Dubai.
Contact: +971 45538630
Inspire Yoga+Pilates+Fitness
Seeking a complete intense workout experience? You are surely in the right place! This place offers you everything from Yoga to Yoga-inspired Pilates and high-intensity fitness training.
They have a variety of heated and non-heated Yoga sessions, and pilates sessions that go well with all ages and levels, they also have personalized fitness training.
Location
T&G Avenue building, Al Manara, Dubai.
Contact: +04-321-9771
Urban Yoga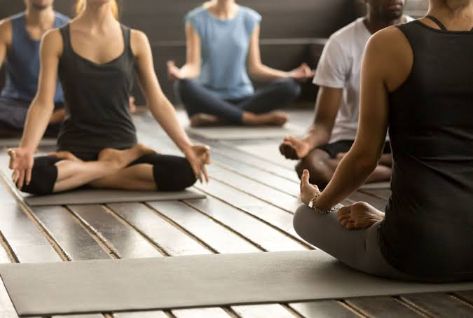 Located in Business Bay, Urban Yoga aims to bring urban roots to the city, it is perfect for all the Dubai's urban community.
The studio is divided into two parts – the first is the Warehouse and the second is the Loft.
The Warehouse is a practice space with double high ceilings that gives a beautiful view of the Downtown, Jumeirah, and the sea.
The Loft is an intimate space at the top of the stairs used for smaller classes and interactive workshops.
The place offers diverse yoga classes including Urban Flow, Dynamic Flow, Yoga Conditioning, and Yoga Strengthening along with the traditional ones like Yin, Ashtanga, and Hatha Yoga.
Not only but also they offer Yoga classes with some fun features like glow-in-the-dark yoga and Relaxing candlelight yoga.
Location
Urban Yoga, 3701 Aspect Tower, Executive Towers, Business Bay, Dubai.
 Contact: + 04 369 7882
Life'n One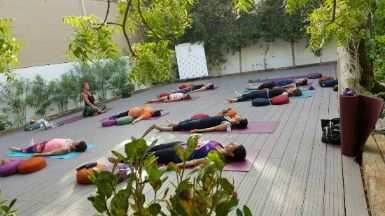 Life'n One is an all in all urban retreat for Yoga in Dubai, they offer a range of Yoga classes for all ages, from traditional yoga methods like Yin yoga to Kundalini and Detox yoga.
Along with Yoga, they also have a range of meditations and balancing techniques, they also offer private therapy for both body and mind.
After the class ends, you can as well enjoy a delicious vegan meal or a great taste smoothie at their cafe The One.
Location
Street 27B, Jumeriah beach Road, Dubai.
Contact: +971 56 534 2899
Dryp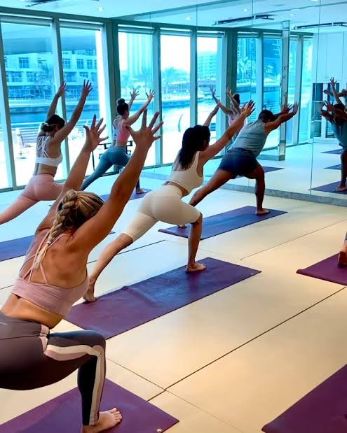 Dryp is a place that offers you a whole different type of Yoga in Dubai, Wanna try something new? You can have traditional hot yoga and hot fitness classes, in their infrared-heated environment, it's available for all age groups.
According to them, a heated environment is crucial in achieving some health benefits including detoxification, immune system boost, weight loss, heart health, glowing skin, and inner healing.
Location
Orra Marina Tower, Marina Promenade Level, Dubai Marina.
Contact: + 04 220 5330
Body Language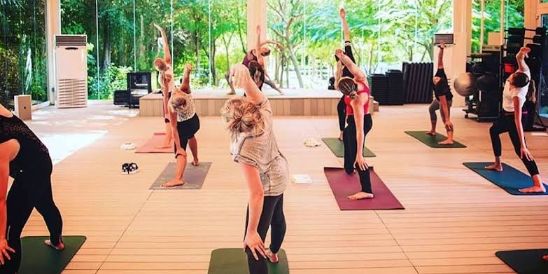 Get away from the hustle and bustle of this crowded city, and book yourself a Yoga class in this relaxing place. Body Language is a one-stop fitness center that offers fitness and Yoga classes to both personnel and groups.
They have a really wide variety that you can choose from over 50 of their group classes includes Yoga, Aerial and Swing yoga, Pilates, Circuits, Crossfit, Cardio boxing, Trampoline Xtreme, Strength building, and Weight loss classes. Also, you can enjoy private ladies only sessions, and personal one-to-one training, along with martial arts and gymnastics classes for kids. It's a place for all the family!
Location
Al Barari, Sheikh Mohammed Bin Zayed Road, Dubai.
Contact: +971 4 326 7277
Define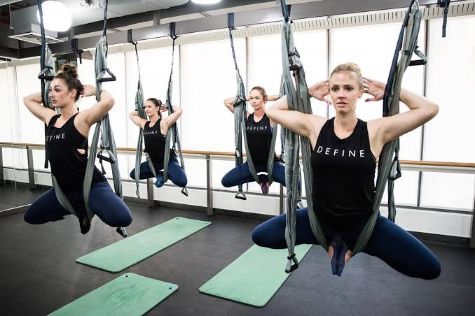 Define is the ultimate place to stretch and tone your body with a touch of healing your soul and mind.
Define is a place that offers fitness training programs including Yoga, Pilates, Core workouts, and high-intensity training on the trampoline with targeted barre workout.
The sessions aim to get you focused on building a strong body and mind.
Location
Unit 17 Silverene Tower B, Dubai.
Contact: +971 4 421 6377
Eco Yoga Sanctuary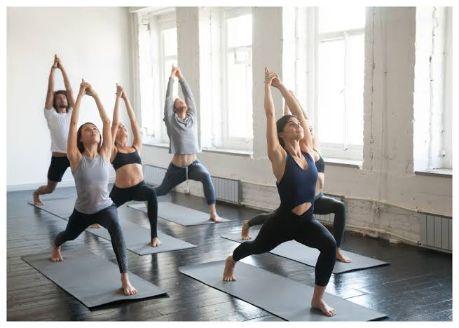 An eco-friendly women-only yoga studio that is sustainably designed for women of all ages to grow physically, mentally, and spiritually.
The place offers yoga classes such as the Hatha, Vinyasa, Kundalini, Bikram, and Hot yoga, prenatal and therapeutic yoga with sound healing, pilates, core strengthening workout, Zumba, and if you're into dancing they also offer Bollywood and belly, dance classes.
You don't have to worry if you're a new Yogi looking for equipment as the studio has its retail area to buy yoga attire and equipment, they also have a waiting area, and a changing and shower area as well.
Location
The Village Mall, 1st Floor, Jumeirah 1, Dubai.
Contact: +971 4 344 4292
Garden Zen at Seva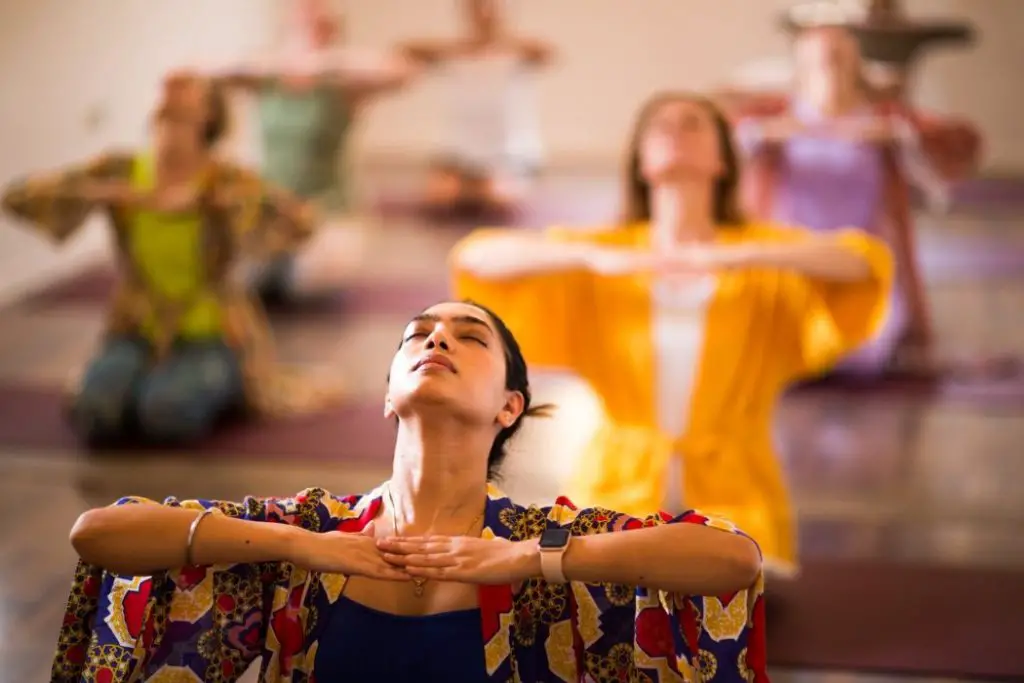 A well-being center that offers a huge variety of Yoga styles, meditation classes, bio-magnetic therapy, and TSA lung healing.
Call them to book your class now, and don't forget to ask about what's on their calendar this week!
After your class ends, set in the garden courtyard, and nourish yourself with delights at their cafe, which is as relaxing as SEVA.
Location
Street 27B, Jumeirah 1, Jumeriah beach road, Dubai.
Contact: +971 58 543 5888
Desert thrills at Lifestyle Yoga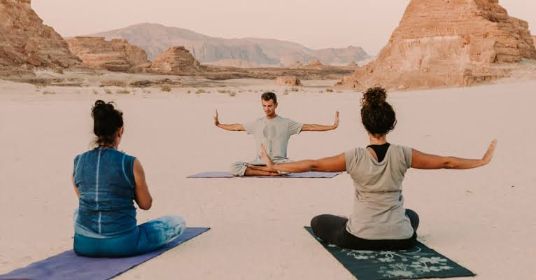 Tired of the city bustle? Take a break and reserve an overnight Yoga class in the desert and have a different Yoga experience.
Take a break from the world, and have an overnight retreat that is filled with meditation sessions, campfires, and lots of fun activities.
And don't worry about the accommodations, transportation, and meals as they're already included in the camp price.
Location
Somewhere in the Dubai desert.
Underwater Yoga at The Lost Chambers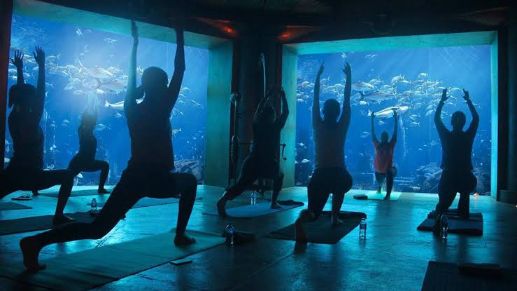 Wanna have an unforgettable Yoga experience? You surely would not want to miss this Underwater Yoga class at The Lost Chambers in Atlantis, The Palm.
This unusual yoga session will lead you to the most relaxing vibes of all time with the view of some stunning aquatic creations the class lasts for an hour, hurry up and place your spot as the spaces are limited.
Location
Atlantis, The Palm Jumeriah, Dubai.
Contact: +971 4 426 1000
Yoga in the sky at The Palm Jumeriah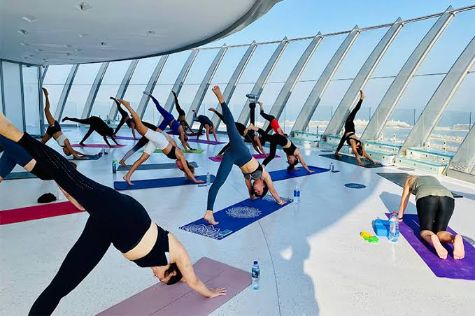 If you are a true Yogi, you absolutely would love to try a Yoga class on the 52nd floor of The Palm Tower.
The View at The Palm is now hosting weekly yoga classes led by experts.
Live the unparalleled experience with the best views as you stretch out and perfect your poses with this yoga class, participants must bring their mats and towel.
Location
The Palm Jumeriah, Dubai.
Sunset Yoga at Jumeirah Al Qasr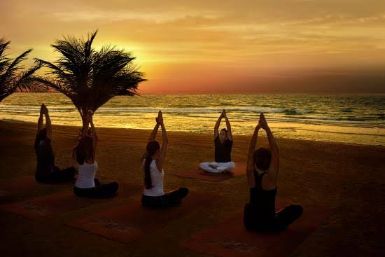 Nothing can beat the feeling of doing Yoga with a breathtaking beach view, this place is such a unique escape for all the Yogaholics.
Have a relaxing day with unparalleled views of both the Arabian Gulf and the Burj Al Arab, as you watch the sunset of pink, blue, and orange.
The instructors there are so welcoming, friendly, and helpful, they aim to help you build your strength mentally and physically, and teach you new poses and techniques.
Location
Jumeirah 6, Salman bin Abdulaziz Al Saud Street, Umm Suqeim, Dubai.
Contact: +97143647545
Must know before attending Yoga classes in Dubai
A lot of the Yoga Studios in Dubai have a fixed time for Yoga classes (mostly a one-hour schedule) depending on the availability of instructors.
You should have a towel, and an extra cloth when you try activities like hot yoga which makes you sweat a lot.
Choose group yoga classes over personal classes for a better financial deal.
---
Yoga classes in Dubai have exceptional facilities, with certified yoga instructors to give you professional personalized training so you can balance your mind, soul, and body.
Whether you are a regular Yoga doer or a first-time one, or if you are a normal person seeking some peace of mind, looking for an activity to leave at ease, have a visit to any of these places/studios for Yoga in Dubai, as surly to boost your energy level and gives you positive vibes during your time.